New: Isaac Bruce (15th Year), Cam Colvin (Rookie), Bryant Johnson (6th Year), Robert Jordan (Rookie), Josh Morgan (Rookie) Returners: Arnaz Battle (6th Year), Jason Hill (2nd Year), Ashley Lelie (7th Year), Dominique Zeigler (1st Year), Jerard Rabb (1st Year) Departed: WR Bryan Gilmore, WR Darrell Jackson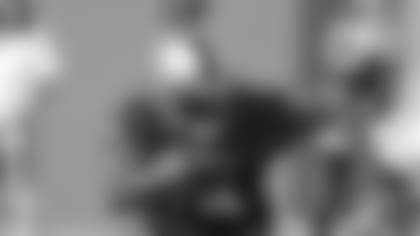 The team has upgraded at the wide receiver position with newcomers Isaac Bruce and Bryant Johnson joining returnees Arnaz Battle, Ashley Lelie and Jason Hill at the top of the group.
"Each year we've made an effort to upgrade our wide receiver core," commented Nolan. "I'm hopeful that between our top guys and the competition for the backup roles that we have a productive set of receivers."
Bruce has put up some of the best numbers in NFL history during his first 14 seasons with the Rams. The precise route runner is ranked third all-time in NFL history with 14,109 receiving yards. He has also played in a pair of Super Bowls and came away with a win in Super Bowl XXXIV following the 1999 season.
"I like to point to a guy like Isaac and say to the other receivers, 'See, this is what you do'," said Martz. "Isaac works out like crazy. He keeps himself in impeccable shape throughout the year and takes excellent care of himself. He has such a terrific focus and above all a terrific passion for this game. You can't do what he's done and not be extremely passionate about it."
Bruce isn't the only NFC West receiver joining the team this season. Johnson is looking to have a breakout year in 2008 after making at least 40 catches each of the past four seasons despite playing behind Pro Bowl receivers Larry Fitzgerald and Anquan Boldin in Arizona. Johnson proved he was a big play threat in 2006 when he averaged 18.5 yards per catch.
Bruce and Johnson join Battle, who was San Francisco's top wide receiver last season for the second straight year when he caught 50 passes for a team-high 600 yards. A steady player, Battle also led the 2007 team in touchdown receptions with five and is considered a physical downfield blocker.
Lelie and Hill are expected to be a bigger part of the equation this season, especially with more opportunities for receivers to get involved in Martz's offense. Lelie was a first-round draft pick by Denver in 2002 and has a 1,000-yard season to his credit with the Broncos in 2004, while Hill had a huge college career at Washington State.
The 49ers added another receiver by taking Josh Morgan (Virginia Tech) in the sixth round of the 2008 NFL Draft. Morgan checks in at 219 pounds to rank as the biggest of all San Francisco receivers.
Dominique Zeigler and Jerard Rabb, both practice squad players last year, will battle for a roster spot along with undrafted rookie free agents Cam Colvin (Oregon) and Robert Jordan (California).
"We have a group of experienced players that should serve us well at the position, as well as some very talented young guys that are moving into that realm," said Martz. "I think this position has gone from probably a weak link on the team to potentially a real strength."