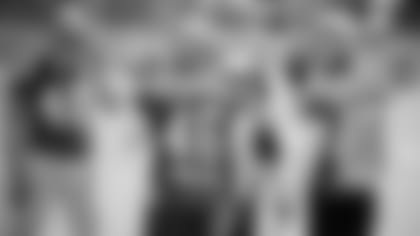 The San Francisco 49ers are set for training camp to begin at the end of the month. But before the team can defend its NFC West division crown this upcoming season, let's take a look at the depth of each position group on the roster as they prepare for camp. Tight ends are up next. OVERVIEW**
Vernon Davis had a postseason for the ages. Not only did he post the most single-game receiving yards by a tight end in playoff history (180), the 6-foot-3, 250-pound athletic specimen made an epic 14-yard touchdown catch to beat the New Orleans Saints. With all that said, many will overlook Davis' regular season efforts, both in the run game and in the pass game.  Still, the athletic tight end took great pride in clearing perimeter running lanes for Frank Gore and Kendall Hunter. Davis did it with great passion and yet managed to catch 67 passes for 792 receiving yards to go with his team-leading six touchdown grabs. For his efforts, Davis checked in at No. 43 on the NFL's Top 100 Players of 2012 list, a jump of 45 spots from his spot on the 2011 list. Reliable and versatile backup Delanie Walker (19 catches for 198 receiving yards and career-high three touchdowns) was the only other tight end currently on the roster to make a reception last season. Walker suffered a broken jaw late in the 2011 campaign, but returned to action four weeks later so he could contribute in the postseason. Walker was one of the first players to start working out at 49ers headquarters this offseason, too.  And while it's true both Davis and Walker dominate the playing time within their position group, several candidates have emerged this offseason to lend support.
*RETURNERS: Vernon Davis (seventh season), Delanie Walker (seventh season), Nate Byham (third season), and Konrad Reuland (first season, 2011 practice squad member). NEWCOMERS: Garrett Celek (undrafted, Michigan State) and Kyle Nelson (first season). *
Veteran tight end Justin Peelle held down the team's third tight end spot in 2011 but wasn't re-signed this offseason. Nate Byham, a sixth-round pick in 2010, missed all of last season with a knee injury but has enjoyed his return to the field this offseason. Byham sees his blocking and receiving skills meshing well with how the 49ers utilize tight ends. Byham is also the only other tight end with regular season experience (five catches, 27 yards as a rookie). Konrad Reuland and Kyle Nelson have practice squad experience; Garrett Celek is the only rookie in this year's group. Reuland enjoyed a great deal of practice reps this offseason and felt like he greatly benefitted from a full offseason under Jim Harbaugh and the 49ers coaching staff. With offensive coordinator Greg Roman working closely with tight ends coach Reggie Davis, the group worked on some eye-catching drills that were hard to miss on the practice fields.
In six seasons, Davis has posted seven, 100-yard career receiving games which is the most by a tight end in franchise history.
"Vernon Davis is having an outstanding offseason, everyday just getting better at route running. Every facet of the tight end position he's really excelling at right now."
-Offensive coordinator Greg Roman on Davis' offseason progress.