LINEBACKERS (11) New: Larry Grant (Rookie), Dennis Haley (3rd Year), Dontarrious Thomas (5th Year)  Returners: Tully Banta-Cain (6th Year), Roderick Green (5th Year), Parys Haralson (3rd Year), Manny Lawson (3rd Year), Brandon Moore (7th Year), Jay Moore (2nd Year), Jeff Ulbrich (9th Year), Patrick Willis (2nd Year)
Departed: Derek Smith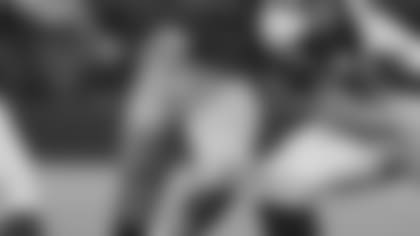 Patrick Willis will look to continue the phenomenal success he enjoyed as a rookie in 2007. Willis started his professional career by setting an unofficial NFL single-season record with 226 tackles on his way to a Pro Bowl selection, a spot on the All-Pro team and AP Defensive Rookie of the Year honors.
Still, neither he nor Nolan is satisfied with what he accomplished in his first season in the league.
"We expect him to be one of the top defensive players in the NFL year in and year out," stated Nolan. "I thought he was the best defensive player in the league last year. Had we won some more games, I think there's no question that he would have been honored as such."
"You don't want to make it to the Pro Bowl one year and then come back the next and not make it," added Willis. "But, I don't really think about that as much as I think about just doing what I need to do to help this team win. If it means being selected to the Pro Bowl then that's good, but I just want to win."
The 49ers are also excited about the return of Manny Lawson to line up at his outside linebacker position. Lawson's promising 2007 campaign was cut short by a knee injury suffered during practice prior to the third game of the year. In two starts, he had contributed 14 tackles to follow up a rookie campaign in which he totaled 65 stops after being selected as one of the 49ers' two first-round selections in the 2007 NFL Draft.
"Manny has all the tools we're looking for," commented Manusky about the college defensive end. "We're looking forward to having him back in the fold. He can set the edge in the running game and create some problems for opponents. He's a talented football player that should keep getting better and better."
Tully Banta-Cain is expected to return to the other starting outside linebacker spot opposite Lawson. A situational player in New England, Banta-Cain showed signs of being a strong pass rusher after accumulating 5.5 sacks in 2006. He has done extremely well in the off-season program and seems primed for an even better year in his second season as a full-time starter in 2008.
"Tully can really shed blockers and get after the quarterback," emphasized Manusky. "That's what we need from him this year."
Jeff Ulbrich is tied for the team's longest-tenured player and has had his moments as a full-time starter since his arrival to the club in 2000. The San Jose native started all but eight 49ers' games from 2001-04 but has made his mark primarily in nickel packages and on special teams over the past three seasons. This year, he is back in the running for a full-time starting job.
"Jeff has played a number of years in this league and his experience will be big for us," reasoned Manusky.
Although Willis and Lawson seemingly have locked up their starting jobs, the others may be strongly challenged.
Parys Haralson is penciled in as Lawson's backup on the strong side but is also capable of taking a run at Banta-Cain's position.
Dontarrious Thomas was acquired in the off-season after four campaigns with Minnesota and is expected to compete with Ulbrich for the starting TED linebacker job.
Brandon Moore, who was the team's top tackler in 2006 but was beaten out by Willis last year, should also be a factor.
Other linebackers competing for roster spots include veterans Roderick Green and Jay Moore, along with seventh-round 2008 draft pick Larry Grant (Ohio State) and undrafted free agent Shaun Richardson (Tennessee State).