Defensive Line (11)
New: DE Kentwan Balmer (Rookie), DT Walter Curry (1st Year), DE Louis Holmes (Rookie), DT LaJuan Ramsey (3rd Year), DE Justin Smith (8th Year)  Returners: DT Joe Cohen (2nd Year), DE/DT Atiyyah Ellison (3rd Year), DT Ronald Fields (4th Year), DT Aubrayo Franklin (6th Year), DE Ray McDonald (2nd Year),  DE Isaac Sopoaga (5th Year) Departed: DE Marques Douglas, DE Bryant Young, DE Melvin Oliver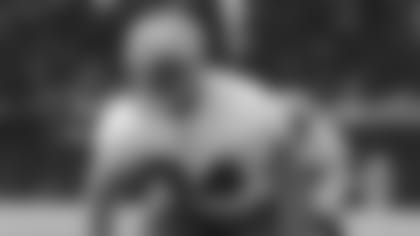 San Francisco will look much different on the defensive line in 2008. A pair of players that should figure prominently in the team's plans weren't on the club a year ago with the addition of Justin Smith through free agency and first-round draft pick Kentwan Balmer out of North Carolina.
Smith and Balmer will be counted on to help compensate for the losses of the top two tacklers from the defensive line a year ago. Bryant Young retired after spending all 14 of his NFL seasons in San Francisco, while Marques Douglas signed as a free agent with Tampa Bay in the off-season.
The durable Smith led Cincinnati's defensive linemen in tackles during six of his seven seasons with the Bengals. Smith played more snaps than any other defensive lineman in the NFL last year by lining up for 97.9 percent of his squad's defensive plays.
"Justin is a high-motor player and a tough individual," emphasized Nolan. "He fits into what we're looking for, and that's a tough, resilient, high-effort and high-character guy that's a darn good football player."
"It was all about coming to a unit that had great players on defense that would allow me to be the best I could be," said Smith about his reason for choosing the 49ers during free agency. "That's why it was pretty easy for me to pick here."
Balmer was a second-team All-Atlantic Coast Conference selection last season and is considered to have a high ceiling of potential after blossoming as a senior in Chapel Hill. Although he is slated to begin the season as a backup at the left defensive end spot, he is capable of playing tackle as well.
"With the addition of Justin and Kentwan, I think it's a stronger unit than we had last year," stated Manusky.
Isaac Sopoaga will replace Young as the starter at the left defensive end position, moving from the nose tackle where he was a key reserve in 2007. A relentless worker, Sopoaga was in the 49ers weight room from the moment the 2007 season ended getting ready for his starting opportunity.
"Playing next to Bryant Young was a miracle," said Sopoaga about his four years playing next to the 49er legend. "It means a lot (to be stepping into his position), but first I have to put myself on that level as a leader. I will try to do my best and take what I learned from B.Y."
Aubrayo Franklin will return as the team's nose tackle after starting 13 of 16 games at the position in his first season as a member of the 49ers in 2007 and posting a career-high 61 tackles in the most extensive playing time of his career.
Others legitimately challenging for prominent roles in the defensive line rotation include Ronald Fields (defensive tackle) and Ray McDonald (defensive end). Competing for a spot on the roster will be veterans Joe Cohen, Walter Curry, Atiyyah Ellison and LaJuan Ramsey, along with undrafted rookie free agent Louis Holmes (Arizona).
"There are guys fighting and battling for starting jobs and roster spots, and it will be a wait and see in terms of who comes out as a winner," said Manusky. "That's pretty exciting for a coach."