It's been several months since the 49ers strapped on pads and enjoyed the physical aspects of their sport.
On Monday, the players shook the rust from the shoulder pads and put them to use on the first double-day of training camp.
The early morning session opened up with the re-introduction of Mike Singletary's "Nutcracker" drill, only this time, the movements and matchups were different than a year ago.
Although the drill was slightly altered, the intent remained the same.
"We have to continue to work on our fundamentals," Singletary said. "What we're trying to do is be a fundamentally sound, technically sound team, because that team is the team that's going to win those tight games, those close games."
Singletary said the changes to the drill in 2010 (addition of player-specific movements and new position matchups) were installed based on conversations he had with his coaching staff over the offseason.
"I wanted our guys to have a drill where they practiced being physical," Singletary noted. "We just looked at different things that our guys could do, more defensive, DB, and receiver friendly – things that they would do normally, in a game."
Many of the players said they appreciated the changes to the drill and understood that it sets the tone for what their head coach wants to accomplish in the upcoming season.
"Nutcracker, nothing like that early in the morning to get the blood flowing," linebacker Scott McKillop said jokingly to TV49.
McKillop and his fellow inside linebackers matched up with larger opponents than a year before, facing off against guards instead of running backs.
"It was a harder challenge for us, but it will make us better," the 6-foot-1, 244-pound linebacker said. "We're in a situation where we need to work on leverage and using our hands to separate. It's going to be difficult but it's something that will make us a better player."
The offensive linemen enjoyed the challenge too. Working on blocking linebackers in open space is an extremely difficult aspect of their position, so working on it camp figures to be a big plus.
"As guards, it's realistic because we're climbing to the second level. That's a good look for us," third-year guard Chilo Rachal said.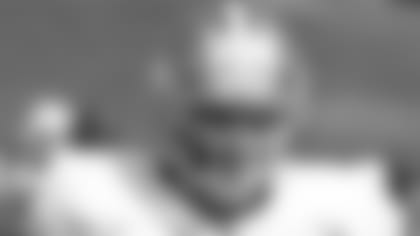 But no matter the size disparity, the desire to win is always at an all-time high.
"It's always competitive," Rachal added. "Every guy in here has that chip on their shoulder that they don't want to lose."
Newcomers to the drill, like rookie safety Taylor Mays, found it to be an important drill for their early development as 49ers.
"It's physical and you can work your technique. It's a drill that will show to be effective once you get the repetitions at it."
With the USC product looking to play lower at the professional level, the Nutcracker drill gave Mays an opportunity to utilize the techniques he's learned all offseason.
"Because I'm taller I have to be lower so it's a real good drill for me because it's technical," said the 6-foot-3, 230-pounder said. "I have to be low. I have to play with great technique and play physical at the same time. I think it's a drill that will help me a lot."
Thirteen years of professional football and Takeo Spikes still is finding ways to lighten up training camp. The veteran linebacker showcased his passion for the game on Monday by sporting his "old school look for camp." Spikes arrived on Saturday sporting much longer hair, reminiscent of his college days at Auburn. But he took it a step further on Monday by wearing a cross-bar face-mask. "That was 'Nutcracker' edition," Spikes joked after practice. "It's a tribute to all the old guys who came before me. I figured I would pay homage to them with the Gerry Cosby shoulder pads and the Mike Singletary face-mask."
During 1-on-1 work, undrafted rookie wide receiver Bakari Grant caught a deep touchdown pass over Shawntae Spencer on a perfectly thrown deep ball from quarterback David Carr.
Cornerback Nate Clements was another player pleased to get back into the physical side of football. The 10-year veteran missed nine games last season with a fractured scapula and has been itching to get back to his physical style of play. "It seems like it's been forever since I've been out there, but it felt good to get reacquainted. It felt like the first day of school, putting the pads on and knocking the rust off." Clements said the 49ers defense wants to be the top unit in the league and in order to achieve it, they've set goals throughout camp like coming up with three turnovers per practice.
The official "Welcome to training camp" moment took place when fullback Brit miller flattened an outside linebacker on a blitz pickup in the early stages of the nearly three-hour practice.
Joe Staley proved he's really close to being 100-percent if not already that. The inside linebacker showed no signs of field-rust despite missing most of the offseason recovering from knee surgery. Willis popped fullback Moran Norris in the hole on a run play, making the loudest thud of the day. Later, he came up with a nice pass breakup on Alex Smith's quick out to tight end Joe Jon Finley.
Safety Dashon Goldson came up with his second interception in as many days after a pass went through the hands of wide receiver Jason Hill and into Goldson's.
The best play of the day took place during the 7-on-7 period as Smith heaved a 35-yard touchdown to wide receiver Brandon Jones.
After practice said Smith's comfort has grown tremendously this offseason. "I think our expectation levels, especially in the perimeter group, have changed so much. You can definitely feel going through today like we did, not that it was a terrible day, but just the guys outside, no one's content with what we're doing. The expectations have definitely risen and I think we all expect so much more and I expect more success and we have to continue to demand that out of ourselves."
The 49ers second practice of the day will be open to the fans, who signed up for tickets weeks back on 49ers.com. We'll have more updates in our Goal Posts Blog from the afternoon session.
Injury UpdateGuard Davis Baas suffered a mild concussion and will be evaluated by team doctors. There is no timetable for his return.