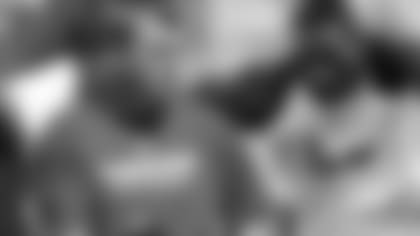 49ers area scout Todd Brunner checks in with his latest blog update. Brunner took some time to break down his offseason activities and give insight on the upcoming season.**
One of the first things I did after the NFL Draft was spend time with my family. I came home right away and got ready for my kids softball and baseball seasons.  I helped coach my daughter's team and I manage my son's team which is something I really enjoy in the offseason.
That's one of the reason I like coaching my kid's teams in the summer, with the baseball and softball, at least while I'm home I get to spend as much time as possible with them. 
Both of my kids made their All-Star teams for their respective ages, so we were busy with that too during the offseason.  One of my son's tournaments went over the weekend of the Fourth of July, so we weren't able to take any family vacations.  But, we enjoyed the time with each other.
My other family, the 49ers scouting department, spent time at the National Football Scouting Combine, but I didn't attend. The NFS sent us tape from their office of school's that have players we might be interested in going into next year.  We look at the guys based on last year's film.  And then I had about 42 reports I had to write over the summer on those players.
After that, all of the scouts watched the last three games of the year for our team.
I was obviously impressed with some things, but we ended up 7-9.  You could see from the last three games that we were turning the corner a little bit.  I think coach Singletary had us playing well.  I think Shaun Hill did a good job at quarterback and showed he was able to guide the team.  I'm anxious to see the competition between him and Alex Smith in camp and also, all of the pieces we've added.  Hopefully everyone comes back healthy too.  Then, with the pieces we've added, especially with Michael Crabtree, hopefully that can help us turn the corner. 
Also this offseason, we met as a scouting department and went over our scouting areas for the season. Everything stayed the same for me for the most part.  I picked up one school in North Carolina, Elizabeth City. It's a Division II school.  The reason I picked it up is because it's an hour south of Norfolk, Virginia, which is in my area.  So it was an hour south for me, or three hours east for another of our area scouts, Matt Malaspina.  It was easier for me to take it. 
I pretty much know my area and the restrictions for the coming fall.  But there are a couple schools with new head coaches and I just want to find out if they plan on doing things differently this season at their respective programs.  I want to get an idea and start mapping out my schedule for the fall.  So when I come in to training camp, my travel schedule can be kind of set.  It would have to be a rough draft of it, but it could be set a little bit. 
The only thing I have scheduled so far, and I did it last year, was a late game, Notre Dame at Pitt.  And then a Thursday night game, Colorado at West Virginia.  I haven't really set anything else up.  Those are good games and we've booked our hotels already. 
I'm going to the game, basically to watch West Virginia.  It makes it easier to go to a game with one of your school's in it, as opposed to having two schools in the game.  Then you can concentrate on one side of the ball when they're on the field.  It's hard to watch 22 guys at the same time!
With training camp being a few days away, I'm excited to be back in the Bay Area to evaluate our current players. I think we've had a good draft and so it will be nice to see the players we selected in action.
You read on the internet or wherever, publications, that we got pretty good grades.  But, obviously that doesn't mean anything until the guys strap on a uniform and put on the pads and helmet.  If we did our job the right way, which I feel we did, I think we've got some pretty good players.  I think they're going to add to what we already have. You can't help but be optimistic. 
You saw how we ended the season last year.  We've added some good pieces to that puzzle.  I think we can build upon that.  As long as the offense picks up the new scheme from Jimmy Raye, which from everything I've heard it's gone great.  We're all just excited about the whole thing. 
During camp, most of us want to look at the Rookies.  There is a sense of anxiety where you want to make sure we've got the guys we thought we got.  Obviously you want to take a look at Crabtree and you want to see how Crabtree looks with his uniform on.  I guess a guy from my area that I'm excited to evaluate would be Scott McKillop. I'm excited to see him play because I followed him for four years when he was at Pitt.  To me, and I said it in our meetings, he reminds me of Derrick Smith and could be that type of player for us. 
Thanks for reading my latest blog, I'll be putting together another write-up mid-training camp to let you know what's going on at practice.