College area scout Todd Brunner shares his perspective from the first day of the 49ers 2007 NFL Draft. Find out what went down, and what the initial reaction was from our newest members of the team in this blog.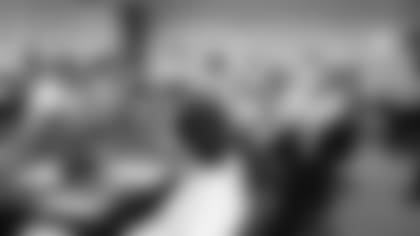 Things went very well for us in day one of the draft. Most teams and people still refer to the Draft Room as the War Room, but ours is usually smooth and just healthy debate. Basically there's a long table in the middle of the room and at one end is our doctors and at the other is most of the area scouts. Coach Nolan, Scot McCloughan, Jed and John York are at another table perpendicular to ours. They sit directly in front of our board, and then to one side of them is another table where Lal Heneghan and Paraag Marathe sit with a computer pulled up to help us out in terms of any trades. To the other side is another small table where we have a direct phone line to our reps in New York. As I said on Friday, all of the scouts take rounds at this table.
Everyone was very happy that Joe Staley fell to us at 11. He's a guy we've really targeted since the Senior Bowl and it worked out great that we got him. He's if not the fastest, one of the fastest linebackers in this year's class.
As I talked about before, my job is to be the guy who calls and gets these kids on the phone, usually before we turn in the pick. In my three years of doing this, this was really the most fun because all of the kids we took on the first day were just ecstatic. That's not to say that in year's past, the guys we've taken haven't been as excited, but a lot of times by the time I track them down, it's already on television. None of these guys knew yet, so I was the first to tell them and you get their initial and honest reaction and all of them were genuinely thrilled to be a 49ers.
I called Willis while we were on the clock and told him that he was going to be our pick, and he was just excited as heck. Once we saw on television that the Commissioner was on his way to the podium, I told him to put down the phone and enjoy the moment with his family and then I was able to hear them all go crazy. That's really exciting because you know how hard he's worked to get to this point.
It was the same case with Joe Staley. I'd say that was the only stressful part of the day because we wanted to get him and we were working the phones to see if we could move up. We had talked to New England earlier and then they called us and we were able to swing the deal. Joe is big and athletic, and also one of the fastest linemen. He really has tremendous upside.
After taking him, we found out that there were two or three teams right behind us who planned to take him, so we really felt good about the move.
With Staley, I asked him if he was watching the television and if they had announced a trade yet. He said they hadn't and I told him they were about to, and that we were picking him. It was funny because he just said, "No way, are you serious?" He was fired up, especially when talking to Coach Warhop who had worked with him at the Senior Bowl.
When he found out that we had given up next year's first rounder for him, he was pumped about living up to those expectations.
We had a few players targeted at 42nd but we felt like they could fall to us later and so when Indy called, we bit and ended up with a first-round pick next year, and another fourth this year so in reality we got Staley and ended up with similar picks anyhow.
Drafting Jason Hill was a good move for us because he's fast, very fast. As a local kid, he too was a lot of fun to call. He was crazy and his family was crazy. He talked about growing up a 49ers fan and how this was something he'd wanted since he was a little kid.
Ray McDonald was our last pick of the day, and he might end up being the biggest steal in the draft. He's a kid similar to Frank Gore who has all of the intangibles but has blown out both of his ACL's in his past. He definitely has the potential to be an impact player for us.
When I called him and asked him what he was doing, he told me he was just driving around. I guess he had gotten pretty anxious with the wait so was just driving around to kill time. I think he was very relieved and also very happy to come out here, especially since he played for us at the Senior Bowl. He just kept saying, "thank you, thank you so much." When Coach Tomsula got on the phone with him, he just said, "Hey Ray-Ray, get ready!" You could tell that those two had definitely developed a relationship during the time together in Mobile so I think it's a good fit for us.
I think as a whole, our group definitely went home feeling very pleased about our picks and the success of our board.