Four years removed from being one of the nation's best linebackers at the University of Virginia, Ahmad Brooks appears to be on the verge of living up to his once highly thought of potential.
The 49ers outside linebacker has always had the pedigree to be a star player in the NFL, Brooks' father, Perry, played defensive tackle for the Redskins from 1978 to 1984.
But for Ahmad, it just took time to develop.
In his senior year of high school, Ahmad appeared to be headed down a similar path as his father, being named USA Today's National Defensive Player of the Year. Following that remarkable achievement, Ahmad starred at Virginia and was named to the All-American team his sophomore year.
However, all of his progress came suddenly to a halt when separate off the field issues caused his dismissal from the Cavaliers football team. Brooks then had to wait until the third round of the 2006 NFL Supplemental Draft to be selected by the Cincinnati Bengals.
For two seasons with the Bengals, Brooks struggled to find his way playing middle linebacker all while being nagged by various injuries. He was released in the summer of 2008, but immediately signed afterwards by the 49ers.
Initially in San Francisco, Brooks failed to see any game action for the 49ers at inside linebacker and the coaches began to experiment with him at outside linebacker towards the end of the year practices.
In 2009, Mike Singletary entered his first full season as head coach of the 49ers intent on improving the defensive play of his players, with a focus on the pass rush in particular. Analyzing all possible solutions to facilitate that change, Singletary and his staff felt optimistic of Brooks developing in to a successful pass rusher based on what they saw from him in offseason workouts.
With that move, the 49ers might have struck gold.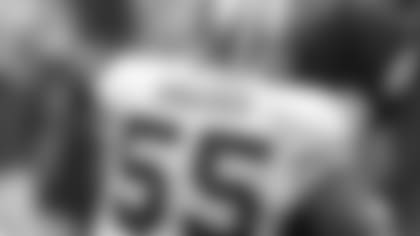 Brooks finished this past season setting career highs in sacks (6), forced-fumbles (4), passes-deflected (2), and special teams tackles (8). Brooks' forced fumble statistic actually tied a 49ers single-season linebacker record, shared with teammate Manny Lawson who also forced four fumbles this season.
"When you think about it, [Brooks] came to us as an inside linebacker, not really a rush guy," Singletary said towards the end of the season. "But, you begin to see the skill, the speed, that ability to come off the edge, and you go, 'Wow, we need to do something different here.' I think he's found his niche. He is such a talented guy."
Brooks earned his way on the field in mostly passing situations in 2009. But, in order to maximize on his ability to rush the passer, coaches would even have Brooks line up in a three point stance at the defensive end position in the 49ers nickel defense.
"It was a little bit different for me," Brooks said of his transition. "The game's the same. The team runs the same plays. I'm just looking at the game from an outside linebacker's perspective and a defensive end's perspective. For me to transition into that position, it took me a while to do. I think that I've gotten better as time went on."
And Brooks feels that as he continues to have time to develop at his new position, better performances will come.
"Six sacks is pretty good," Brooks acknowledged. "But I think if I would have got in there a little earlier in the season, I probably would have had a lot more. I don't really see a breakout season with six sacks. I think I'm capable of having double-digit sacks."
Probably the best example of what type of peak performance Brooks will be able to produce in the years to come was in the 49ers 24-9 victory over the division rival Arizona Cardinals on December 14.
Whether he wants to admit it or not, Brooks put on what should be considered a breakout performance.
That night in front of a national audience watching "Monday Night Football," Brooks set single-game, career-highs with three sacks and two forced fumbles. He finished the game with four tackles and for the first time ever, Brooks was able to showcase the type of talent that he displayed at the collegiate level.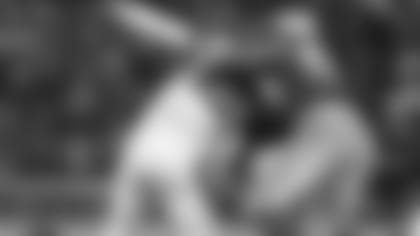 Brooks' individual effort helped to contribute to five forced fumbles, four sacks, and two interceptions on the night for the defense.
In what developed as a habit over the last third of the season, 49ers defenders found themselves feeding off one another's performances. It only took the type of individual performance that Brooks had on "Monday Night Football" against a division rival to get the momentum going.
In the final four games of the season, the 49ers caused seven interceptions, eight force fumbles, and 14 sacks. In the final game at St. Louis, the 49ers finished strong with eight sacks to close out 2009 with a bang.
"It's a feeding frenzy out there for the defensive linemen and the outside linebackers," Brooks said of the 49ers performance against St. Louis. "Even the secondary was getting a taste of it. We were out there having fun."
Brooks said that he and his teammates are motivated to match each other's performance on gameday.
"We're competitive," Brooks said. "We practice well with each other. We all know that we have each other's back. We put our bodies on the line for each other, because we all want each other to be successful."
Brooks enters the 2010 offseason with an uncertain future as his prospects for free agency have yet to be defined; Brooks is one of many waiting on word of a new collective bargaining agreement.
Whether he is declared an unrestricted free agent or a restricted free agent, Brooks does have unfinished business with the 49ers.
In 2009, he fell half a sack short of fellow linebacker Manny Lawson for the team lead with 6.5 sacks. That half a sack should add enough fuel to Brooks' competitive fire to last the offseason, and have him ready for more in 2010.