The 49ers received defensive playbooks at the end of July. They have practiced new schemes and techniques for less than a month. And in a matter of days, they will compete together in their first preseason game.
Panic-time? Hardly. According to many in the locker room, there's not a lot of worrying going around these days. It's a time to get better. A time to compete. And a time to impress the new coaching eyes watching their every move.
Players like linebacker NaVorro Bowman spoke confidently about the opportunities at hand in the first preseason contest this Friday at New Orleans, as well as capitalizing on the open positions on the 49ers defense.
After all, defensive coordinator Vic Fangio said earlier in camp that only two starters have been determined on his starting defense: linebacker Joe Staley and defensive tackle Justin Smith. It just so happens, those two were the 49ers only representatives in last year's Pro Bowl.
And while Bowman is not one of those guaranteed starters for when the 49ers host division rival Seattle on Sept. 11., the second-year player has put himself in the conversation. He's currently on top of the team's first depth chart, lining up as the other inside linebacker opposite of Willis.
Bowman will get his opportunity to showcase himself once again this Friday, when the 49ers kick-off their exhibition schedule with a 5 p.m. PT start in New Orleans.
"I'm ready to see how much better we've gotten with the playbook," Bowman said after the team's three-hour morning practice on Tuesday. "I want to see it demonstrated out there on the field with an opponent."
Bowman added that he's ready for his first start since last year's regular season finale, when the former Penn St. outside linebacker filled in for Willis to make his first-career start. There, Bowman totaled a career-high 15 tackles in a victory over Arizona.
"I got a little taste of it at the end of the season and it just seems like it's my time," said Bowman, who totaled 35 tackles serving primarily as a rotational player last season. "I'm going to approach every game – no matter if it's preseason or regular season – with that mentality of showing the coaches that I'm ready to take this role on."
Bowman's strides have caught the eye of Fangio as well.
During one-on-one blitz pickup drills, Bowman's pass rushing ability was easy for the respected coordinator to see.
"He showed up there and did a nice job rushing," Fangio said. "That's something we need to look at as we move forward, if that's one of his better qualities, we will try and utilize it."
Likewise, Willis has been getting extra reps in pass rushing drills. It could become another tool in the All-Pro's tool belt.
"I've been pleasantly surprised with Patrick in that most cases he's even been better than I thought he was," Fangio said. "He's a real pro, very good student of the game, just a tremendous person out there. I knew he was very good… we need to make him a better blitzer right now than he is."
With both Willis and Bowman lining up as inside 'backers in Fangio's 3-4 defensive scheme, both are hopeful they can show new coaches all of their abilities, including pressuring opposing signal callers.
"Rushing the passer is something you work at," Bowman said. "That's something I take a lot of pride in – beating that guy one-on-one and just trying to get to the quarterback. Everyone wants the sack, but you got to find the best way how to get there."
Fangio expects his starters to play as much as the offensive starters on Friday, but said that the play counts will go on an "individual" basis. Some players might stay out on the field longer than others. Coach Jim Harbaugh estimated the offense would see 20 snaps in New Orleans; Fangio thinks defensive players could range from 20-30 snaps.
No matter what the exact number of plays Bowman gets alongside Willis, the young defensive player is intent on making each one count.
"I'm excited about it," Bowman said. "I'm excited to start the game off, play next to Pat and just see how good we really look out there."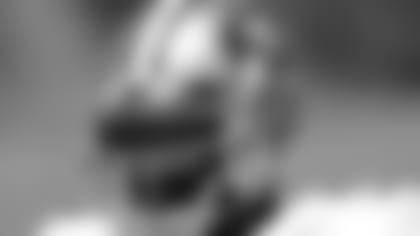 Safety Dashon Goldson watched practice after signing a one-year contract to remain with the team that drafted him No. 126 overall four years ago. Goldson hit the practice fields while his teammates were in the middle of drills, but he visited with old friends on the team and conversed with general manager Trent Baalke, too.
The 49ers practiced earlier in the day to accommodate their appearance at Pasta Bowl V, an event which benefits the 49ers Foundation. Second-year outside linebacker Thaddeus Gibson (pictured right) was eager to meet fans in the community, who made donations to attend the event. "Giving back, that's what it's all about. The fans come out here and support us and we appreciate that. To give back and show some support is really what the NFL is about."
Undrafted tight end Konrad Reuland and wide receiver Tyler Beiler continue to have strong training camps. Both caught several tough passes on the day. In particular, Beiler's one-handed catch down the left sideline was impressive. He credited his play-making in camp to his consistent mindset. "I'm just telling myself to stay focused and just keep working as hard as I can. I always say, 'Count your opportunities, not your challenges.'"
Newly signed safety Donte Whitner came up with his first practice interceptions in a 49ers uniform, coming up with two takeaways on the day.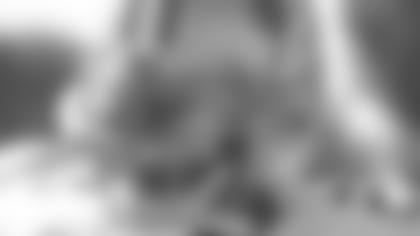 **Safety Taylor Mays' helmet is one of the most recognizable ones on the 49ers practice fields so far in camp.