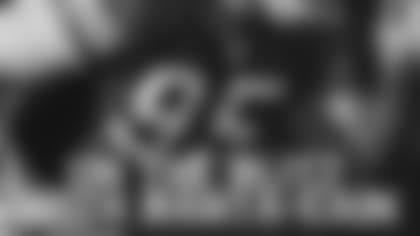 Linebacker Tully Banta-Cain usually trades off every other week with Alex Smith to review Sunday's game, but the off-season addition will fill in for the next few weeks as Smith recuperates from his shoulder injury. In this week's column, Banta-Cain breaks down the loss to Seattle.**
The game against Seattle was very disappointing. We really had high expectations going into that game. It was a big game for us to win, and for us to lose in the manner we lost was definitely unexpected. I think it's a huge wake up call to the team, and a warning that we need to get back on track.
Seattle is one of the better offenses we've played so far, but we felt like we were up to the challenge. Their running game will keep you honest because Shaun Alexander is very talented and he's running behind a pretty good offensive line led by Walter Jones. Matt Hasselbeck is a good field general and they can hurt you in a lot of different ways with the weapons they have. We just didn't contain them the way we wanted.
We came out in what was more of a 4-3 front, but really it was more of a nickel package where we used four big down linemen and then put an extra cover guy on the field to help lock down the pass. We thought it was a balanced defense to guard against both the run and pass. For the most part, it worked well. We just gave up a few big plays and then got caught out of position on a few plays.
One big play that hurt us was the deep ball to Deion Branch. We just didn't play assignment football. We didn't get enough pressure and didn't have the coverage in the back end. It's one thing to have one or the other but when you are lacking on both ends, you are really asking for a big play like that to occur. It's something as a defense that we can't allow. Those guys get paid to make plays too, and they are going to get their catches but we can't let a big play like that occur. When explosives like that happen, you still have to regroup and hold them and instead we gave up a touchdown on the play after that to Bobby Engram. We'll learn from it and do what it takes to prevent it from happening again.
Our offense had a hard time getting some momentum going, and it got off to a bad foot when Alex was hurt on the sack. That's not something you really expect to happen. It's one thing to get sacked but to have Alex get injured really compounded that play. Then I think the fumble by Frank Gore really took the wind out of the sails a little bit.
I think it's really important for us to come out in games and be the ones setting the tempo. If you let the other team do that instead you find yourself fighting an uphill battle, and it seems like when it rains, it pours. That's something we really have to make sure in the coming weeks we rectify and get back to starting early and playing at a high tempo or we're going to stumble like we have been lately.
We played good at times as a defense. We did hold Alexander to under 100 yards and got him for some stops in the backfield for losses, but it comes down to the score. We let them get more points on us than we were able to put up, so ultimately we did not do our job as a defense.
It's one of those things where if the offense has given up a turnover, we need to go get two. Nate Clements got the one pick for us, but we need more plays like that to help out our offense because it's hard to win when you are losing the turnover battle. We had some opportunities in the game to get some takeaways and we missed out on them. That's always going to be something that is key in any game, but particularly in this one, we could have used those turnovers.
The special teams unit did a good job for us in terms of getting the surprise on side kick and the blocked punt. Those are plays that can really turn a game around and I was hoping we'd capitalize on them. The fact that we weren't able to wasn't a sign of good things to come. As a defense we've got to capitalize by coming away with turnovers when they are there for the taking, and as an offense we've got to take advantage of those possessions when they come.
The good news is that we are 2-2 and there's a lot of football still to be played. We have to really get back on track. The last two games have been a reality check of where we are as a team. We are not where we need to be and whether it's offense, defense or special teams, we've got to start playing team football. We can't have lopsided games where one unit plays well and not the other. It's got to be a combined effort. We have what it takes. We've got the players. We just have to put it together. We've got to play with a higher sense of urgency because the season can go by fast and before you know it, it's playoff time and we don't want to have too many of these games that end up haunting us down the road.
We've got Baltimore this week before our bye and we need to regroup. We'll be without Alex, but everybody has a lot of respect and confidence in Trent Dilfer. He's more than capable of getting the job done. He's just one guy though, and everyone on that offense has to rally and realize it'll take a combined effort to put points on the board. You can't put it on Frank Gore. You can't put in on Darrell Jackson. You can't put it on Arnaz Battle. You can't hang it on the offensive line. Everyone has to work together to get it done, and the same is true on defense and special teams.
As for Seattle, the good news is that we will get to play them again this season with a chance to redeem this loss.