First-round pick Kentwan Balmer got rolled up on a run play during an early 9-on-7 drill in Tuesday's morning practice. Balmer hopped up one one foot and hobbled over to receive attention from the trainers.
"I think it was his right ankle," said head coach Mike Nolan. "We'll get in and see what it is."
Safety Mark Roman tweaked his hamstring on Monday and missed the morning practice. Roman was spotted walking the man-made hill adjacent to the team's practice field with assistant strength coach Mark Uyeyama.
Safety Lewis Baker was also held out after suffering a thigh injury on Monday.
Wide receivers Arnaz Battle and Ashley Lelie (calf) did not practice. Battle was given the morning off as part of his practice schedule designed by the coaching staff.
T Damane Duckett also remains out with a knee injury.
G David Baas (pectoral) and Joe Staley (foot infection) have yet to practice in camp.
15 was at practice but it's no longer Robert Jordan, Jordan had a death in his family and opted to leave camp. The 49ers released Jordan, and signed wide receiver Robert Ortiz.
"Hopefully at some point, we'd love to have him back," said Nolan of Jordan. "He had been doing a good job, but he left Sunday afternoon. It was his choice."
Ortiz was signed by New England on May 15, 2008 and was waived on Saturday. The 6-1, 188-pound receiver from San Diego State went to training camp with the San Diego Chargers in 2006 and the Seattle Seahawks in 2007.
The Daily Drill - contributed by Taylor Price, 49ers.com  
The 49ers maintained the energy from Monday's Oklahoma drill during Tuesday's first 9-on-7 work which was dedicated to the run game.
Although he nicked his ankle towards the end of the drill, Balmer enjoyed the live period.
"It definitely felt good because we were working towards the same goal, building camaraderie and trust out there on the field. I think all of those things are important. As defensive linemen, you have to be able to trust the guy next to you and count on him. It was fun getting in the rotation and getting good work against the first and second team offense. I think that was critical," he said.
On the other side of the ball, offensive linemen Adam Snyder agreed that drill was equally important.
"It's an opportunity for us to work on our run plays live," he said. "We always make it a competition between us and the defensive line."
On the very first play of the drill, linebacker Joe Staley came up the middle unblocked and hit Frank Gore with his shoulder, which knocked Gore to one knee.
But on the very next play, Gore evened the score by busting through a hole and dashing his way up the field. Credit guard Tony Wragge for sealing off Willis and creating the lane.
"We ran the ball well and blocked well up front - that's the goal," Snyder said. "Our job is to get Frank to the second level and let him do all the work."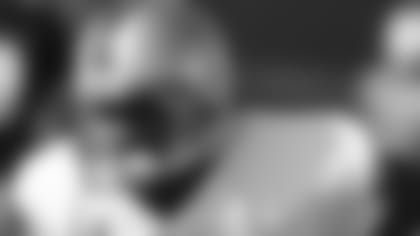 Patrick Willis stole an interception in the first team period, marking the second time in two days that he's picked off Alex Smith.
Rookie linebacker Larry Grant notched his second interception of camp too, swiping a Smith pass during 7-on-7.
Cornerback Shawntae Spencer broke up a play to Bryant Johnson during the first team period, while cornerback Marcus Hudson put a good lick on Thomas Clayton in a later team period.
Wide receiver Isaac Bruce took his first reps of camp in team.  Up to this point, the 49ers have used Bruce only in individual or one-on-one periods.
On one of his first reps Bruce lined up to Alex Smith's right and ran a slant across the field. The veteran receiver called for the ball with a few hand claps and Smith eventually delivered. Bruce had another nice grab a few series later, coming back to the ball for the completion.
**(stats are entirely unofficial)
Smith connected on all four of his first passes in team, except that the one was on the throw to Willis for an interception. On the morning, 49ers.com logged him at 6-of-9 and the one pick. Smith also threw the pick to Grant in 7-on-7.
Hill was 5-of-10 on the morning. Among his incompletes were a pair of deep balls.
Seen or Overheard  *-contributed by Chrissy Mauck and Taylor Price, 49ers.com
*
Former 49ers defensive line/linebackers/defensive coordinator Bill McPherson stopped by the morning practice. McPherson was on his way to Bellarmine high school, where he's been helping out with the football team. McPherson visited along the sidelines with team owner Jed York, former 49ers defensive lineman Bryant Young, former 49ers linebacker and current VP of Football Affairs Keena Turner.
Wide receivers coach Jerry Sullivan wasted no time instructing his guys during the individual portion of Tuesday's practice. In particular, he made sure Bryant Johnson, focused on his footwork on the turn and plant steps of a deep comeback route.
Sullivan said to Johnson, "I want you to slam that foot when making the turn."
Johnson took the advice and did much better in his next rep, leading to another Sullivan to Johnson comment.
"BJ, you gotta trust what I'm telling you."
With the 49ers a bit banged up at the wide receiver position, quarterback J.T. O'Sullivan  took turns running quick slants. After he dropped the first pass intended for him, quarterbacks coach Ted Tollner looked at his quarterback and sarcastically remarked, "Nice route."
Wide receiver Isaac Bruce also talked to the media for the first time this camp on Tuesday.
Asked about the 49ers needing to learn how to win, Bruce responded, "I've played against this defense for the last two seasons and this defense has been really good. Guys make plays on defense. They always have eleven guys on the football. Special teams has been good as well. I'd say two years ago, when Coach [Norv] Turner was here to coordinate the offense, the team as a whole was really good. They moved the ball on offense. They had a lot of different nuances that they could run with the players that they had. So what we have now I expect to be better than it was two years ago, and better than it was last year."
Bruce also had good things to say about the other new 49ers receiver in Bryant Johnson
"He's a great player. He's learning the offense. He brings a lot of weapons. He's fast and catches the ball, and he competes. If you want to be a receiver in the NFL, you've got to have those three characteristics."
The team willl hear from guest speaker Ari Fleischer tonight. Nolan said he heard Fleischer speak at the owner's meetings and invited him to address his team during camp. Fleischer served as the former White House press secretary under President George W. Bush.