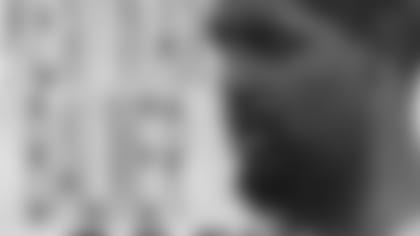 Rookie Kentwan Balmer checks in again after playing in his first game at Candlestick, and as he gets ready for his first NFL plane ride to Chicago.  Catch up with the 49ers first-round draft pick in his latest Rookie Camp Diary...**
My first game at Candlestick Park was nice. It was chilly kind of - a little breezy, and I liked playing in that kind of weather. It was loud, and a great environment. I'm excited about playing there for many years.
I did okay in the Packers game, better than the first week. I'm just constantly trying to progress. I think there were some good things and some bad things, basically the same as the Raiders game. I am starting to get this defense down pat. I feel like I am playing a little bit faster, and I am just trying to find a rhythm out there. Like I always say though, I still have a long ways to go. I'm definitely not where I want to be, or where I need to be, but I'm looking forward to getting there.
We are always working with Coach Jim Tomsula during practice. There is never a rest for us because he'll pull us off to the side if we aren't out there on the field, and continue to harp on us about our technique. At this level, everybody is so good with their hands so he's always working with us. I'm so used to being able to outmuscle people so he always tells me I have to concentrate on getting off blocks and striking with my hands. He always tells me this isn't college anymore, and I've got to be a great technician. Coach Nolan always says it too, "this isn't North Carolina anymore." So, I try to go out there and remember that and get it done.
I can't even remember now if it was the first quarter or second quarter when I went in, but whenever they tell me to go in, I just try to be ready to go and to go out there and give it my all.
Anytime you are with a group of guys with the kind of talent that we have, I think we are going to explode against an offense. We really got after Green Bay last week with the pass rush right off the bat, and I'm looking forward to becoming more involved in those efforts.
Sunday after the game was relaxing. I just tried to kick back and reflect on the game and make the most out of my down time.
My mom left pretty early on Sunday, but I enjoyed spending some time with her. She made a lot of friends while she was out there. She seemed to have had a very good time, and I think she was proud to watch me play an NFL game. They went down to San Francisco one day when I was at practice and saw the Golden Gate Bridge. I think she definitely enjoyed her experience in San Francisco.
She didn't bring me any home-baked desserts because I am trying to stay on a diet, and unfortunately, I didn't get to enjoy any of her other cooking either this trip and I was mad too. I love my mom's cooking. I think her hands are season because whatever she makes, it's good. But I don't have a house yet and she really didn't have any place to cook so I let her slide, this time.
Josh Morgan just interrupted, asking about where our video camera is because we are supposed to try our video diary again. That boy is a baller by the way.
I did spend about a week and a half looking for a house to buy and I made an offer last week. I'm just waiting to close. It's okay. I didn't look for anything too special. I'm here to ball so where I live wasn't too important. I just wanted some place that was convenient. It's got a roof – I don't have to worry about rain and that's enough for me. It's in a quiet neighborhood and close to work and that was all I really required.
We had a talent show last night with each position participating. We re-enacted the Vernon Davis and Parys Haralson fight they had back in OTA's. It was Louis Holmes' idea and I don't think the guys liked it too much. We struck out. But, it was short and sweet and we tried.
Special teams won the talent show, which I don't think is really fair. Boo-hoo. They have a lot more time to work on something like that. I was biased maybe, but I thought the defensive backs should have won. They sang this song and I thought they did a nice job.
After the show I ran over to Wal-Mart to pick up some socks and boxers basically. I got my outfit from last week cleaned and that's what I'll wear again for this trip to Chicago – slacks and a nice shirt. It's not too fancy. I'm not a big-time dress up guy.
I'm excited for our first real road trip. We had the first away game over in Oakland, but that was just a bus ride. We'll be taking off shortly for Chicago and I've got to go so that I can get Kentucky Fried Chicken for the trip. I've got to get a bunch of chicken and biscuits for the defensive line so I'm out, because I don't want to miss that flight!