Thank you for sending in questions for long snapper Brian Jennings. We selected a few and caught up with the 11-year veteran after a recent minicamp practice to get his answers.
Our next "Ask A Player" will be with first-round draft pick Anthony Davis. Send us your questions for Anthony by emailingaskaplayer@niners.nfl.net. We'll pick the best ones and get Anthony's answers at training camp.
Q: Brian, I was a long snapper in high school and junior high. Was there any specific thing that helped you? -Steve.
A: One of the things that helped me develop as a long snapper quickly was I grew up playing baseball. I was very accurate and I could throw everything. In baseball, I had a really strong arm and just goofing with my friends, throwing rocks or whatever, I was always super accurate. And then in basketball, I could shoot the ball well too. I always had good hand-eye coordination with regard to throwing things my whole life. I feel like that helped me learn snapping pretty quickly.
Q: What's up Brian? I have been a huge 49ers fan since day one and I have two questions for you. One, what's it like now having not one, but two kick and punt returners in Ted Ginn Jr. and Kyle Williams? And for the last two seasons our special teams were really not good, what has the special teams done to fix it? -Sean from Sacramento.A: In the last few years we've done well in coverage and that's something we'd like to continue. Our field goal protection, our coverage units, and our punt team have been great; Andy Lee has gone to the Pro Bowl two of the last three years. To answer to your first question, having more than one guy who can split the work is a big thing. Through the course of a season, sometimes guys get banged up. If you can have two or three guys on your roster who can really do the return jobs, you have such an advantage in the return game and that's what we're trying to get better at. And these guys look like they're really going to be able to help us, secure the ball, pick up positive yards and put us in scoring position. That's a big weapon that's going to help us win the field position battle. The breakaway speed is a bonus. But really, speed is something for other coverage teams to worry about.
Q: Brian, What is your favorite part of your job and why? - Thanks, Kisha Bouchor Kennewick, WA.
A: That's a hard question to answer, because there are so many aspects of what I do that I thoroughly enjoy. My favorite part is for sure, absolutely, gameday experience. When you're preparing for a game, it builds up. You watch the opponent on film. And then before the game, the anticipation and the excitement can't be matched. Running out on the field, going out and really battling guys is what I love about my job. Also, snapping against the elements, blocking my guy and then trying to run down the field to make a tackle are all things that I enjoy about the gameday experience. It's such a heightened level of experience that it's truly what I live for. The challenge that I have now is how I can recreate that in other areas of my life and when I leave the game. That heightened experience, that's why players and fans love this game. That's the absolute favorite part of my job, it's the gameday experience.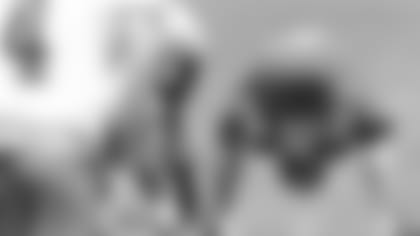 Q: Brian, Is it hard when you are in formation to long snap the ball and then go right to blocking the linebacker in front of you? -Jordan Sanchez-Age 11 P.S. Good luck in 2010!**A: That's one of the most difficult parts of snapping for punts. Really, I rarely see that linebacker. I know where he is only through watching film and seeing where guys line up before I snap. As the ball leaves my hands, I usually engage in that block. That's where I have to trust the personal protector behind me to make sure I'm going the right way. That's really one of the hard things about being a long snapper. The quickness needed is underrated. It's all about the quicker you can reduce the transition from the time the ball leaves your hands. As soon you're done snapping the ball the moment it leaves your hands, now you're a blocker, instantly. The quicker you can reduce that transition time, down to no time, than the easier it is to block. With a lot of young guys just starting to snap the football, guys want to know how their snap looked, even before they become a blocker. The ball will fly all the way before they start thinking, "Maybe, I have to block." With me, when the ball leaves my hands, I'm instantly becoming a blocker. And that's the thing that you get better with as you mature athletically. It's all about moving on to the next thing immediately.
Q: Brian, What position did you want to play as a kid? - Walt Pinell
A: I grew up doing a lot of yard work on Sundays and so the TV was on in the garage and the 49ers games would be playing in the garage a lot when I was growing up in Arizona. I always imagined myself playing safety like Ronnie Lott or tailback like Walter Payton. I grew up as a baseball player, didn't play football until high school, and unfortunately, they never let me play safety. But for sure, I wanted to be Ronnie Lott. Whenever we played pickup games, I was free safety.
Q: BJ, How's it feel to be the longest tenured 49er, elder statesman, man atop the mountain, etc.? -John DavisA: To me, it's an honor to have hung in there for as long as I have. Every season is tough. Every game takes everything you've got and every season is a test in a unique way. To just continue year after year, game after game, performing at that level to where my teammates, coaches, and fans can count on me, is just a real honor. It makes me want to keep going, keep snapping the ball and enjoy that gameday experience. It's the test that I love. I love the test. To end up on the 10-Year Wall with some of the best 49ers players to have ever been here is overwhelming. I'm sure when I'm retired I'll look back and reflect on it, but right now, I'm living it and I'm really enjoying it.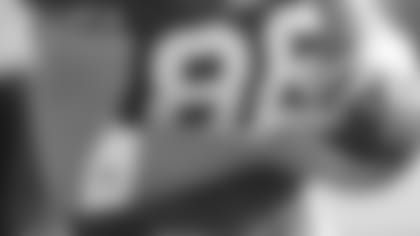 Q: Brian, Which one of the Rookies has impressed you so far? -@huli8319ers**
A: Kyle Williams, the returner, has jumped out at me. He's a guy who I see running some routes and catching the ball on offense, and he's catching the ball really well as a returner. He's a guy who I think can really help us if he keeps progressing. He looks like a pretty impressive young player. Obviously, I haven't had a chance to pay close attention to every one of the guys. But he's a guy who has jumped out at me, like he might be able to help us. He has confidence which helps, he has quickness in his routes and he's been catching the ball, which are all good signs. That means he's open. He's catching it, getting up field and showing his explosiveness. Hopefully he'll be able to help us and he's a Sun Devil like myself!
Q: Brian, How you feel about this upcoming season? -Jerry Watson
A: To me right now, we're basically going into our first year where we've had some stability, as far as our coordinators are concerned offensively and defensively. We have a new special teams coordinator in Kurt Schottenheimer, but he's keeping the tradition of special teams being important to us. With that said, there's some stability with the roster too, and hopefully we can take that next step and win 10-12 games, win this division and get into the playoffs. If we can win three games in the playoffs, we'll all have a ring on the end and look back on a magical year. But there's a lot of work to be done. At this time of the year, we just got out roster together a few weeks ago. We'll see how it comes together in training camp and how everything works. We'll need some lucky breaks as far as no injuries are concerned. We need to have the ball bounce our way this year, which never hurts.
Q: Brian, Now that you're one of us here in the Bay Area, who is your Favorite baseball player? -Todd in Bakersfield CA.A: The last couple years I really haven't been very much into baseball. But Barry Zito is having a great year. I've seen him pitch a couple of times and it looks like he's doing well. I'm really happy for the Giants and him. I'm hoping he has a great year and a number of great years to come. I root for him.