The 49ers defense pitched a shutout against their division rival St. Louis Rams, the first time they've blanked their opponents in 119 games. They also scored two defensive touchdowns for the first time since a game against the Arizona Cardinals in Mexico City in 2005.
And linebacker Joe Staley had a pretty good game too.
"Today was one of those days where you just say, 'Wow,'" Willis said. "It wasn't just me; it was our defense all together. It's not about one particular person; it's about us playing together. That's what counts."
The two-time Pro Bowler had as good of an individual effort as anyone could ask of him.
He posted one interception which he returned 23 yards for a touchdown, a career best 2.5 sacks, 8 tackles (3 for loss) and 1 pass defended.
"Wow," head coach Mike Singletary said when asked about the play of his middle linebacker. "Wow would be the only thing I can say, because he has so much talent. He just has to tie his talent and knowledge together and that's where he's going to take it to the next level."
Singletary, who should be able to break down a linebacker's play with ease after playing the same position throughout his Hall of Fame career, was nearly held speechless when trying to describe Willis' performance. He was held to one word, wow.
Willis was asked to try to elaborate on his description of his own performance.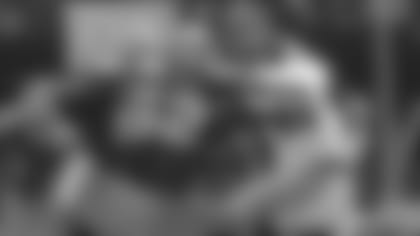 "Wow just comes from us making a step today. Our problem is coming out and executing and do what we do, practice, get better and come out and play a 60 minute football game and that's what we did today."
If Willis and his defensive teammates can continue to improve as they have so far this season, it won't be a pretty site for opposing offenses. Even Shaun Hill, who has to face him during practice, is happy he doesn't have to see Willis' No. 52 lined up across from him on game days.
"I'm glad he's on my team," Hill said. "That guy, he's awesome flying around making plays. That whole defense, the way they're playing is unbelievable. I love watching them play."
There are probably a few Rams players though who don't share Hill's admiration.
Star running back Steven Jackson was held to just 3.4 yard per carry and quarterback Kyle Boller certainly didn't think Willis would read his pass intended for Keenan Burton so well that he would put the Rams in 21-0 hole with 5:31 left in the third quarter.
"That's something that we talk about as a defense, not just going out and getting three and outs and turnovers, but scoring with it," Willis said. "The opportunity presented itself today. We had a good defensive call and it just happened."
The game was well in hand after that play, allowing the 49ers Faithful at Candlestick Park to sit back in amazement at their defensive standout.
"I told him to take a day off, he had a hell of a game," fellow linebacker Takeo Spikes said. "His response to me was that he could not have done it without us. That's gratifying to see from a younger guy, he's just humble. That's what makes the difference."
A humble man himself, Singletary's prediction that Willis could become better than he was as a player might not be too far-fetched.
"[Singletary] doesn't come right out and say it, but he sometimes tells me that if I continue to work, continue to be humble, continue to believe, and do things right, then I can become one of the elite linebackers that's ever played," Willis said. "To hear that from him means a lot because he's a Hall of Fame guy, he's been there."
Singletary coached Ray Lewis in Baltimore and was a part of some of the best defenses in NFL history when he roamed from sideline to sideline for the "Monsters of the Midway." He played in 10 consecutive Pro Bowls and was named first-team All-pro eight times.
Needless to say, Singletary has the credentials needed to give his defensive captain some more praise.
"Pat is still just scratching the surface."
If that's the case, people will be sitting back, saying "Wow" for many more years to come.
"You are never great until you're done playing," Willis said. "Hopefully for me that will not be for a long time from now so every day, until that happens, I am going to come into work and work hard."