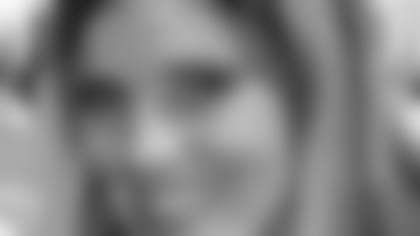 49ers.com writer Chrissy Mauck is one of a few official bloggers over on 49ersfaithful.net. Make sure to check out our social networking site, and in the meantime, here's a quick update. **
After visiting the Hall of Fame last weekend, the 49ers rookies joined rookies from every NFL team at the NFL's 12th Annual Rookie Symposium.  Player Development Director Guy McIntyre and VP of Football Affairs Keena Turner accompanied this year's rookie class down to Carlsbad, California for a crash course of life in the NFL.
The symposium covers a wide range of topics including finances, substance abuse, player conduct, and general life skills. In the last few years, players also had the opportunity to participate in a local community project.
LB Patrick Willis and T Joe Staley visited the NFL Network set on Friday. One of the topics discussed during the visit was the rising salaries for rookies, a topic on the radar of the NFL's Commissioner Roger Goodell.
Goodell said on Friday, "There's something wrong about the system. The money should go to people who perform."
Click here to watch and see what last year's 49ers rookies had to say!
Willis also talked with Rod Woodson about the improvements he expects on the defensive side of the ball. That segment can be viewed by clicking here.
Another segment that aired was of Marshall Faulk breaking down film with 49ers offensive coordinator Mike Martz. The segment was shot during the second week of the 49ers OTA's. Click here to view now!
I'm officially on my three-week vacation, but in reality, there won't be many days where I'm not working on something for the website. We've got a re-design coming on both 49ers.com and shop49ers.com, so there is much to do.
While I hopped on a flight to Nebraska to visit family over the weekend, our rookies took off for Canton, Ohio and their visit to the NFL's Hall of Fame. I'll be going there myself in July when Fred Dean is inducted, but for now, I'll live vicariously through some of our rookies. A few photos that the Hall of Fame staff was courteous enough to provide are shown here in this blog, but to see more, click here now! 
We also sent a video camera along with rookie wide receiver Josh Morgan. Josh shot me a text message to let me know all was going well, and that he's shooting EVERYTHING. So, hopefully by week's end, fans can enjoy seeing a little bit more of the trip.
Another note for everyone, last week as the OTA's came to an end I caught up a few minutes with strength coach Duane Carlisle. Carlisle shared some numbers with me in terms of the off-season conditioning program.
This year, the 49ers had 48 players who attended 90 percent or more of the workouts with 27 players hitting 100%. These numbers did not take into account the rookies since they had no shot of participating in the program in full.
"We had an outstanding off-season," remarked Carlisle. "The team gave tremendous effort, and worked every day with purpose. As Coach Nolan wanted, we took them one at a time and they gave it their all every day. The guys are in excellent shape, and it was the start to hopefully great things to come this season."
Speaking of Coach Nolan, I had placed a note in his last round of X's and O's that Coach wouldn't be answering questions until we get rolling again for training camp due to his trip with the USO. I was told at the time to not mention where he was going because of security, but apparently it's since been released. So, Coach Nolan is currently on a goodwill visit to the troops in Afghanistan, along with former 49ers Eric Davis. NFL network got some footage from the trip that you can view by clicking here!
Running back Frank Gore received some advice from Marshall Faulk and compliments from Clinton Portis in this NFL Network video clip.
Please make sure to tune in to the NFL Network this Friday. I believe LB Patrick Willis and T Joe Staley are flying to Los Angeles and will be featured on Total Access.