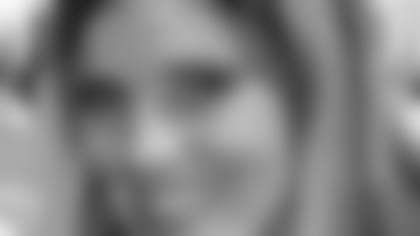 Over on our social networking site, 49ersfaithful.net, we have a few official team bloggers including some staff members and two of our players in Manny Lawson and Marcus Hudson. Check out the following blog for coverage of week one of free agency. **
T Kwame Harris has signed with the Oakland Raiders. McCloughan said the 49ers offered a deal to Harris during the season, but that the offensive lineman wanted to test the market.
"Kwame is a good football player and he deserves it," said McCloughan. "He moves on, and so do we."
GM Scot McCloughan is still on the conference call currently with local media and said he is not worried whatsoever about the depth of the offensive line despite losing Harris and Justin Smiley in free agency. McCloughan said there's enough offensive line depth in this year's draft and even some players currently on the street that he could sign in the next few days.
"There's a chance we could add some offensive line players who are on the street right now," said McCloughan. "It's not a high dollar thing, but it would be a good football player."
I just spoke with Marques Douglas. He left Tampa and is on his way to visit with the Titans. I really wish he would come back here because he's one of the best players I've worked with in terms of doing interviews, but I understand he's got to make a decision that is best for him. So, we'll see.
RB Maurice Hicks signed today with the Minnesota Vikings, becoming the second 49ers UFA to find a new home during this free agency period. The first was G Justin Smiley, who signed with the Miami Dolphins. T Kwame Harris reportedly visited with the Jaguars and the Raiders and is close to signing a deal with Oakland.  DE Marques Douglas visited Tampa at the start of free agency, but has yet to sign anywhere as far as I know.
General manager Scot McCloughan is expected to be interviewed by local media on Wednesday afternoon. McCloughan said last week that he would still like to get Marques Douglas back for the "right price." The 49ers do still have enough space under the cap to make that happen.
The announcement regarding the signing of WR Isaac Bruce was made today as the former Rams player arrived in Santa Clara earlier today to sign his contract. Bruce was the last of the players to sign that were reported to have agreed to terms over the weekend.
We just announced the signings of former Panthers RB DeShaun Foster, former Lions quarterback J.T. O'Sullivan and former Vikings linebacker Dontarrious Thomas.
Foster was the only one available for interviews, and so I grabbed him for a quick TV49 interview and then he talked to the rest of our beat writers for a few minutes. We'll have that up shortly for you to watch.
Unrestricted free agent Justin Smiley has been removed from the roster as the Dolphins website now has him up as being officially signed. Reports early Friday indicated the Smiley had agreed to terms with the ball club.
As to reports that former Rams wide receiver Isaac Bruce is in the building and has actually inked a contract...those are false. If he had actually signed a contract, we would have been able to report it on the team website.
Other than the visit from Smith, the 49ers do not have any other players currently visiting and do not expect players to visit over the rest of the weekend.
9:00 AM PST - Michael Smith of ESPN was the first to report that the 49ers have agreed to terms with Bengals defensive end Justin Smith, who came in on Friday for a visit with San Francisco.  Reports outside of that are fairly all over the place including that Smith left for Minnesota, his next scheduled visit, and then returned to San Francisco. Smith in fact cancelled his trip later today to the Vikings.
Again, the 49ers will not report anything OFFICIALLY until Smith signs an actual contract.
FRIDAY - 1:30PM PST - There are confirmed reports that Cincinnati Bengals defensive end Justin Smith is here in Santa Clara for a visit.
9AM PST - According to John Clayton of ESPN, the 49ers have agreed to terms with a few players including Vikings linebacker Dontarrious Thomas and Lions quarterback J.T. O'Sullivan. It's official club policy not to release any transactions until the deals are done, meaning the player has passed his physical and inked his contract. Folks like Clayton usually get this type of information from the agents.
O'Sullivan played for 49ers offensive coordinator Mike Martz last year in Detroit. 
Also according to Clayton, 49ers unrestricted free agent Justin Smiley has reached a deal with the Miami Dolphins. Smiley became a free agent as of 12:01 AM EST. Clayton also mentioned that 49ers tackle Kwame Harris is believed to be in negotiations with the Oakland Raiders.
The 49ers continue to be linked with returner Allen Rossum and running back DeShaun Foster. General Manager Scot McCloughan said yesterday that it was merely speculation and that he would not comment until something was done, again – until the player passes a physical and he signs his contract.
As an update, I just received word that I could post the release that we have in fact signed Rossum. He should hit home mostly for 49ers fans because he returned a kickoff 98 yards for a touchdown against us last year!