Dear Faithful, On behalf of my family and the entire 49ers organization, I want to thank you, our Faithful fans for your unwavering passion and support. We did not attain our ultimate goal as we all had hoped, but our coaches, players, and staff put together a commendable effort. If the sight of our players working out at our practice facility the day after the NFC Championship is any indication of our team's desire and determination, you can be assured we are already preparing for next season.
As we closed out our storied history at Candlestick Park, it was special to watch our fans, and our team, come together to celebrate one of the most historic venues in all of sports. We counted down the greatest Candlestick memories while producing a few more. An 89-yard interception return for a touchdown by NaVorro Bowman to seal a Monday Night Football victory and propel us into the postseason, seemed like a truly fitting way to send the 'Stick off in style.
Now, we look to the future and the opening of Levi's® Stadium, a building we are determined to make the finest outdoor sports and entertainment venue in the world. All that is special about the Bay Area will be showcased for our fans to enjoy – technology, food, culture, and education. Our 49ers family cannot wait to welcome you and yours to our new home this August.
As we enter this offseason with great determination and focus toward improving in every aspect of our organization, we have tremendous anticipation for what 2014 has in store for each and every one of us.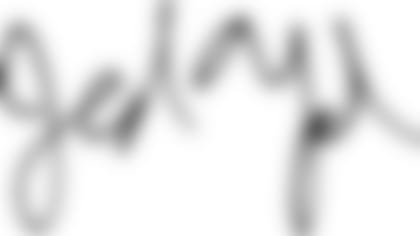 Jed York
CEO
San Francisco 49ers