The 49ers left Santa Clara behind on Sunday, bussing up to Napa to practice against the Oakland Raiders on Monday.
The early morning practice at Redwood Middle School began with the Raiders working their Pro Bowl punter Shane Lechler against the 49ers punt return team. Pro Bowl punter Andy Lee then showcased his leg, with 49ers punter Ricky Schmitt also getting some work.
From that point on, those watching practice had to keep their head on a swivel as the two teams kept a fast-paced tempo that allowed for very little rest.
On one field, the 49ers offense matched up against the Raiders defense. On the other, the 49ers defense faced off against the Raiders offense.
"It was nice, a different color jersey, a different offense, and different guys," said linebacker Jeff Ulbrich. "You get tired of hitting the same guys all of the time."
Tempers flared quickly, starting over in the one-on-one drills between the Raiders defensive line and the 49ers offensive line. Rookie guard Chilo Rachal went to blows with Williams Joseph, and then later fought with Josh Shaw during team.
"There were some fights," said tight end Vernon Davis. "When you have a practice like this between two different teams, all it takes is a little hit on a guy to get them to want to stand up for themselves. I don't see anything wrong with that as long as you let it go quickly."
In a 9-on-7 drill, fullback Moran Norris and linebacker Edgerton Hartwell went at it in a skirmish that took some time breaking up. Hartwell had already gotten in a few shove to the backs during the first team period that consisted entirely of run plays.
The coaching staff held Frank Gore out of the majority of the team periods including a mostly inside run session that started off the 11-on-11 play. Knowing they only had to guard against the run, Oakland's defense quickly wrapped up the 49ers running backs. DeShaun Foster once got out to the edge and turned the corner for a positive gain, but on most plays, the Raiders defensive line got some penetration up front.
The offense fared better in the passing attack during team, but it got sloppy during the seven-on-seven period when Oakland twice picked off the 49ers quarterbacks, with a chance for a third. Tight end Delanie Walker managed to bust up that turnover, but a few slips by 49ers receivers also led to incompletions on nicely thrown balls in an overall ineffective skelley session.
"It was a good day to come out here and mix it up against the Raiders," said wide receiver Jason Hill. "It's a little different playing against those guys. We are so used to playing against ourselves and we got a little bit thrown off. Guys got a little bit out of themselves today, Coach Nolan spoke about it after practice and so hopefully we come back this afternoon and clean things up."
The 49ers defense appeared to be holding their own on the opposite field against the Raiders offense. Justin Smith wasn't allowed to sack any of the Raiders quarterbacks, but he circled their passers numerous times. On one play, both he and Ray McDonald worked their way past the Raiders offensive line causing Andrew Walter to hurry a throw that Roderick Green picked off. In the same period, safety Keith Lewis and corner Shawntae Spencer broke up passes. Cornerback Nate Clements also enjoyed a pass defense, knocking down a throw to Jevon Walker on a slant backside route.
"It was very intense," said Lewis. "It's good to go against another opponent and I think everybody stepped up their play just a little bit more today than maybe the other practices. There wasn't that many mistakes. It's just a measuring stick. I think everybody would say the same thing – we still have a long ways to go, but we like our progress."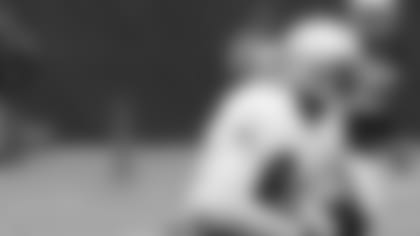 Wide receiver Bryant Johnson pulled up during one-on-ones and sat out the rest of practice with a tweaked hamstring, leaving ample reps for young players like Cam Colvin and Josh Morgan.
"You've got to step up, that's what it is, it's football," said Morgan. "People go down and the next person has to step up. You are only as good as your weakest link so you've got to keep working hard so there is no fall off."
Morgan went to work quickly, angling across the field and putting a double move on one of the top corners in the NFL in DeAngelo Hall for a first-down pass in the team period.
"He was showing off on the play, but he bit on the double move and I was able to come out of it and make the catch," said Morgan. "It was a lot of fun competing against their first team defensive backs and going against Hall, another Virgina Tech Hokie,that was a lot of fun. He's one of the best in the league."
Colvin flashed his skills all over the field, catching four passes in the team period, all from Smith. He showed some toughs when he took a shot from Rashad Baker, held on to the ball, and kept running for yards after the catch. The undrafted rookie free agent also showed some savvy during the team period. Seeing his quarterback in trouble, Colvin came back to the ball and kept his feet in along the sidelines for a completion.
"It was a lot of fun getting out there and competing against other guys, but it starts back in Santa Clara," said Colvin. "I'm trying to get some good work and earn the trust of the quarterbacks so that they know I'll be in the right place and at the right time."
Colvin has come a long way this off-season. During mini camp he played on his surgically repaired ankle even though it wasn't fully healthy, but he then missed most of the OTA's in June due to Oregon's late graduation date.
"I fell behind," said Colvin. "Hearing the terminology it all sounded foreign. The first time I got out there in the huddle and Alex called the play, I just stood there thinking what did he just say?"
He's now 100% healthy, and he certainly didn't appear confused in Monday's session against the Raiders. In addition to his catches during team, Colvin grabbed another pair of receptions in the skelley session from O'Sullivan.
"It's getting easier, just in terms of having those double days every day and having the same stuff pounded in your head every day, things are slowing down," said Colvin. "I'm starting to understand the terminology better and I'm just trying to make plays and earn a spot."
QB Track

In the first team passing session, quarterback J.T. O'Sullivan worked first, completing 5-of-7 passes. His two incompletes were passes that were dropped by his intended targets. O'Sullivan traded off with Alex Smith in the period with Smith completing 4-of-8 passes. Smith also had one of his passes dropped in the team period.
O'Sullivan and Smith then took turns in the following 7-on-7 period which was quite sloppy. Smith's overthrown pass to Josh Morgan was caught by DeAngelo Hall for an interception. O'Sullivan then threw an off-target ball that was swiped by Rashad Baker.
Smith's best pass of the day occurred during 1-on-1 when he fired one deep to Josh Morgan for about a 45-50-yard touchdown.
Shaun Hill also enjoyed reps with the first-team offense in the final team period, completing 3-of-4 passes and spreading the ball to a running back, tight end, and receiver. Hill also tossed up an impressive long ball to tight end Delanie Walker during one-on-ones. Walker beat coverage by a Raiders linebacker by a long shot and then showed his soft hands on the catch.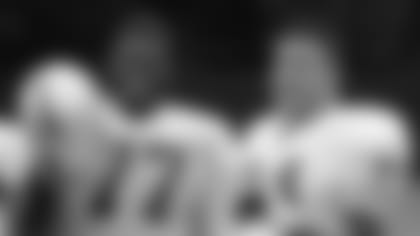 During a water break, Joe Staley left his offensive line and headed to the opposite field to greet former 49ers tackle Kwame Harris.
Following the practice, Harris was engulfed by the entire 49ers offensive line.
That friendliness was otherwise lacking when it come to the 49ers o-line and the Oakland Raiders.
During one-on-one's, Barry Sims enjoyed a solid rep against Greg Spires, but towards the end of the play Joseph swiped over Sims' head and accidentally made contact with Jonas Jennings.
Jennings jokingly remarked, "Get your mitts off me, I'm not the running back."
Joseph apparently took offense and started to cuss at Jennings. Chilo Rachal rose to the defense of his veteran lineman and joined in the melee.
Following the practice, linebacker Jeff Ulbrich chatted technique with special teams coach Al Everest. Apparently Ulbrich had his hands full trying to block an Oakland defender at the start of practice during special teams.
Everest assured the veteran linebacker that he did all he could.
"Sometimes with a guy who has arms like that, that's really all you can do," said Everest.
In watching the film, 49ers.com's best guess is that they were referring to Raiders linebacker Sam Williams.
Vernon Davis said he enjoyed practicing up in Napa, but showering in the middle school locker room wasn't so easy.
"It's different. Those showers come up to right here (pointing to his ribs). Everyone was in there squatting down so they could get under it."
The Daily Drill

One-on-one drills between receivers and defensive backs typically favor the offense since there's no pass rush, but the 49ers fared well on Monday at both positions.
"It's an offensive drill, but it's fun," said cornerback Nate Clements. "If you can prevent them from catching a ball in one-on-one, then with a little bit of pass rush, it should be easy in a game."
Clements nearly picked off a pass in his first rep in one-on-one and was angry at himself on the play.
"He ran a hitch on me on the first one and as soon as we turned around, the ball skimmed over my head so the ball was out when we were running, so I have to do a better job of disrupting that route because that ball was coming out quick."
On the next, Clements played off and once he saw where the ball was going he dove and batted the pass intended for Drew Carter.
"I love that drill because I think it's an opportunity to challenge myself and challenge the receiver. I try to switch it up. I never want to give the receiver the same look every time. I want to go up and press him and try to throw off the riming of the route, the next time I might play off, and the next time I might come up and press him again but with a new move. It's a chess game. They try to figure you out and you try to change it up and stay disruptive."
Clements' teammates also proved to be disruptive. Cornerback Shawntae Spencer played tight coverage on one of his reps to alter the quarterback's throw, while safety Michael Lewis nearly had a pick on a pass to Zach Miller.
"We just work on what the coaches have been telling us throughout the duration of camp – stay square, and try not to key the quarterback too much until it's time," said Spencer. "It was good work and fun to cover new receivers. You have to be aggressive against this group of guys."
On offense, wide receiver Jason Morgan bested rookie Darrick Brown with a double move and then caught a touchdown bomb from Smith.
"It was a 7-pump route. I used a double move, the DB bit, and the quarterback threw a great pass," said Morgan.
The rookie said he too put his training camp coaching to the test during the one-on-one drills.
"Coach Sully says to stay coachable and do what he tells me what to do. So it was just to see if I could go out and execute the way he's taught me against our defensive backs against new competition. It was fun competing against someone else and seeing different coverages, but you do have to stay the same and not change your game."
Morgan's stiffest competition on the day came against Pro Bowl corner DeAngelo Hall.
"He's an aggressive corner. He plays off sometimes, and he likes to play bump and run because he's got great speed. So, I just had to go out there and do what I was coached to do and not play differently because of him. Coach Sullivan said I did a pretty good job."
Second-year receiver Jason Hill also proved he's been listening to Sully's coaching tips.
In one of his reps Hill burst off the line, dropped his weight and used perfect footwork to get in and out of his break. The moves easily shook his defender, giving Smith a wide open target for an easy completion.
"It's just sticking with your technique, being fast, and being physical. They are known for being physical so we had to come out and be physical, not just in one-on-ones, but throughout the whole practice."
Injury Updates/Practice Status
Wide receiver Isaac Bruce will not work in Napa during either practice. Mike Nolan said he's resting his veteran receiver.
Cornerback Walt Harris rested in the morning but will return to work in the afternoon.
Wide receiver Bryant Johnson tweaked his hamstring. Johnson hobbled to the busses with ice on his leg, and was trailed by a slow moving Ashley Lelie. Lelie took a full practice, but said his calf got stiff towards the end of the morning practice.
"I think it just got fatigued," said Lelie of his left calf. "It was already a little tender."
Although the calf injury has been frustrating and has slowed him from getting reps this first week of camp, Lelie has stayed on his game mentally. He said he felt prepared for his morning workload and notched a couple of grabs.
Of his approach he said, "When you have an opportunity to make plays, make plays. That's what's in my control. When I've gotten a chance, i haven't had too many mental errors. That's the biggest thing with this offense, having it down and being able to execute the game plan and it gives you a chance to compete at the highest level. I know all of my plays, it's just getting over these nagging injuries."
Six 49ers players did not travel to Napa: S Mark Roman (hamstring), S Lewis Baker (thigh), G David Baas (pectoral), RB Michael Robinson (knee), WR Jerard Rabb (groin) and LB Parys Haralson (shoulder).