The 49ers defense recorded 11 of the unit's 30 sacks this season in their last two contests. Almost a third of those sacks came from the outside linebacker position, in which the 49ers have recently implemented a three-man rotation.
Parys Haralson, Manny Lawson and Ahmad Brooks have each had their moments in the triumvirate attack, combining for 12 sacks this season. Because of their efforts, the 49ers rank second in the NFC with 17.0 sacks coming from the linebacker position.
An explanation for the sack numbers increasing could very well be linked with the 49ers rotating of pass rushers at the outside linebacker position.
"I think it's going well," defensive coordinator Greg Manusky said. "The last couple of weeks, it has been good with the rotation that we've had. You need a couple of pass rushers, and I think those three guys are doing a pretty good job of getting to the quarterback. It's always nice. The more you have, the better off you're going to be."
The 49ers have improved in attacking quarterbacks as of late.
Lawson has picked up 4.0 sacks in his last five games, while Haralson has added 3.5 sacks in his last three contests. The pass rush by committee has maximized each pass player's effectiveness throughout the game.
All three of the players agreed with the notion.
"It does bring you fresh legs, it does give you wind," explained Lawson, who ranks third amongst NFC linebackers in sacks (5.5) and second for his three forced fumbles. "I think it gives us all wind, but we're all eager to go out there and make plays."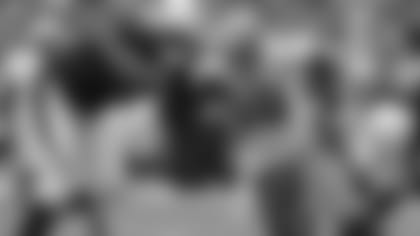 "It does help you get fresher, but I don't really look at it like I'm feeling fresher. I just play," Haralson said.
"It definitely helps," Brooks said. "Manny and Parys were playing punt team for the first couple of games, and you have to imagine how tired they were. It helps for me to be playing special teams and then to come in and helping out with the rotation. It keeps everybody fresh out there."
The biggest surprise has been Brooks, who signed with the 49ers at the start of the '08 season. Brooks was inactive for most of last season, but made believers out of the coaching staff with a tremendous training camp. After the flashes of great play he showcased, Brooks went down with a minor knee injury that caused him to miss the first two games of the season, including the season opener at Arizona.
But since returning from a knee scope, the 6-foot-3, 259-pound athletic big-man has made an impact on special teams and in the pass rushing department. He's totaled five special teams tackles, and he's picked up 2.0 sacks this season, with six quarterback pressures and four quarterback hits.
"I feel a lot more comfortable from when I got here last year," Brooks said. "It feels good to be helping out the defense, that's what you practice for. Everything you work for is to go out and make plays and that's my job to go out there and make as many plays as I can make. Whatever I can do to help the team, that's what I'm trying to do. The more sacks, the better it is for our team."
With Brooks and Lawson adding to the success of the defense, the other pass rusher in the group is happy to be among two other emerging pass rushers.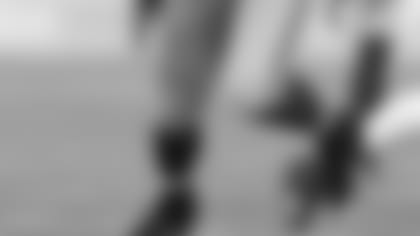 "Ahmad is very athletic for a guy his size. He's a good player and he's getting comfortable with the defense where he's able to make more plays," Haralson said. "Manny, you know Manny, he can play. He's a pass rusher who can drop, basically, he can do it all. He's been getting sacks and causing fumbles. We're all just trying to keep it up."
In particular, Lawson has played his best stretch of football of his pro football career. But he can't pinpoint a particular cause for why the sacks have come in bunches recently.
"I can't say there's a reason, it's just what I'm supposed to do," the long-limbed, pass rusher said. "It's my job and that's what I'm looking forward to doing."
Without Brooks' services against the Cardinals for this season's first go-around, the 49ers pressured Cardinals quarterback Kurt Warner early and often, sacking him three times in a 20-16 road victory.
The 49ers hope to have a similar performance against a banged-up Arizona offensive line, which might be without the services of left tackle Wayne Gandy for another week. Gandy missed last week's game against the Minnesota Vikings with a pelvic injury, but sixth-year reserve Jeremy Bridges did a nice job in his place.
Despite their unfamiliarity with Bridges, the 49ers pass rushers are confident they can be successful no matter who lines up across from them.
"We have to play our game," Lawson said. "We know it's going to be a really tough game. We know both teams know each other very well and it's a Monday Night game. It's going to be a big game on that end and we're playing for something. I just can't wait till Monday."
Matching Up Against 'Fitz
Former college teammates at the University of Pittsburgh from 2000-2003 will be reunited once more when cornerback Shawntae Spencer lines up against Cardinals receiver Larry Fitzgerald.
But the matchup isn't changing Spencer's focus one bit. Playing against a guy he practiced against for years is old news to him.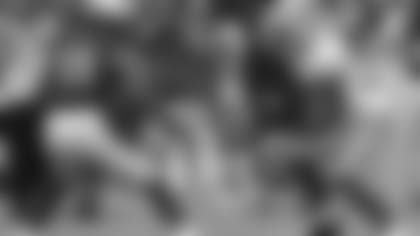 "There's a lot of Pitt guys in this game – about seven – but there's nothing to the matchup. It's just another game," he said. "I'm not going to put too much emphasis on who we're playing."
Without the services of Nate Clements, who is still out of action with a shoulder injury, Spencer will be largely responsible in covering his college teammate. But in order to stop one of the league's premier playmakers, Spencer knows that it will be a total team effort.
"I think it's about doing what we've been doing by trying to get pressure on the quarterback," he explained. "You just have to stay close in coverage and make him compete throughout the whole route. I think it's important. I've seen some teams have some success when they just stay close. They got pressure on the quarterback.
"Everything we do starts with stopping the run and having our front seven get a good push. Then, hopefully on the back end, it can hold up."