Just because the 49ers are bringing the NFC's top rush defense into Sunday's home matchup with the Atlanta Falcons doesn't mean the defense is satisfied with their performance through the first quarter of the season.
"As it always goes, when you're doing good everybody wants to know how you're doing it and they want to be a part of it," linebacker Joe Staley said. "When you are doing bad, everybody wants to talk down upon you."
And while Willis and his teammates have earned national recognition for having the NFL's sixth-best overall defense – the praise is insignificant to them.
"When it comes to the media, we let y'all do your jobs and we do ours," Willis said. "Ours is going out and playing and making the best of what we have."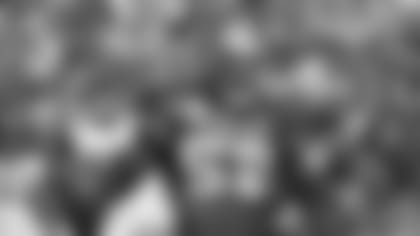 Outsiders might be impressed with the 49ers first four performances, but the group remains hungry for bigger and better things. Tough to do after holding their last opponent to zero points, but the unit is ready to build off that effort.
"Every week is a challenge," defensive coordinator Greg Manusky said. "It seems like every team that you play has a pretty good running back, a pretty good tight end, and a wide receiver, so each week is a big test. We just have to play consistent football week in and week out, create turnovers, create sacks, and do the things that we need to do to win the game."
For the 49ers to reach their ultimate goal of being a top-3 defense in the NFL, the unit will have to continue to play up to the standards they've set.
One of the most overlooked aspects of the 49ers dominant start is the play of nose tackle Aubrayo Franklin, who has been a major factor in the 49ers having the fourth-best rush defense in the NFL.
With Franklin being disruptive in the trenches, the 49ers have yet to allow an opposing back to rush for more than 85 yards. Against arguably two of the NFL's top rushers, the 49ers held Adrian Peterson of the Minnesota Vikings to 85 yards and Steven Jackson of the St. Louis Rams to 79 yards.
"I think that it all starts off with the nose [tackle] and I think that [NT] Aubrayo [Franklin] has been doing a good job inside," Manusky said of the success of his run defense. "He's been controlling the running game and been doing a pretty good job against the centers around the league that we've played the last four weeks."
Franklin and the rest of the 49ers defense will have another difficult challenge waiting for them on Sunday when they'll matchup against Pro Bowl running back Michael Turner and the Falcons change-of-pace back, Jerious Norwood.
"They're two totally different runners," outside linebacker Parys Haralson said of the two-headed monster that awaits them. "Turner is more of a downhill, bowling ball-type of runner. He runs low behind his pads and you have to wrap him up when you tackle him. Norwood is more of the slash-guy. He sees the hole and hits it. He has the outside speed that we have to contain."
The 49ers will also have to limit Atlanta's passing game which consists mainly of Ryan hooking up his favorite wideout Roddy White and his new tight end, future Hall of Famer Tony Gonzalez.
"Ryan doesn't play like a second-year quarterback," Haralson said. "Not from what I've seen on film. He stands in the pocket, delivers the ball and he does a good job of reading defenses."
With time, Ryan has been able to hook up with Gonzalez 13 times for 160 yards and two touchdowns. Knowing that Gonzalez has already become a top target of Ryan, the 49ers will have to be aware of whereabouts throughout Sunday.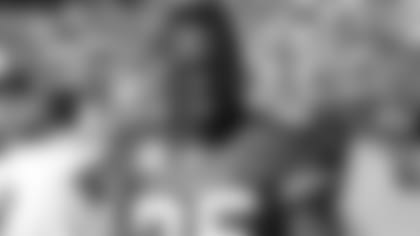 With Gonzalez in town and 49ers tight end Vernon Davis peaking – Sundays matchup also will feature two of the NFL's best tight ends.
"I know Tony really well," Davis said. "I've always liked him."
Davis said he used to seek out Gonzalez for advice on how to play the tight end position. Now he finds himself playing the same role as Gonzalez when he played in 49ers offensive coordinator Jimmy Raye's offense back in Kansas City.
"I like the fact that I'm playing his role in our offense," Davis explained. "But, my goal is to accomplish more than him and do more than he did."
So far, Davis has better numbers across the board than Gonzalez and the rest of the 49ers wideouts.But not to be forgotten, Davis also is a dominant blocker in the running game, while Gonzalez is purely a pass catcher.
With Raye's offense stressing the run game, the 49ers are happy to win games in the fashion they've been doing so, but ultimately would like to spread the ball around if the opportunity presents itself.
"Our challenge is to be more productive offensively and try to become a little bit more efficient in our running game, then try to create a little more balance," Raye said.
This week, the 49ers would like to get rookie runner Glen Coffee going after his 24-carry, 74-yard performance in his first start filling in for an injured Frank Gore.
"I think Glen will be fine this week," center Eric Heitmann said. "Glen is definitely a north and south runner. If we can keep guys out of the backfield, keep them from getting pressure – I think he'll be fine."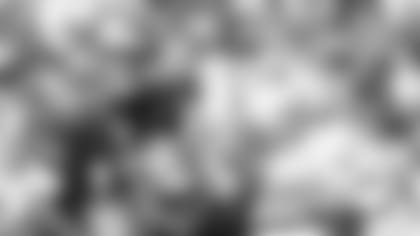 Other than re-establishing the running game, Heitmann and the rest of the offensive line will have a talented Atlanta defensive line to contend with. In particular, the line will have to slow down the efforts of defensive end John Abraham.
"Abraham is an excellent player," Heitmann said. "He's definitely someone we have to account for in the passing game."
Heitmann said the Falcons also present a challenge with their rush defense.
"They're penetrators up front," he added. "Their tackles are good about getting into the backfield. We have to keep them from doing that and I think we'll be successful this week if we can handle the edge pressure from Abraham and the penetration from their defensive linemen."
On both sides of the ball, the 49ers have their work cut out for them this Sunday against a quality NFC opponent.
"That's a good football team, a dangerous football team," Singletary said of the Falcons. "They had a week off to do all kinds of gadgets or whatever else. I'm thankful that [Crabtree's] here, but we are getting ready for Atlanta. We are now 3-0 in our division and I want to be 3-0 at home and that's going to take everything we've got to get there."