To begin a year-long celebration of the San Francisco 49ers 70th anniversary, the organization released a commemorative logo on Monday that will be featured on a uniform patch, as well as team retail and promotional items throughout the 2016 season. Additional details about the season-long celebration will be unveiled throughout the offseason.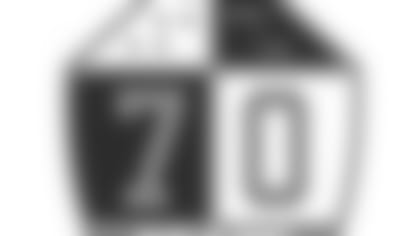 Inspired by the franchise's historic "Shield" logo design, the 70th anniversary logo was created to celebrate the 49ers past while looking toward the future. Design elements of the commemorative logo include five squares in the upper left corner of the shield representing each of the franchise's Super Bowl victories, as well as modern components of the team's brand such as the current "SF Oval" logo font for the word "years" and the current uniform jersey font for the numbers.
"We are thrilled to celebrate the San Francisco 49ers 70th anniversary and the many special moments that make up the history of this storied franchise," said 49ers Chief Operating Officer Ethan Casson. "The unveiling of this commemorative logo is the first of several steps in our year-long celebration of seven decades of 49ers football. We greatly appreciate our Faithful fans for their enduring support throughout the years and look forward to making more great memories with them in 2016."
Additional components of the anniversary campaign:
Throughout the season, the 49ers will use the tagline "Faithful Since '46" as well as the hashtag #FaithfulSince46.
Custom 70th Anniversary and "Faithful Since '46" apparel and novelty items will be exclusively available at 49ers Team Stores later this year. 
Special "Faithful Since '46" activation elements will be featured at the team's upcoming Draft Party to be held April 28, 2016.
New game day entertainment elements that recognize and celebrate the 49ers seven-decade history.
Founded in 1946 by Tony Morabito, the team was named the 49ers to pay homage to the influx of voyagers who migrated to California during the Gold Rush. The inaugural team competed in the now defunct All-America Football Conference (AAFC) and compiled a 9-5 record under the tutelage of Coach Lawrence "Buck" Shaw. Local stars from Stanford University including Frankie Albert, Norm Standlee and Bruno Banducci were joined by Len Eshmont, Johnny "Johnny Strike" Strzykalski and Joe "The Toe" Ventrano on the team's initial roster.
Over 70 years, the 49ers have won five Lombardi Trophies, including Super Bowl XVI, XIX, XXIII, XXIV and XXIX. The franchise also owns six conference championships with 19 divisional titles and was the first major league professional sports team to be based in San Francisco. The organization currently has 23 members enshrined in the Pro Football Hall of Fame, and looks forward to adding a 24th when Eddie DeBartolo Jr. rightfully takes his place among the game's greats during the annual enshrinement ceremony this August in Canton, OH.