At any given point in the early goings of the San Francisco 49ers offseason program, one curiosity-induced sight could be witnessed on repeat.
No. 18 catches pass. Onlooker glances down at roster to learn who No. 18 is.
This happened so many times that by the end of minicamp, no one questioned who No. 18 was.
DeAndrew White, the player in that jersey, came to the 49ers as a largely unknown undrafted free agent in early May. In the two months since, the wide receiver has done nothing but make plays. And in the process, he's drawn praise from media, coaches and teammates alike.
"The type of person he is; he motivates himself," co-wide receivers coach Adam Henry said. "He has a little chip on his shoulder, and he brings it to the building each and every day."
White is only 23 years old, but he's experienced enough highs and certainly enough lows to understand the opportunity ahead of him.
Need convincing? Here's a snapshot of his football career to date: hometown hero, blue-chip prospect, injury-plagued collegian, afterthought to a Heisman Trophy contender and draft-day snub. Now he's striving to ensure the next bullet point added to that list isn't "NFL roster cut."
"I'm a hard-worker and ultra-competitive," White said. "I just can't wait for the opportunity to showcase my talent. I know what I want to achieve, and I know that I need to get better than what I've been doing.
"The NFL is not for everybody, but I feel like I'm at home; I feel like I belong here. I know I'm going to succeed. This is just the beginning."
---
In early September of 2008, Hurricane Ike swept through the Houston area and left significant flooding and power outages in its wake.
At the time, White was a junior at North Shore High School, a perennial powerhouse in Texas football whose home stadium seats more than 10,000 fans.
When the storm hit, North Shore lost electricity for 16 days. The school was forced to cancel three games as its city recovered from the third-costliest hurricane in U.S. history.
But as they often do, sports provided a temporary distraction from the destruction. In this case, North Shore was on the cusp of history. Sitting on 72 consecutive regular-season victories, the team needed one more win to break the state record.
Following the layoff, North Shore went on the road to face another elite program in Lufkin High School, which owned a 27-game home winning streak.
White caught a team-high seven passes for a 120 yards that night, but coach David Aymond remembers one reception with vivid detail.
Tied at 21 with 26 seconds remaining in the fourth quarter, White, a slot receiver who won the Texas Class 5A 200-meter dash in the spring, had his number called.
White dug his cleats into the turf, broke off the line scrimmage and caught a slant route. Using his sprinter speed, White split the safeties and raced into the end zone for a 26-yard touchdown. The score gave North Shore the victory and the state record.
 "He always had a penchant for making the big play," Aymond said. "It didn't surprise me at all. That's DeAndrew."
---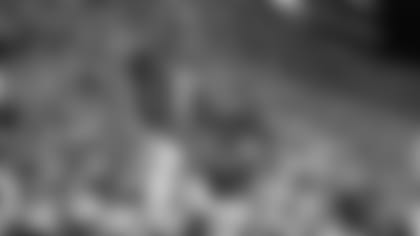 White arrived at Alabama in 2010 as the seventh-best wide receiver prospect in the nation. He redshirted as a true freshman before earning sporadic playing time in 2011, his first season suiting up for the Crimson Tide.
White's breakout campaign was supposed to occur as a sophomore in 2012. He won a starting job over an incoming freshman named Amari Cooper and even caught a 51-yard touchdown pass in the team's season opener against Michigan.
But just a few games later, White's ascension came tumbling down when he sustained a season-ending ACL injury.
"I was blocking on a play, and my knee just popped," he said.
Cooper took over with White sidelined and went on to earn consensus Freshman All-America honors. Cooper continued his rise to stardom over the ensuing two seasons while White battled not only the ACL injury, but also a fractured toe, separated shoulder and pulled hamstring.
In his final season in Tuscaloosa last fall, White regained a starting role, playing in 12 games opposite of Cooper. But while the Heisman Trophy finalist dominated the SEC by hauling in 124 passes for 1,727 yards, White recorded a modest 40 receptions for 504 yards.
He turned in his best performance in the SEC championship game against then-No. 16 Missouri, catching four balls for 101 yards including a 58-yard touchdown.
"I just played my role," White said. "It wasn't for me to say or complain about.  I just wasn't the No. 1 receiver at Alabama, so I did what I could to help the team."
---
Nick Saban urged NFL scouts and general managers not to ignore White. In the buildup to the 2015 NFL Draft, the Alabama coach told anyone who would listen that his wide receiver could make an impact at the next level.
"DeAndrew White is probably the guy that I would say, if you said, 'Who would be most underappreciated by the NFL?' because he has a lot more ability than what his production maybe has been here," Saban said after Alabama's pro day. "He's got great speed. He's got great size. He's a great special teams player.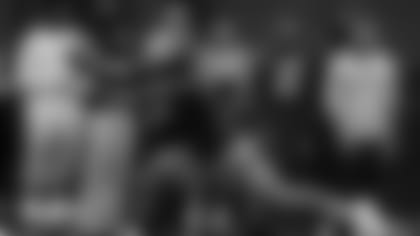 "I think he's going to be a real value for somebody. Somebody's going to get a guy who has great ability and probably could develop into something special."
When word of Saban's comments about White were relayed to Cooper, this year's fourth overall pick expressed similar support.
"Nick said that? Nick was correct," Cooper said. "Great athlete. Great route runner, and he's getting better. He's always getting better, and he always wants to work. He's driven, and he can go out and make plays. I'm telling you, he can go out there and make plays."
Yet despite the high-profile endorsements and a 4.34-second 40-yard dash time at his pro day, White sat through 256 picks of the draft without hearing his named called. The wideout knew his injury history would be a deterrent, but he still thought a team would take a shot on him in the later rounds.
"I was surprised," White said. "I had been hearing a lot of good stuff from coaches and scouts but things worked out that way."
Shortly after the draft concluded, White fielded a call from nearly every NFL team, all reaching out to gauge his interest in signing as an undrafted free agent. White said he was offered more money elsewhere, but he chose to join the 49ers because San Francisco represented the best opportunity to stick long-term.
"I decided I didn't want to do the money grab," White said. "I made the best choice for my career. I don't regret it at all. I love the facility, I love the program, I love the staff and I love the team."
---
Although no official stats were taken during the 49ers offseason program, it's a safe bet that White was the most targeted wide receiver throughout the nine-week schedule.
He displayed strong hands, solid route-running, impressive leaping ability, and most importantly, top-end speed. White said he felt no lingering effects from the laundry list of injuries he dealt with in college.
"Oh yeah, I'm good," White said. "I haven't had a problem with my knee since the year I did it or anything else. I'm recovered. I'm full-go."
White appeared to mesh well with all three 49ers quarterbacks. He rarely, if ever, mishandled a pass from Colin Kaepernick, famous for being a gunslinger.
"He throws like no other," White said. "You watch his windup, and he just lets it go like a rocket. It's challenging to catch but it makes you think faster. You just have to focus on the ball. It's really a reflex with him."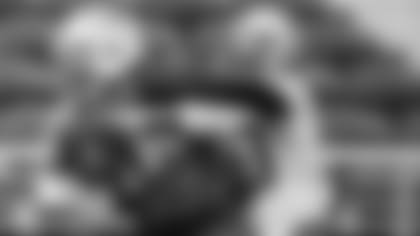 As of now, the 49ers have 12 receivers on their roster. White fully understands that at least half of those players will not make the final 53-man roster out of training camp. That's why he wants to prove his value beyond catching passes.
"The more versatile you are, the better chance you have to be on the field," White said. "I like to try to take advantage of that because I'm an athlete. I can do a lot of things."
Along with the likes of Reggie Bush and Jarryd Hayne, White received reps in the punt and kick return game during OTAs and minicamp. He also has experience playing gunner on special teams at Alabama.
"He's not afraid of anything," special teams coordinator Thomas McGaughey Jr. said. "He's not afraid of competition. He goes out there every day and works his tail off. You can't ask for much more from a rookie free agent. I think he's on his way."
Famous undrafted wide receivers that went on to star in the NFL include names like Wes Welker, Victor Cruz and Rod Smith. White obviously still has everything to accomplish, but those players prove that successful careers can start from humble beginnings.
The highlight of White's standout offseason came on the final day of minicamp. In a hurry-up, red-zone period, White ran down the left side of the field, leaped over his defender and hauled in a touchdown pass from Blaine Gabbert.
Without breaking stride, White returned to same line of scrimmage to run another play, this time on the opposite side of the field. He ran a skinny post toward the back of the end zone, where Gabbert targeted him again. The pass was high and behind the receiver, but White displayed excellent body control by snatching the ball midair and tapping both feet inbounds for another dazzling score.
"He's made some incredible plays," said Quinton Dial, White's teammate at Alabama. "I like how he's looking out there."
Added co-wide receivers coach Ronald Curry, "I like his competitiveness. He's a savvy player, too. If you're out there working hard every day, the ball will find you. He got hot during minicamp."
Coincidentally, White's new home is not far away from the player whose shadow he couldn't escape in college. Across the Bay in Oakland, Cooper is beginning his career with the Raiders.
"We talk almost every day. That's my boy," White said. "We tell each other what we did at practice and how we routes. We still compete even now that we're not on the same team. We still compete. I think that's pretty cool."
White doesn't like to look too far ahead, but for the Houston native, it's difficult not to imagine what it will be like on Aug. 15 when the 49ers visit the Texans to open the preseason. A football career with so many twists and turns comes full circle to the place where it started.
"I can't wait, honestly," White said. "Going back home for my first NFL game, it would be a dream come true. We'll have to see what happens, but I've circled that date. And when it's my time, it'll be my time."