49ers players Joe Staley, Parys Haralson, Aubrayo Franklin, Isaac Sopoaga, Demetric Evans, Barry Sims, Keaton Kristick and Tony Wragge spent their afternoon serving up a Thanksgiving feast for the homeless and families in transition on Tuesday afternoon at St. Joseph the Worker in San Jose.
It was a 49ers family affair as not only the players, but coaches, players' wives and children, and several 49ers staff members donned plastic gloves and ladled green bean casserole, sweet potatoes, cranberry sauce, mashed potatoes, and of course, turkey and gravy to more than 250 people.
Prior to the event, the players, coaches and players' families were instrumental in the success of the day by helping to set up tables and chairs, decorating the dining hall with Thanksgiving themed centerpieces and banners, and setting up the room so the families in need could enjoy a festive meal. There were more than 35 coaches' and players' family members who helped make the day so memorable.
"It's important that you can do something good to help someone out and it makes you feel good doing it," Haralson said. "You're up here hanging out with some of your teammates, hanging out with the staff, hanging out with the people that are coming in to get the food and talking to them and interacting. It's for a good cause, but also, it's fun to me."
Owner Dr. York, daughters Jenna and Mara, and several coaches' wives and families were also volunteers for the day's activities.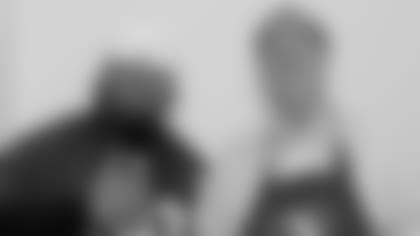 "The 49ers have been doing this for many years at Thanksgiving," York said. "Thanksgiving is a time to be with your family and people that you love and to share blessings and a big meal and food and fun, and some people don't have that. So the players and the staff come to both San Francisco and San Jose and try to provide that Thanksgiving for the people who are less fortunate."
The 49ers award-winning RESPECT campaign, which focuses on respect for families, schools, and communities, was strong in action during the event. Sharon Miller, Director of the Office of Social Ministry for St. Joseph, talked about what it meant to the community to have the team volunteer.
"Our focus is building on the human integrity and dignity of every individual," she explained. "That's what each and every one of us envisions, creating the respect and the dignity for each human being and tearing down boundaries. We're all human and we're all in this together. The people are just very grateful. It's just amazing, just that the players are present, the staff, their families; it's just one big family all of us together, having a meal."
Food for the day was provided by Bon Appetit, the same company that staffs the 49ers Café at their headquarters in Santa Clara.
Gore Giving BackRunning back Frank Gore gave back to the community in a different way Tuesday afternoon as he went to Pine Hill Middle School, where he brought the sixth through eighth graders a "Touchdown Dare to Dream!" event.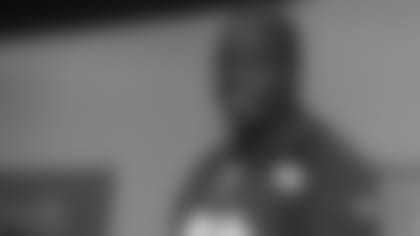 Gore spoke to the youth about setting goals and worked with the students, a majority of which are high-functioning autistic and have emotional challenges, to help them figure out their goals and how to get there. Gore shared his personal experience overcoming a learning challenge in his childhood and encouraged the youth to believe in themselves and their dreams.
"My childhood was tough," Gore said. "People said I wouldn't be able to make it because I wasn't a very good student in school, but I proved them wrong. I told the kids that whatever you set your mind to and whatever you want to do that you can do it. Don't ever let anyone tell you that you cannot."
Gore talked about his high school experience, where he was told that he would never pass the standardized testing necessary to get into college, but his determination won out. He explained to the youth that asking for help is important, and talked about how he had a tutor work with him every day so that he could achieve his dream.
The kids were especially grateful for Gore's first-hand understanding of their challenges, and were awe-struck at his story and inspirational message. As one youngster told Gore, "I've never met anyone famous who is like me. Now I know I can do anything I want.