49ers traded their pads for aprons as they took over Patxi's Pizza in San Jose to support the Make-A-Wish Foundation. Long snapper Kevin McDermott joined teammates Ian Williams and Chris Borland for a friendly competition to support the widely known organization by serving pizza, bussing tables, and snapping photos with fans asking that in lieu of tips, patrons make a donation to Make-A-Wish. As part of the company's 52 Weeks of Giving, Patxi's partnered with the 49ers with a mission of making dreams come true for children with life limiting illnesses, donating 20% of the day's proceeds  from four participating locations directly to Make-A-Wish.
"The event is a fun opportunity for our players to get involved, engage and interact with fans," said 49ers Community Relations Specialist Heather Hooper, "The players have seen several wishes be granted by the 49ers, so while having a good time, they are also helping to benefit an organization they have a personal connection to."
"I have seen what an impact the Make-A-Wish Foundation can have on families, so I love partaking in any way to help make their dreams come true and I am happy the 49ers are a part of it," added McDermott.
The line grew out the door with fans eager to meet the 49ers, devour Patxi's famous deep-dish pizza, and most importantly to support a great cause.
"My favorite part was interacting with the players all while giving back to the kids and Make-A-Wish," expressed a local fan, "It is nice to see 49ers players in a normal light without the pads and helmet. Witnessing how much they give back to the community and fans is a major reason as to why we love the 49ers."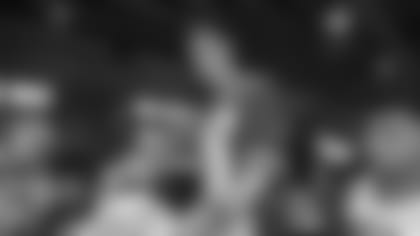 Players continued to serve fans throughout the event, assisting the Patxi's staff and adding a little friendly competition as to who could bring in the most money for Make-A-Wish. Ian, Kevin and Chris tested their game on schmoozing, and used their natural speed and agility to hop from table-to-table to be sure each fan had a memorable customer experience. Williams traded in his defensive game-face for a customer-friendly smile and earned an impressive $329 in tips for the Make-A-Wish Foundation.
 "I have waited tables a couple of times," said a humble Williams who is no rookie to serving at the 49ers Foundation Pasta Bowl event, "I can't say who is the best waiter,  but I can say we are all doing this to have fun, support a great cause and raise as much money as we can."
In addition to tips and Patxi's proceeds, guests had the opportunity to contribute to Make-A-Wish by entering a raffle for unique prizes and experiences throughout the Bay Area including: restaurant gift certificates, family friendly activities and autographed items from various sports teams. To top off the night with something extra sweet, Frost Cupcake Factory, winner of the champion title on the FoodNetwork's Cupcake Wars, donated fan-favorite-flavors for all to enjoy. The buzz continued throughout the night as guests lingered in an aura of team and moral positivity. Through the efforts of the 49ers, fans and four Patxi's locations, a total of $4,333 was raised through tips, raffles, and proceeds. 
"I had my wish come true a couple months ago when I got to go to Chicago," reflected Kasey Schumacher whose family was in attendance as VIP guests on behalf of Patxi's Pizza and the Make-A-Wish Foundation, "I am so thankful for organizations like the 49ers who get involved and make a difference, and I truly appreciate all that the guests and Patxi's Pizza have done tonight to help others' dreams come true."
To learn more about the Make-A-Wish Foundation's mission to bring strength, hope and joy to children, visit http://wish.org