The 49ers traded their sixth-round selection (No. 174 overall) and seventh-round selection (No. 231 overall) to the Green Bay Packers to move up to No. 163 to select Appalachian St. guard Daniel Kilgore.
The 49ers didn't have any selections in the fifth-round but made sure to grab the mauling guard, who posted the best vertical jump (32.5 inches) by an offensive lineman at the 2011 NFL Scouting combine.
Kilgore's offensive line allowed only eight sacks in 13 games last season and helped the Mountaineers become one of the most prolific offenses in the nation. The 6-foot-3, 308-pound lineman also has experience playing at the tackle position and said he could play center in his conference call with the local media.
Here's Kilgore's conference call transcript:
On whether he had any indication the 49ers would pick him:"The first time I met with the 49ers was last week with (offensive line) coach (Mike) Solari. He's a legend as an offensive line coach and I had a pretty good meeting with him. I was just coming into today's draft, this whole draft, it could go anywhere. San Francisco was kind of late. As far as talking to me, they didn't talk to me the whole time, so it's always an open ballgame for me, and I'm so glad to be a 49er."
On the meeting with coach Solari:"It was last Monday, it was over Skype. I'm still here in Boone, North Carolina, still in school. It lasted almost two-and-a-half hours, we just talked football and got to know each other a little bit. It was just a great honor to meet coach Solari."
On whether he has any experience at the center position:"Yes sir. In high school I started three years at center with a spread offense, shotgun mostly. In college I came in as a center, did not play any games at center, but played both sides at guard and tackle there throughout my career."
On his strengths as an offensive lineman:"I'm an athletic guy. Growing up I always played different sports. I've been exposed to different things, so I'm an athletic offensive lineman. I have quick feet, that's very important as an offensive lineman to have quick feet, able to move around good, and I believe under the system of the 49ers, one of the things they look for is the athletic aspects of playing both center and guard."
On whether he pulled a lot as a guard in college:"Yes."
On what other sports he excelled at besides football:"Growing up I played baseball, basketball, wrestling in high school, but in college it was strictly football."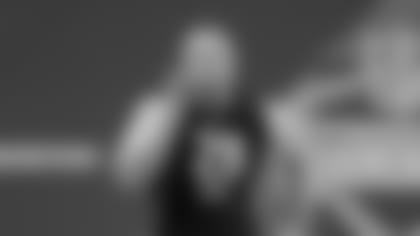 On whether coach Solari mentioned he would like him to play for the 49ers:**"They're looking at me for center. I know for sure, but then again I've got experience at guard, so I'm just not a center, I also play guard."
On 49ers' 2010 rookie offensive linemen T Anthony Davis and G Mike Iupati having started every game of the 2010 season and what that tells him about the 49ers giving younger players chances:"Yeah, I mean, that's really huge. Those guys of course, they're just me. Every year you draft rookies and you have to be ready to come in and compete. I'm going into the team ready to compete and that's a good sign for guys who are coming into a team; they see two rookies start. That's really good, so yeah, I'm going into to it wanting to compete and be a great team player and just enjoy coming out to San Francisco. I'm sorry, I'm at a loss for words right now."
On what they've told him about when he can come out and get started:"I actually haven't heard anything about that today."
On who called him today:"[Offensive Line] Coach [Mike] Solari was on the phone, the head coach, the GM and I guess everybody was in the room. The PR guy, he just called me and as far as being able to come out and meet with the coaches and everything, I do not know yet."
On where he is right now and whether he's surrounded by family and friends:"I'm still in Boone, NC finishing school. I graduate next Sunday and we're actually at a friend's house in Banner Elk. We watched the draft today and my family came over, my mother and father and my best friend came over from my hometown in Kingsport, TN. We got some friends gathered up today. We weren't really sure today, but the Lord has blessed me and it's been a great day."
On what his degree is going to be in:"It's in physical education, K-12."
On when did he first know of Mike Solari:"A couple years ago I heard of him. We had an offensive line coach, Shawn Elliott, who left Appalachian State and went to South Carolina and then Bob McClain came in as the new offensive line coach, and as soon as he found out I was becoming an NFL prospect, he would talk about working under [Florida State offensive line coach Rick] Trickett and all the well known offensive line coaches throughout the country, and Coach Solari was one of them."
On whether he is excited to be a part of a new coaching staff in San Francisco:"Yes. Coach did a great job at Stanford, a wonderful job at that, and coming in under new coaches, new staff, it's always exciting, especially as a new player. Like I said before, I just want to come in and compete, be part of the team and help in any aspect I can to win."
On whether his Skype meeting was just with Coach Solari:"It was just Coach Solari."
On whether it was close to two and a half hours:"It was close to it, yes sir. We had a really great meeting."
On whether there will be any challenge in playing center since he hasn't played since high school:"I played center in the Texas vs. the Nation All-Star Game and I've been working on my snaps, doing the offensive line drills that have been preparing at center. I'm ready to go at any position that they put me at."
On what his size is right now:"They say I'm 6-31/4. Right now I'm weighing in at 305."