The 49ers have added once again to their offensive line by selecting Mike Iupati out of Idaho with the No. 17 overall selection.
Iupati was featured in this 49ers.com "On the Clock" piece leading up to the 2010 NFL Draft.
After being selected, the All-American guard spoke with the local media on a conference call.
On who called him to let him know:
"I got a text from – I was so excited I don't even know. I was so excited though. It was great, I talked to [head] coach [Mike] Singletary and stuff like that."
On the vibe that he got from the 49ers:"It felt like home. It felt very old school style, but a hard working group."
On the 49ers drafting T Anthony Davis and whether he thought that ended his chances of coming here:"Yes, kind of, but I still ended up at 17, so I was hoping for that."
On whether he sees himself playing right tackle:"Yes. I can play anything. I just need repetition. I know I played guard in college and in high school, but I know that I can transition outside if they need me to. So, anywhere the coaches want me to play, I can play for them."
On whether left guard is where he feels most comfortable right now:"Right now, if I come in and start at left guard I can go. I just need to get repetition at right tackle. I know I can get good enough to play those other positions."
On whether he was getting worried the further he slipped down the board after Oakland Raiders head coach Tom Cable passed on him:"Yes, I knew I could be picked eighth and all the way to the Cowboys, so I wasn't nervous going into the draft, but once I sat down and after the eighth, I felt like…"
On his playing style where he attacks off the ball:"Yes, I come off the ball fast and physical, so I try to attack my opponents."
On one of his greatest assets being that he is fast and physical with a mean streak:"Yes, sir."
On how he ended up at Idaho:"I was a Prop 48. I wasn't a qualifier for my school so either I choose the junior college route or take that Prop 48 which means I don't get my first year of school."
On the 49ers taking two offensive linemen in the first round and if he things they are making a physical statement:"Yes, sir. Anthony Davis is my good friend that I met at the combine. I was very happy that I came here to the 49ers so that way we could work together and work as a team."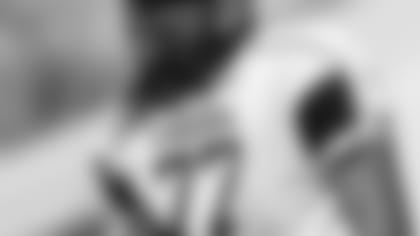 On if he has talked to Anthony Davis since the combine:**"No, but I think I have his number. I haven't talked to him lately. He's a great guy."
On what [head] coach [Mike] Singletary said he expects of him:"He said, 'You've got to learn the book, be on your game all the time and work hard.'"
On if he was worried that going to a small college would affect him being drafted in the first round:"Yes, kind of. It's hard to tell because some people do competition level and stuff like that, but it's wherever you can play."
On what he thinks about blocking for [RB] Frank Gore:"I would love to. I watched him a little bit. Coach Brown showed me one of his clips and I would really like to block for him."
On if he is from Anaheim"Yes."
On if he is in Anaheim right now"Yes, I am here right now."
On if it means anything to stay in his home state"Yes, it does mean a lot. Especially since all of my relatives are big football fans. I'm very glad that I have them right here, right around the corner."
On what he learned from [offensive line] coach [Mike] Solari about the 49ers blocking schemes:"I learned a lot from him. We spent at least a few hours in that room, just talking about plays, learning the defense and the plays that they run. If it were up to me, I would want to get coached by him. He's a great coach and he knows a lot."
On how many hours he spent with Solari:"About three hours in there."
On how he pronounces his last name:"YOU-pah-tee
On the worst way that he's heard it pronounced:"Lu-pot-tee or eye-you-pot-tee."