The 49ers High School Player of the Week Award for week 6 goes to Cameron Taylor of Hillsdale High School in San Mateo, CA.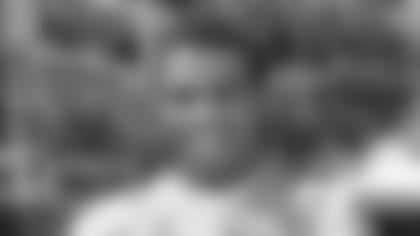 The Hillsdale Fighting Knights won their first PAL Ocean Division game of the season with a dominating win over The King's Academy Knights 63-35. The visiting Knights left Rich Mazzoncini Stadium with their first loss of the season.
It was a tale of two halves offensively for Hillsdale, using the passing game early on in the game then using their ground and pound rushing attack late. The one consistent factor was senior running back Cameron Taylor. Taylor was a force to be reckoned with both catching balls out of the backfield and running the ball between the tackles
Hillsdale was slinging the ball around with great success in the first half. Quarterback Brett Wetteland threw for 175 of his 198 total yards in the first half, with both his touchdown passes coming in the first half. Taylor, the versatile running back, played a significant role early in the passing game with four first-half catches for 44 yards. He also finished off two scoring drives for the Fighting Knights, rushing for two touchdowns.
"He did a lot of really good things with the football in the first half," said Head Coach Mike Parodi.
The second half was a whole new offensive game plan for Hillsdale, coming out of the half pounding the rock.
"He ran really well the whole night, but in the second half we committed to the run even more," said Coach Parodi. 
Taylor carried the ball 22 times for 150 yards. In a high scoring third quarter that saw six total touchdowns between the two teams, Hillsdale scored four of them, two of which came by way of Cameron Taylor. His longest run of the night came on his last touchdown to finish off the dominating win. Taylor scored on a 20-yard sweep. The supreme running back finished the night with five touchdowns.
The senior running back was vital to the Fighting Knights ability to score on 8 of their 11 possessions. Their ability to hand off the ball to Taylor and let him pick up a solid chunk of yards carry after carry enabled Hillsdale to form long, productive drives. Hillsdale ran 71 plays, compared to the 46 of The King's Academy. They also scored on nine of their eleven possessions, which again, was a result of Taylor's ability to consecutively find the end zone and finish off their drives.
"He's a special kid. A three year varsity starter, one of our biggest weapons offensively and our quarterback on defense… he's a special football player," said Coach Parodi.
Taylor also plays safety, and is known to be a threat in the return game.
"He had a solid game. It was obvious The King's Academy choose not to kick to him which comes out of the respect they have towards him to make plays.  They did not want the ball in his hands that for sure," said Parodi.
Cameron Taylor was elected team captain for Hillsdale and is the ultimate leader by example.
"He's a quiet kid by nature, "said Coach Parodi. "This year as a senior he has gotten a little more verbal, but he's your lead by example type which speaks volumes because when he does speak, the kids really listen. They know there is a reason behind it. They know when he's speaking, they better listen. He certainly has the respect of this locker-room."
Cameron Taylor currently holds an impressive 3.6 GPA. When he isn't playing football, he's come to master another sport – golf. He grew up golfing with his grandfather and is now one of the top golfers for Hillsdale.
"Most people don't know that about him. But he is one of the top golfers in our program.  I like to point that out because I think it shows the intellectual side of him as well," said Coach Parodi.
"He's a pretty darn good kid all-around. He's having a great year and this award is well deserved. It is good to see good things happen to good people," praised Cam Taylor's coach. As the home school of the 49ers High School Player of the Week, Hillsdale High School will receive a $500 grant for their football program from the 49ers Foundation. Cameron Taylor will receive two tickets to a 49ers home game and a certificate signed by 49ers head coach Jim Tomsula. At the end of the season, Taylor will be invited to the SAP Performance Facility to accept a trophy recognizing his achievements.