The Saints snapped the 49ers two-game win streak with a 31-17 victory.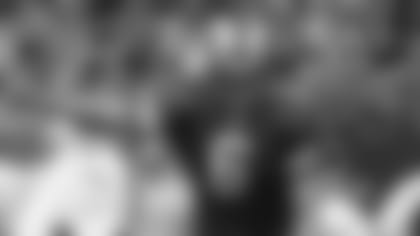 1ST QUARTER HIGHLIGHTS, 49ERS 3 – SAINTS 0**
The Saints got the ball first with Pierre Thomas some how escaping traffic to get out to the 33-yardline.
The 49ers came out throwing, picking up four yards on a quick pass to Reggie Bush. Lance Moore earned a first down with a 13-yard slant pass from Drew Brees. Linebacker Takeo Spikes, who got his first start as a 49ers, came on a delayed blitz to force a Brees incompletion. A 2-yard run by Bush set up a third and 7. Joe Staley came on another late blitz, this one around the left side of the line to force another incompletion.
Allen Rossum called for a fair catch at the 8-yardline.
Frank Gore got only a yard on first down, but the Saints actually moved offsides for a 5-yard penalty. On 2nd and 4, JT O'Sullivan threw a quick slant ball to Arnaz Battle for a 9-yard gain and a first down. Gore found some breathing room up the middle of the line on a draw play for 7 yards. O'Sullivan got the 49ers into Saints territory with a 23-yard pass to Isaac Bruce on a deep in. O'Sullivan went right back to Bruce for a 9-yard pickup, with Gore earning 6-yards on a sweep out to the right to again move the chains. Charles Grant then dropped O'Sullivan for a sack, beating Barry Sims eventually with a move back inside as the quarterback couldn't find an open man down the field. Josh Morgan picked up 10 yards on a catch, leading to a 3rd and 7. O'Sullivan took a shot deep to Bruce for the end zone but was almost picked off by Roman Harper. Joe Nedney got a field goal out of it with a 47-yard connection.
Thomas enjoyed another nice return, getting out to the 29-yardline before he was chased down from behind.
Deuce McAllister continued to push the pile, earning five yards on his first down carry. The 49ers continue to get some pressure around Brees, but Moore was able to split the secondary and find an open area between Walt Harris and Michael Lewis for an 18-yard catch at the Saints 47-yardline. The defense gave up another first down when they jumped offsides on a 3rd and 3, just inside of 49ers territory. Spikes then picked off a pass at the 37-yardline, leaping up to get one hand on the ball and then got both arms around it as he fell to the ground for the interception.
The 49ers were unable to do anything with the turnover as New Orleans got some pressure on O'Sullivan to force a throw away and a dangerous slant pass in traffic to Bryant Johnson.
Andy Lee slipped as he put up an ugly punt with very little hang time, but it took a great bounce and roll for the 49ers, who pinned the ball at the 17.
Brees went back to Moore for an 8-yard completion, with Manny Lawson just missing an interception. McAllister got a generous spot on the next play to earn a first down by about an inch after the measurement. Brees then found a wide open David Patten for a 21-yard pickup to the Saints 49. Brees took a shot deep to Robert Meachem, who had Nate Clements all over him to force the incompletion. Another incomplete pass went the Saints way with an illegal contact penalty on Walt Harris, for a Saints first down just inside 49ers territory. Clements came back with another strong play, closing quickly on Reggie Bush on a sweep play out to the right for a 2-yard loss. Michael Lewis then broke up a pass on the next play to tight end Billy Lewis, setting up a 3rd and 12. Brees had time but couldn't find an open receiver as the quarter came to a close.
2ND QUARTER HIGHLIGHTS, 49ERS 6 – SAINTS 21
The 49ers got some pressure on punter Steve Weatherford on the first play of the second quarter, leading to an 18-yard punt off the side of his foot, and starting field position at the 30 for the offense.
A 2-yard Gore run was followed up by a quick pass to Battle for 12 yards. A sack by Sedrick Ellis lost five yards. O'Sullivan then escaped pressure in the pocket on the next play, only to be chased down from behind by Will Smith, who forced the ball out. New Orleans recovered along the 49ers sidelines at the 32-yardline.
A facemask penalty on Ron Fields gave the Saints a first and goal at the 8-yardline. A false start pushed them back to the 13. Moore caught a pass at the 5 and then another 5-yarder, this one a touchdown to give the Saints a 7-3 lead with 9:31 to go in the second quarter.
A trick play on the kickoff didn't work out very well with Rossum reversing the field and handing off to Michael Robinson who was immediately stopped at the 1y-yardline.
Gore's first down carry picked up 5 yards, followed by a 4-yard carry to set up a 3rd and 1. The 49ers opted to throw, but O'Sullivan's try for Bruce was nowhere near completion.
Lee hung up a punt forever, giving Bush no chance for a return at the 35.
The Saints overcome a holding penalty with a 3rd and 10 draw play up the middle by Bush. Parys Haralson got great pressure on Brees, who dumped the ball to Bush. Patrick Willis stopped him immediately for a 5-yard loss. McAllister got a nice run up the middle on the next play, still short of the first down, but the Saints called a holding call on Aubrayo Franklin, for a first down at the 49ers 45-yardline. The 10-play, 65-yard drive ended with three minutes left in the first half and gave the 49ers a 14-3 lead.
The 49ers looked to have great field position after a nice return by Rossum, finished off by a 15-yard face mask penalty. But 1st and 10 from the Saints 46 was soon 2nd and 18 after a sack by Tracy Porter negated the nice position, but O'Sullivan then gunned one to Battle out of the slot for a 23-yard gain and a first down at the 32. A tripping penalty by Tony Wragge pushed them back to the 42 for a 1st and 10. Gore got 11 back, setting up a 2nd and 9 after the two minute warning. O'Sullivan tried for Battle again but he was well covered, leading to a 3rd and 9. O'Sullivan lobbed a pass to Bruce but the timing was definitely off. Nedney's 49-yard field goal earned another three with 1:44 left in the half.
A short pass to Bush earned only two yards with a trio of 49ers defenders chasing him out of bounds, but Brees then found Miller for an 18-yard gain out to their 46-yardline. A throw to Bush earned 7, followed by a 47-yard touchdown pass to Robert Meachem for a 21-6 Saints lead.
The 49ers still had 52 seconds to work with but after another 22 yard pass to Battle, O'Sullivan had three straight balls dropped on him by Josh Morgan, Frank Gore and Battle, allowing the Saints to head in at the half with the 15-point lead.
3RD QUARTER HIGHLIGHTS, 49ERS 9 – SAINTS 21
Gore started off the second half with a 10-yard carry. Two more Gore carries picked up five yards and on 3rd and 5, O'Sullivan connected deep with Gore on a seam route for 24 yards and a first down at the Saints 28. O'Sullivan threw a quick pass to fullback Zak Keasey but Keasey wasn't prepared for the ball. His next slant pass to Bruce moved the chains with a 12-yard pickup.
Gore's carry picked up only a yard, followed by a Charles Grant sack, who beat Sims. On 3rd and 14, O'Sullivan's shot to Battle in the end zone was incomplete. Nedney hit on his third field goal from 38 yards out trimmed the Saints to a 21-9 advantage with 10:18 to go in the third quarter. The 10-play drive covered 48 yards.
An illegal contact call against Mark Roman gave New Orleans a first down, followed by another completion to Lance Moore moved the chains for the Saints. Moore is now over 100-yards with 7 catches for 101 yards. The defense then held with Michael Lewis breaking up a 3rd down Brees pass to force a punt. The 49ers lost a challenge and a timeout on the drive when Mike Nolan challenged a catch by Billy Miller.
Gore picked up four yards, followed by a scramble by O'Sullivan for a gain of one, leading to a 3rd and 5. O'Sullivan's pass was short but an illegal hold on New Orleans earned an automatic first down. Gore then took the ball on a sweep and got 9 yards. On 2nd and 1, DeShaun Foster again got the left edge for nine yards. A short throw to Foster earned only 2 yards with a Saints linebacker right there to drag him down as he made the catch. Gore headed up the middle of the field for a 6-yard burst, setting up a 3rd and 2. Gore got the needed yards, and a few extra for a first down at the 36. O'Sullivan then delivered a quick throw to Delanie Walker, who escaped his coverage by Saints linebacker Scott Shanle for a 21-yard gain. A completion to Bruce picked up another 5 yards to the 10-yardline. O'Sullivan was then intercepted in the end zone by safety Kevin Kaesviharn.
Keasvihard returned it out of the end zone to the 9-yardline with 2:35 to go in the quarter.
The Saints used the flea-flicker to advance 57 yards down the field. Safety Michael Lewis had great coverage, but Meachem was able to haul in the pass as the third quarter expired.
**4TH QUARTER HIGHLIGHTS, 49ERS 17 – SAINTS 31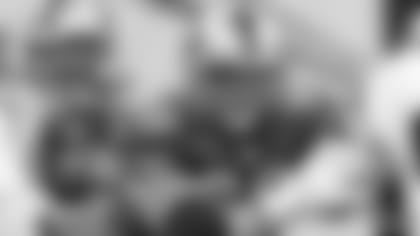 An illegal hands to the face penalty against Ray McDonald handed the Saints a first down at the 20. The Saints converted a 3rd and 2 play with a 10-yard screen pass to Olaniyi Sobomehin to move New Orleans to the 3. McAllister eventually scored on a 1-yard touchdown run.
Weatherford was the only man left between Rossum and the endzone, and the punter got him out of bounds on the kickoff at the Saints 40. A tripping penalty moved the 49ers to the 30-yardline on an incomplete throw downfield to Bruce. A hurried incomplete throw to Gore was followed by a false start by Tony Wragge. Battle earned 7 on the next down, setting up a 3rd and 7 at the 27. O'Sullivan hurried another throw but this one hit the ground as Battle tried to make a sliding catch. The 49ers went for it on 4th and 7 and Battle caught it along the 49ers sidelines for a first down at the 16. O'Sullivan was then picked again in the endzone by Tracy Porter.
Devery Henderson beat Nate Clements and got beyond Mark Roman for an 81-yard gain down to the 2-yardline. A delay of game lost the Saints five yards. New Orleans ended up going for it on 4th and 1, but Lewis forced the ball out, which was recovered by Willis. The Saints challenged the call, but the ruling was upheld.
The 49ers started from their own three yardline but finally managed to get into the end zone with a 6-play, 97-yard scoring drive. A costly pass interference call on New Orleans on a deep ball to Battle gave the 49ers 43 yards for a first down at their 46-yardline. O'Sullivan than threw a 19-yard pass to Vernon Davis. After another sack of O'Sullivan, the sixth of the day, he hit Battle for 36 yards at the Saints 5-yardline. Two plays later he found Isaac Bruce for the 5-yard score. Gore earned the two-point conversion on a shovel pass.
Nedney's on-side kick try went to New Orleans instead at the 49ers 30. After winding down the clock to 32 seconds, Martin Gramatic connected on a 31-yard field goal to finish off the Saints scoring efforts in the 31-17 win.