GLENDALE, Ariz. –  You'd think a wide receiver as talented as Michael Crabtree would be glowing after a game in which the 49ers racked up a ton of yards through the air. But after the 49ers beat the Arizona Cardinals 27-6 and picked up 261 rushing yards, the second-year wideout was all smiles standing in front of his locker wearing a three-piece purple pinstripe suit talking about the rushing attack.
"That's the best thing ever," said Crabtree on a night where he caught two passes for 48 yards including a 38-yard touchdown. "What did we have, like 250 yards rushing? We were running three running backs and everyone on the offensive line was blocking – you can't ask for no more than that."
After Frank Gore (five carries for 52 yards) suffered a fractured hip in the first quarter, veteran Brian Westbrook (23 carries for 136 yards) and rookie Anthony Dixon (14 carries for 54 yards) certainly did their part in making sure there was no drop-off from the featured back. Both runners scored touchdowns and showcased their abilities in front of a national audience.
Many know of Wesbtrook's exploits from his days in Philadelphia, but the nine-year veteran was more than happy to remind everyone that he's still capable of making plays.
"It meant a lot to have the opportunity to have some success," Westbrook said after his 19th 100-yard regular-season performance. "My offensive line did a great job today as well as the receivers, fullback and tight end with their blocking."
First downs, like wins, have been hard to come by for the 2010 San Francisco 49ers. But that wasn't quite the case on "Monday Night Football." The 49ers used their successful ground attack to convert 26 first downs on their way to putting up 27 points, the most the team has scored in any game this season.
All the offensive production at the University of Phoenix Stadium not only helped give Arizona a sixth-consecutive loss, but at 4-7, the 49ers are now one game out of first place in the NFC West.
"We had a decent plan coming in and we executed. When you're able to do that, it makes a difference," coach Mike Singletary said.
After converting their first three third downs on their opening possession (following a 3-of-24 conversion rate in the past three games) the 49ers failed to put points on the board when Shane Andrus' 47-yard field goal missed wide right.
But Andrus' miss was quickly forgotten.
Westbrook and Dixon supplied two first-half rushing touchdowns to go along with Crabtree's score to make it a 21-6 halftime advantage.
And while it was an enjoyable sight to see the running attack have tremendous success, Crabtree's touchdown was a thing of beauty in its own right.
One play after the 49ers recovered a Beanie Wells fumble on Arizona's opening play from scrimmage, Troy Smith threw a perfect pass 38 yards downfield to Crabtree for the game's opening score.
Smith completed 11-of-23 pass attempts for 129 yards with one touchdown and one interception. But after his throw to Crabtree, combined with the early success of the ground game, Smith didn't need to take many chances.
The pass to Crabtree made sure the 49ers started on the right note.
Crabtree got behind the coverage of cornerback Dominique Rodgers-Cromartie to haul in his fifth touchdown in the past seven games.
"I feel like we're on our way. Right now, we're still leaving a lot out on the field," Crabtree said. "There's a lot of room to get better."
The Cardinals responded to Crabtree's touchdown with a 43-yard pass hookup between Derek Anderson and Wells, who beat Takeo Spikes down the right sideline one a wheel route.  Arizona did not get in the end zone however. The Cardinals settled for a 31-yard field goal from Jay Feely to make it a 7-3 game.
With Gore coming in and out of the game due to the hip injury, 49ers were content to showcase Westbrook and Dixon much more in the team's third possession. With all three runners carrying the ball on the 10-play, 55-yard scoring drive, it was finished off with a 1-yard plunge from Dixon on third-and-goal.
Considering the 49ers had only 11 first downs last week against the Buccaneers, the unit's nine first downs in the first quarter was a considerable improvement.
"After being chastised the last couple weeks about third down, the emphasis was definitely to do better," Smith said.
The emphasis was also to appease the offensive line, which wanted to make a statement against Arizona.
"We got a mean, nasty offensive line," Smith said. "Keeping the quote-unquote 'big uglies' happy is getting first downs, moving the ball with the run and continuing to let them know we're behind them."
Following an Arizona three-and-out, the 49ers picked up more first downs, more yards on the ground and more points. Suffice to say, the offense looked to be in a much better rhythm. Westbrook scored his first touchdown as a member of the 49ers, taking an 8-yard run on first-and-goal to the end zone without being touched. It gave the 49ers a 21-3 lead, easily their biggest first half lead in any game of 2010, and the most points they've scored in a first half since Nov. 16, 2008 against St. Louis.
Westbrook said it was a huge hole, one of many he ran through on the evening.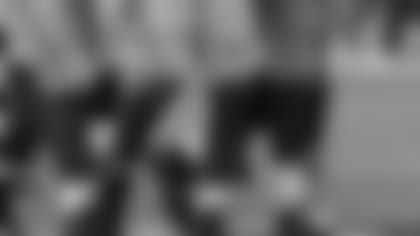 "I think the offensive line did a great job all day of getting some push up front which is big when you want to run the ball. The holes those guys made all day long were jus t big."
And while the 49ers had no problem moving the ball up and down the field, the Cardinals could not capitalize once they found themselves in the red zone. Two possessions inside the 49ers 20 only produced two Jay Feely field goals. It didn't help that the 49ers defense held them to 13 rushing yards and a 2-of-11 third-down conversion rate.
Trailing by 15 to start the second half, the Cardinals could not muster much of a comeback. They could however, put together a three-and-out. Both Arizona possessions in the third quarter lasted three plays a piece and resulted in punts from Ben Graham.
In chewing up the clock, the 49ers added to their lead with a 38-yard field goal by Shane Andrus.
The defense came up with its second turnover of the game when Takeo Spikes stepped in front of Anderson's pass intended for Early Doucet. With the ball and the lead the 49ers continued to hammer away with Westbrook, setting up one last 26-yard field goal from Andrus.
"This was a huge win today," tight end Delanie Walker said. "We talked all week how we needed to come out here tonight, and that's what we did.
"Now we just have to take things one game at a time and try to keep rolling."