The San Francisco 49ers are continuing the tradition of giving back during the holiday season with the "12 Days of Giving" campaign. Every day until Christmas, the team will highlight a different holiday community event.
Check back here for updates with photos, videos and more of 49ers players and staff spreading joy throughout the Bay Area.
Day 11 - 49ers Partner with Santa Clara Police Department to Spread Holiday Cheer
The 49ers donated $5,000 and an abundance of brand new toys and winter accessories to the Santa Clara Police Activities League in support of their holiday giving to the Santa Clara community.
Day 10 - Glenn Dorsey Shop With A Jock
DL Glenn Dorsey and his wife, Tiffany Dorsey, hosted the second annual Shop With a Jock event at Walmart in Milpitas as he was joined by teammates DL DeForest Buckner, DT Tony Jerod-Eddie, DT Chris Jones, DT Quinton Dial, NT Mike Purcell, and DL Ronald Blair III. The 49ers shopped with 50 kids from the East Valley YMCA as they did their part to spread holiday cheer.
Day 9 - The Smiths and Friends Heritage Home Baby Shower
For the second year in a row, WR Torrey Smith and his wife Chanel hosted a holiday-themed baby shower for the women of CityTeam's Heritage Home, as they were joined by teammates LB Eli Harold, WR Bruce Ellington, RB Mike Davis, RB Shaun Draughn, DT Quinton Dial, TE Garrett Celek, and LB NaVorro Bowman. Before Christmas, the residents received baskets overflowing with gear for the babies and their mothers, including diapers donated by Huggies through their Every Little Bottom program in collaboration with the National Diaper Bank Network.
Day 8 - Zane Beadles and Joe Staley Visit Lucile Packard Children's Hospital and Pancake Dinner at JW House
G Zane Beadles and LT Joe Staley spent an afternoon with children undergoing treatment at Lucile Packard Children's Hospital Stanford. The duo handed out Zane Beadles Parade Foundation themed stuffed elephants and showed their creative side through decorating cupcakes with the youth. Beadles continued his community work this season with a pancake breakfast at JW House in Santa Clara. Beadles and his foundation whipped up dozens of pancakes to feed patients of local hospitals and their families. JW House provides meals and a comforting home environment for families and patients undergoing treatment in the area.
LT Joe Staley represented the 49ers at the Bay Area's Holiday Heroes event at AT&T Park. For six years, the Wender Weis Foundation for Children has presented this evening of festive fun for Bay Area families in need. The families had the opportunity to meet Bay Area athletes like Staley, tour the ball park, and participate in holiday themed activities and crafts.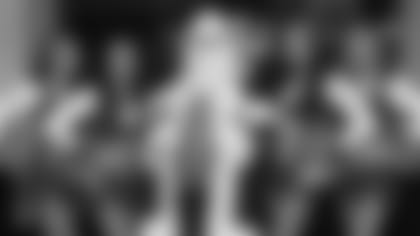 Day 6 - 49ers Holiday Resource Fair with Convoy of Hope
The San Francisco 49ers players, coaches, their families, front office staff, ownership and executives partnered with Convoy of Hope to welcome over 1,000 honored guests from local nonprofits and Title 1 schools at Levi's® Stadium for an impactful holiday resource fair. The event provided an abundance of much needed services including haircuts, medical and dental screenings and family portraits. After participating in holiday and football activities, guests went home with bags full of groceries, toys, shoes, winter apparel accessories and more, all for free.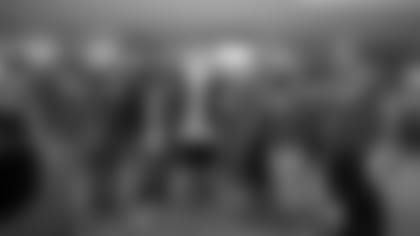 Day 5 - Quinton Dial's Levi's® Shopping Spree with Bill Wilson Center
DT Quinton Dial teamed up with Levi's® to treat underserved youth from Bill Wilson Center to a private shopping spree at the Levi's® store in San Jose. Bill Wilson Center's mission is to support and strengthen the community by serving youth and families through counseling, housing, education and advocacy. The youth spent time with and listened to advice from Dial as they shopped with gift cards generously provided by Levi's® and Dial's QD92 Foundation.
Day 4 - 49ers Community Blitz
As part of their commitment to 100% volunteerism by the 49ers front office staff this year, the 49ers hosted a 49ers Community Blitz, a full day of service centered on giving back to the local community. Members of the front office participated in four different activities including bringing the HomeFirst Boccardo Reception Center parking lot to code, preparing and serving meals at CityTeam San Jose's men's shelter, assembling care kits and personalizing holiday cards for clients from LifeMoves, and making blankets to distribute at the 49ers Convoy of Hope event in December.
Day 3 - Thanksgiving Feast at HomeFirst
The 49ers partnered with HomeFirst to serve a Thanksgiving feast with turkeys provided by Foster Farms and beverages provided by Pepsi at the Boccardo Reception Center (BRC) in San Jose. TE Blake Bell, S Antoine Bethea, OL Trent Brown, TE Garrett Celek, RB Mike Davis, TE Vance McDonald, P Bradley Pinion, QB Christian Ponder, OL Norman Price, LB Marcus Rush, OL John Theus along with their families and 49ers ownership helped ring in the holiday season by serving hot meals to nearly 250 BRC guests.
Day 2 - Arik Armstead Hospital Visit at UC Davis Medical Center
DL Arik Armstead partnered with his local church to spread holiday cheer this week. Armstead bought more than 100 toys at Target and gave them away to children at the UC Davis Medical Center.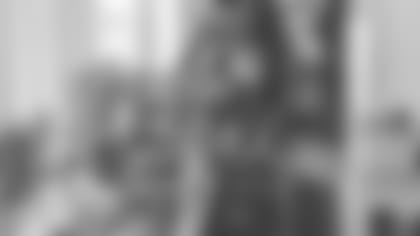 Day 1 - Rod Streater Ronald McDonald House at Stanford Celebri-Tree and Shopping Spree
WR Rod Streater and his foundation supported Ronald McDonald House at Stanford's 2nd annual Celebri-tree holiday event by decking out the 49ers tree with festive decorations. On behalf of Treetopia, the dazzling decorated trees were sold in an online auction with proceeds benefiting the Ronald McDonald House at Stanford.  In support of the event, Streater visited the house and delivered t-shirts and gold Christmas ornaments to the patients and their families.