*49ers Make a Return Visit to Career Closet to Help Women Dress for Success
---
On Wednesday, December 3, the San Francisco 49ers made their second trip this season to Career Closet, a San Jose-based volunteer organization that provides business attire and career counseling to disadvantaged Bay Area women transitioning into the workforce. For this visit, the 49ers partnered with San Mateo Credit Union to travel to Career Closet's Foster City location.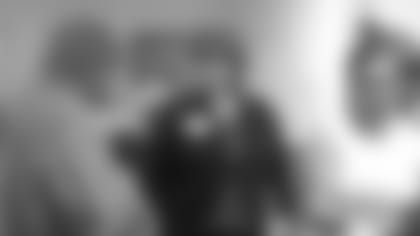 "Career Closet is thrilled with our continued relationship with the San Francisco 49ers," Executive Director of Career Closet Jean Cecil said. "This relationship is giving back to us in so many ways. It's amazing how many people connect the organization with the 49ers after our first event in San Jose was televised."
Career Closet immediately put staff members from both organizations to work sorting clothing donations, including nearly 500 items provided by San Mateo Credit Union. The volunteers were excited at the prospect of hanging the wares in Career Closet's store, which offers private dressing appointments for disadvantaged women from local shelters and social service agencies.
"We're really excited to be working in partnership with San Mateo Credit Union at Career Closet today," 49ers Client Services Representative and volunteer Jennifer Lee said. "The 49ers are elated that they were able to internally find so much generosity in both volunteer time and articles of clothing. We're hoping this is just the beginning of a long-term partnership with the organization and their staff."
All of the volunteers teamed up with Career Closet dressers to serve as personal shoppers for four Bay Area women, helping them put together outfits that they could wear confidently and with self-respect as they restart their lives. The women were each fitted for an interview suit so that they could put their best foot forward in their new careers.
"This experience was really good," Patricia, one recipient of Career Closet's services, said. "I'm excited to be trying on the clothing and hoping to use it in my new career. I am studying to be a medical assistant, and these clothes will help me with my interviews."
San Mateo Credit Union's staff was also able to spend time with each of the women to counsel them on their future career goals, providing them with resume advice, interview tips and personal finance guidance using an information packet the two organizations put together.
"Because we have branched out to serve all of San Mateo County in recent years, partnering with the San Francisco 49ers and Career Closet was a perfect match," San Mateo Credit Union Business Development Officer Michele Enriquez-daSilva said. "We're excited to support Career Closet with the 49ers."
In late October, 49ers nose tackle Atiyyah Ellison, players and coaches wives including Kim Singletary, Johnnie Nathan, Marianne Hoener, Connie Sullivan, Laurie Manusky, Melissa Clements, Emily Heitmann, Jessica Ellison, Rachel Lee, Ashley Roman, and Brigette Banta-Cain and 49ers staff visited Career Closet's San Jose location to help outfit five domestic violence survivors in professional clothing as they embark on new career paths.
"It's the topping on the cake that the 49ers were able to come back again and bring San Mateo Credit Union to join us in helping so many Bay Area women," Cecil said.