It's the best day of your life if you're an aspiring professional football player. You're invited to New York City, because you're one of the top players in the nation and soon, you'll be selected to play in the National Football League for one of 32 proud franchises with a fan base so passionate, they'll soon know practically everything about you.
Even with all the stresses that come along with such a high-profile event, you navigated through it all to put on the hat of your new team, and proceed to shake the commissioner's hand with enough time left over to snap photos with the whole family. But it's not like being picked in a game of school-yard football. It's business. It's real life. It's the NFL Draft.
"You really have no control over it," said 49ers defensive tackle Justin Smith, who was selected No. 4 overall in 2001 by the Cincinnati Bengals. "It's like a lot of things in football; you can't really control what happens. All you can control is what happens on the football field. Your college career is done, so you're basically going there to see where you get picked."
Like Smith, several of his teammates have been a part of the whirlwind of the draft festivities in New York City. 
"It's even more of a media show now," said quarterback Alex Smith, the 49ers No. 1 overall pick in 2005. "ESPN cameras were with us two days before touring the city and doing a lot of press stuff. We went down to places like Ground Zero, Time Square, Battery Park, and they had cameras with us the whole time."
Three years before, the 49ers other former No. 1 overall pick on the roster David Carr, underwent similar experiences, far beyond anything the wide-eyed kid from Bakersfield had ever encountered.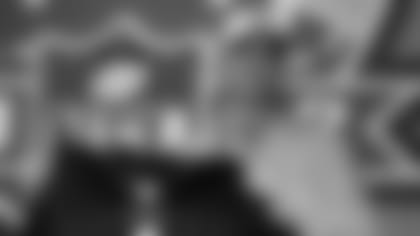 "I went to New York, honestly because that was the first time I'd really been somewhere out of California, other than for football games," said Carr, the No. 1 pick of the Houston Texans in 2002. "It was cool, but a little bit overwhelming. I remember it being just a huge event. My family was there and it was pretty sweet that I didn't have to wait like a lot of my buddies did."
Michael Crabtree was one of those players who had to hang out in the green room longer than expected. He waited as nine teams passed on his services in 2009, before being picked by the 49ers.
"Everybody was trying to find the humor in it, but everyone was nervous, to tell you the truth," Crabtree said of the feelings from the top prospects inside of last year's green room. "Everybody was looking to see who was going to get picked first."
Crabtree used the New York trip to take his mind off the stresses that come with the life-changing event.
"I had fun with it. New York was a good deal," The former Texas Tech wideout said of his first trip to the Big Apple. "I took my family up there and had a good time. But it's hard to take that draft off your mind. You don't know which team you'll go to. I kind of focused on my family and we had a good time."
Crabtree continued that concentration on his loved ones once he received a phone call informing him that he'd been picked by the 49ers.
"They got me on the phone and my mom started crying, my dad's legs started shaking and all that," Crabtree said. "Once I heard that, I was like, 'It's time to go. It's time to get started.'"
Surely, it's a proud moment whenever professional football players look back at photos from their draft day experience. But for Alex Smith and David Carr, looking at draft-day photos brings back fond memories because both quarterbacks are still happy with their draft-day suit selections.
They both still keep the suits they wore on the auspicious day and will even work them in their suit rotations from time to time.
But as much as the clothes worn by a top-pick garners attention, years later, Justin Smith is most pleased with his draft-day garb.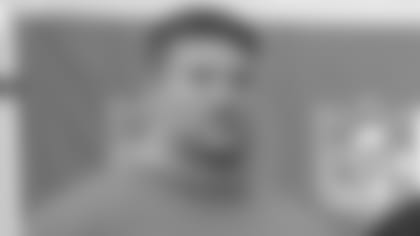 "I was definitely the most underdressed dude ever," the Pro Bowl defensive lineman said with a chuckle. "I wore boots and jeans. I definitely won the most underdressed on draft day award. But yeah, I'd do it over again."
Almost all of the 49ers will have an interest in watching the draft. Most will have their eyes glued to the TV, interested in seeing who the 49ers select in the opening round.
"I'll definitely follow it, and see what happens on day one. We have two picks so it'll be very interesting to see what happens for us," Alex Smith said. "Then after that, there are a few guys I follow closer than others in the college ranks, I'll see where they go."
One of those players Smith will be following is Oklahoma quarterback and possible top overall pick Sam Bradford. After Bradford fell victim to the same shoulder injury that plagued Smith early in his career, Smith has counseled the top prospect on what to expect when rehabbing the injury.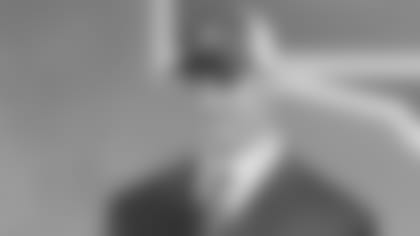 Like everyone else, Smith can't help but wonder if Bradford will be the No. 1 overall pick by the St. Louis Rams, possibly making him Smith's competition twice a year in the NFC West.
"I get to play him twice a year? No kidding." Smith joked. "I definitely think people look at things like that, and everyone kind of follows the first round, especially the first 10 picks."
Justin Smith, too, will be monitoring the 49ers draft selections closely.
"I always watch the draft, to see if I got a job," Smith said with a laugh.
"No…" Smith answered. "It's always interesting, the process that is. Everyone in here went through that process and it's a mental drain on you. It's just cool to watch everyone and see how it unfolds. And the number one reason to watch is to see who your team picks. You want to see how it's going to help your team. We feel like we're very close and we're a guy or two away."
Smith only wants to add talented players, but the Pro Bowl defensive end wouldn't mind having a rookie teammate on the defensive line.
"We need a new gopher," Smith joked. "We need someone to get us food and things like that. I'm sure we'll get somebody.* *A rookie isn't going to change your team, but if we get a guy who can come in and contribute a little bit, it's going to help."