The 49ers reeled in their second receiver from within the NFC West division on Monday, following up the acquisition of former Rams wideout Isaac Bruce with the signing of unrestricted free agent and former Arizona Cardinals wide receiver Bryant Johnson.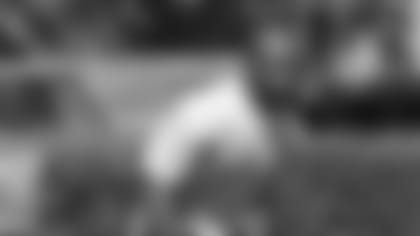 "When you are in the same division, you play them twice a year, so you definitely have familiarity," said Johnson. "I know some guys on the team here and feel comfortable with what guys can do on this team. I think the sky is the limit."
Early in free agency Johnson drew interest from Tampa and Washington, but seemed headed to Buffalo after reportedly receiving a multi-year offer. The receiver instead bided his time and eventually agreed to terms with San Francisco.
"The free agent process wasn't anything I had experienced before and it required a lot of patience," admitted Johnson. "But I'm in a great situation here and I'm happy."
After four years in the Phoenix desert, Johnson wore a big grin when talking about the greenery that his new California home is blessed with, but one of the main attractions San Francisco had to offer was the chance to be reunited with receivers coach Jerry Sullivan.
"He was my coach my first year with the Cardinals, and so I am definitely looking forward to working with him again and I think he's looking forward to working with me," said Johnson who spoke with Sullivan twice last week. "We were both excited and we think great things are going to come from it."
A former first-round pick in 2003, Johnson played in the shadows of Anquan Boldin and Larry Fitzgerald in Arizona, but while the Pro Bowlers missed time in 2007 with injuries, Johnson was a steady presence. He played in all 16 games and finished the year with 46 grabs for 528 yards and 2 touchdowns.
"I was thrown into the fire my rookie year and kind of struggled and then they drafted Larry my second year," said Johnson. "It was great playing with those two guys because they were both Pro Bowlers and I learned a lot, but I was also able to play in that offense and still be productive. It was hard for defenses to try to scheme against us because you didn't know where it was coming from."
No kidding. The 49ers know all to well how difficult it was to defend against the heavy powered receiving arsenal that the Cardinals possessed. The trio combined for 312 receiving yards in the 49ers away contest against the Cardinals last season, with Johnson positioning his team at the 1-yard line with a 30-yard reception in the final seconds of the game. Cornerback Donald Strickland broke up the next play to Johnson in the end zone for the go-ahead score, but his deep reception still allowed the Cardinals to kick a field goal to force the game into overtime.
"We were trying to win that game and we thought we had a good chance," said Johnson, who finished the game with 5 catches for 80 yards. "Strickland made a great play on that fade ball. I thought I was coming down with it but he got his hands on it. We also had a shot in overtime, but it didn't go our way."
Fortunately, the 49ers escaped Johnson's deep ball catch, but other teams haven't been so lucky, particularly back in 2006 when the former Penn State receiver enjoyed a breakout season. His 18.5 yards per catch average ranked third in the NFL among receivers with 30+ catches as he also set career-highs in receiving yardage (740), touchdowns (4), and longest reception (58).
"I think along with being a deep threat, I think my size and my route running ability that I got from Jerry Sullivan when he was in Arizona is something that I bring to the table," said the 6-foot-3, 214-pound receiver. "Sullivan always stayed on us about being disciplined with our technique and that's carried me this far in my career."
As he takes this next step in his pro football career, Johnson also looks forward to furthering his skills under the 49ers new offensive coordinator Mike Martz.
"He's had Torry Holt, Isaac Bruce, and look what he did to help Roy Williams in Detroit," said Johnson. "His offense is crazy and his receivers definitely take to it. It's going to be a good ride. I really feel like being here is a chance to step out of the shadows of Anquan and Larry and I'm definitely poised and ready for that. This was the right situation for me."
Less than an hour after signing his contract, Johnson began earning his money in San Francisco by taking part in the first day of the team's off-season strength and conditioning program.
"I am looking forward to training with these guys and getting to know my new team so I wanted to get out here as soon as possible," said Johnson.