Now in its 18th year, the San Francisco 49ers Foundation supports developmental programs for underserved youth that keep them safe, on track and in school.
The Foundation received a large boost in support this past weekend thanks to the 49ers 10th Annual Celebrity Winter Fest.  The event sponsored by Thomson Reuters at The Resort at Squaw Creek raised unprecedented funds for the Foundation which go directly into helping the lives of Bay Area youths.
"This is really what we hope to be a classy event. The 49ers want to win with class. We always talk about that our mission is to go out every game day and win for our fans but every day we want to be the best community citizens and best business partners we can be," said team co-chariman Dr. John York. "This event helps the Foundation work on its mission to help keep kids safe, on track and in school."
Joining Dr. York at the event were a long list of well-known personalities 49ers fans would be faimiliar with: Team President and CEO Jed York, head coach Mike Singletary, running backs Coach Tom Rathman, players Alex Smith, Josh Morgan, Takeo Spikes, Parys Haralson, Adam Snyder, Tony Wragge, Cody Wallace and alumni Keena Turner, Dwight Clark, Guy McIntyre, Dwaine Board, Eric Wright and emcee of the weekend's events, Gary Plummer. All of the names mentioned attended the three day festivities and helped raise significant money for Bay Area youth.
Memorable events throughout the weekend included a one hour chalk talk session with players and coaches in attendance, a skate-a-long with Olympic gold medalist Dan Jansen, and a food and wine pairing seminar with celebrated chef Loretta Keller and owner of COCO500 and the Moss Room.
Guests were also able to take part in leisurely skiing and snowboarding with Olympians Kirsten Clark, Kristin Krone, Tamara McKinney, Ida Ladstaetter, Glenn Jobe and JJ Thomas.
The chalk talk event was a packed house again this year, with over 90 guests in the room. They were on hand to see players and coaches lead a football discussion breaking down actual 49ers game film while discussing offensive and defensive formations. In the end the audience was given a chance to see the game of football through the eyes of the players and coaches.
It turns out our players learned a little bit from the Chalk Talk as well.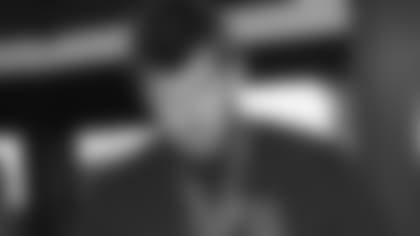 "It was cool even for me because I got to hear about the defense," said 49ers tackle Adam Snyder. "We don't talk schematically offense and defensively. Getting to sit back and listen to the guys talk is a cool deal for the average fan."
This year's event also included new activities including a cardio golf session with LPGA teaching professional Karen Palacios-Jansen, an ice carving competition and morning workout sessions led by the 49ers Gold Rush cheerleaders.
Another celebrity in attendance this weekend was Heroes star, actor James Kyson Lee, who participated in the ice carving competition Saturday afternoon against the likes of Spikes, Haralson and Wallace.
The weekend also featured evening wine tasting receptions with some of Napa and Sonoma Valley's most exclusive wineries.
When asked what made Hugh Davies, president & CEO of Schramsberg Vineyards decide to pour for charity at the weekend's event, he noted giving back to the Bay Area youth as a main reason.
"It is important to us, I think much of life is relationships and we have developed a relationship with the York's, I consider them friends, they have a great Foundation and we are happy to participate and helping them do well by the kids in the Bay Area."
The 49ers also treated guests with first-class entertainment with LUCE Band performing on Friday and John Rzeznik of the Goo Goo Dolls on Saturday night following dinner and live auctions.
Prior to the entertainment, attendees heard from guest speakers including Dr. York, Jed York, Head Coach Mike Singletary and Executive Director of Fresh Lifelines for Youth (FLY) Christa Gannon.
Singletary brought his wife Kim, and two of his seven children to the event, Matt and Kristen. When asked about the event Singletary noted it's all about the kids and enjoying time with his family and the 49ers family.
"I think it really is important. You look at the fun that we have, the skiing, the games and all those things, what it really boils down to is the kids. When it's all said and done, that's what this is about. As long as we focus on that and really have a good time at the same time, I think it's an outstanding event.
"When I'm with my family, somehow, some way I'm going to have a good time and then when I'm with the 49ers family and my family, that's a win, win situation."
On both nights, the weekend's emcee Plummer, invited fellow linebacker Takeo Spikes up to the mic to help out with the live auctions following dinner. Each night roughly ten items were auctioned off live which included a trip on the team plane to the London game next fall to week long get-a-ways in Baja. Spikes took a rest from the microphone when the Baja trip came up and ended up bidding on it raising roughly $8,000 for the 49ers Foundation with that one live auction item.
Both Friday and Saturday night also featured the "49ers Boxes" event which gave guests the opportunity to buy a 49ers Box for either night for $249 a piece with the chance to win an $11,700 Rolex watch on Friday night and $10,000 Tiffany's diamond earrings on Saturday night. Courtesy of Chevron, each participate also had the chance to win Chevron gas cards including one $1,000 card, one $500 card and various lower amounts each night.
Throughout both nights, the silent and live auctions and 49ers Boxes raised over $308,000 for the 49ers Foundation and the weekend event's total number was higher than any other year in the event's history.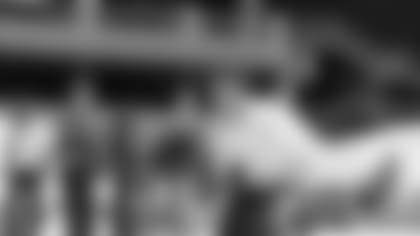 Under the direction of Team Owners Denise and John York, the 49ers Foundation has raised and distributed over $10 million to non-profit organizations in the Bay Area over the last eight years. Last year alone, the Foundation distributed over $1.5 million to organizations including Fresh Lifelines for Youth (FLY), 49ers Academy and the Bay View Hunter's Point YMCA, among others.
The 49ers Foundation would like to extend a big THANK YOU to their supporting sponsors which include Presenting Sponsor Thomson Reuters; Gold Sponsors Bud Light, Chevron, Franklin-Templeton, Maui Jim Sunglasses, Resort at Squaw and Visa; Silver Sponsors include Avenir Restaurant Group, Dreyfus, Karbon, PG&E, Potter Electric, Samsung, and World Events Group; Bronze Sponsors include Bechtel Group Foundation, Cachematrix, Young & Rubicam.
They would also like to thank the product donations from Anheuser-Busch, Avenir Restaurant Group, Chevron, E&J Gallo Winery, Karbon, Kraft Foods, Maui Jim Sunglasses, Samsung, See's Candies, Somersault Snack Company, and Sportsmark.
Last but not least, a big THANK YOU to the vintners that poured throughout the weekend including Bennett Lane Winery, Brochelle Vineyards, Blackbird Vineyards, Elizabeth Spencer Wines, Ferrari-Carano Vineyards & Winery, Flowers Vineyard & Winery, Frazier Winery, Kosta Browne Winery, Melka Wines, Mi Sueño Winery, Pride Mountain Vineyards, Reynolds Family Winery, Robert Foley Vineyards, Saintsbury, Schramsberg Vineyards, Spring Mountain Vineyard, Switchback Ridge and William Cole Vineyards.