There is nothing like the sheer joy of getting on a bicycle for the first time. The color of the bike, the style of the seat, the first fall, together these pieces form a memory which one can recall for a lifetime. For the youth of EHC LifeBuilders, that memorable experience came courtesy of the partnership of the San Francisco 49ers, Optum, and Turning Wheels for Kids as they provided forty-nine bicycles to children at the 49ers annual Bike Build, a two-day event consisting of assembling bikes and delivering them to youth.
"We all remember our first bike and the sense of excitement and independence it brought," stated Maggie Cuneo, 49ers Community Relations Specialist, "By coming together to build these forty-nine bikes and delivering them at the Youth Football and Bike Safety Fair, we hope to bring those same feelings to the youth of EHC LifeBuilders."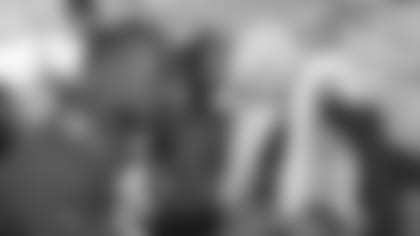 On day one of the Bike Build, volunteers from Optum, including professional cyclists from Optum Cycling presented by Kelly Benefit Strategies, teamed up with mechanics from Turning Wheels for Kids and 49ers players and staff to assemble the bikes at 49ers Headquarters in Santa Clara. 49ers wide receiver Anquan Boldin and son Anquan Jr. jumped in to build the first bike of the day—a bright green Diamondback. Soon, tight end Vernon Davis among many others including Quinton Dial, Bruce Miller, Al Netter, Michael Thomas, Joe Looney, and Colt McCoy joined in tightening the nuts and bolts of handlebars, attaching pedals and ensuring reflectors and pieces were intact.
"It is a great opportunity to build a bike, give it to a child, and help the youth in our community," stated fullback Bruce Miller.
Motivated by the vision of ecstatic children and helping those in need, the teams completed the build in just a few short hours. The day culminated with the loading of the bikes into a storage unit courtesy of PODs, each paired with a helmet and lock, awaiting their delivery to forty-nine deserving children the following day.
"The surface of this event is building forty-nine bikes for these kids, but the real purpose and meaning go beyond that," expressed Andy Sekel, CEO of OptumHealth Specialty Networks, "We want each child to get a bike and know that people care about them, their health and well-being."
The following day, the bicycles lined the basketball court at Lick Mill Park in Santa Clara. The concrete pavement and lush green fields had been transformed into a bike safety course and youth football camp for children to spend sixty minutes interacting, being active and riding bikes with the Optum Pro-Cycling team. As children arrived, 49ers mascot Sourdough Sam enthusiastically greeted all with high-fives and directed them to the court where Optum Behavioral Solutions Chief Operating Officer Lloyd Dyer revealed the big surprise that everyone was to leave the Bike Safety Fair with a bicycle of their very own.
"When things are done for our youth, they feel very special and very touched that a complete stranger would care to do such an act of kindness for them," said Cindy Zbin, Chief Development Officer of EHC LifeBuilders.
"All of the children at EHC LifeBuilders enter the program homeless with few possessions and very few things of their own, so getting a bike, helmet and experience like this is exceptionally special and means a tremendous amount," added EHC LifeBuilders CEO, Jenny Niklaus.
After each child was fitted for a helmet and bike, they received an individualized lesson on course safety and bike maintenance with the help of the Morgan Hill Rotary and Optum's professional cyclists. For some children, it was their first experience pedaling a bike - making for an event filled with priceless smiles and memories-in-the-making. Taking a break from two wheels, the youth participated in non-contact football drills and tested their cycling and football knowledge with a friendly competition at the Trivia Tent. An evening of exhilarating activities came to an end, but the thrill would not be left behind at Lick Mill Park. Each child loaded the bus with a bag filled with Optum and 49ers branded collectibles and a brand new bicycle with a fitted helmet and lock. Most importantly, the youth left knowing there are people who genuinely care about them, their well-being and their future.
"We should never forget that there are people in our own backyards who do not have as much as we do," stated Turning Wheels for Kids Project Manager Robyn Bartkowski, "I love that Turning Wheels for Kids can partner with the 49ers and Optum with a collective mission to help kids right here who are affected by the things we do that can change the trajectory or their lives from this day forward."