The 49ers spent Thursday's two-hour early afternoon practice preparing for Friday night's matchup against the Raiders, the first of the preseason.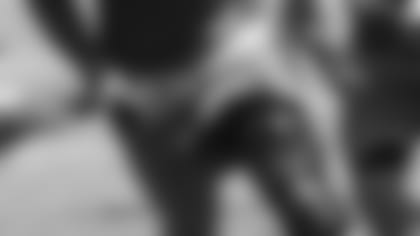 "We went through everything – like a dress rehearsal for a show or something," said rookie corner Reggie Smith. "We went through all of the special teams, if someone gets hurt, and every situation. I think we are ready for it."
Dating back to mini camp and as part of tradition until they earn their stripes so to speak, all 49ers rookies have been wearing a strip of tape on their helmets in the forehead area with their names on them. The tape was noticeably absent in Thursday's practice – well to most anyhow.
"Wow, I just realized that," said Smith. "I knew something was missing on my helmet but I couldn't figure it out. That's a good deal, no more SMITH on there."
The third-round pick will see "SMITH" again on Friday night, except this time on the back of his game jersey when he suits up for his first ever NFL game.
"I haven't envisioned running through the tunnel, but I have envisioned myself out there making an interception or something, and thinking about if I'd do anything special if I got one," said Smith. "I probably won't do anything. I'll be too shy to do a special dance or something, so I'd just give the ball to the ref and run off.
"I'm real excited though for my first game, and I'm looking forward to getting out there," he continued. But I'm nervous too. I'm always nervous before a game."
Linebacker Manny Lawson shares the same eagerness as the rookie defender. It might be his third NFL season, but it's been since week two of 2007 since he's suited up for a game.
"The funny thing is the vets don't really even count this as a game, but to me, it's a game," said Lawson. "I missed out on the whole year, so I'm ecstatic. I can't wait. I hope I can sleep tonight and get some rest for the game. Even though I won't be playing that many snaps, it's the whole point that I get to suit up again and get back out on the field."
It's also a return to action for quarterback Alex Smith, who finished his year on injured reserve after having surgery to repair his separated shoulder.
"It's been a while since I've played," said Smith. "Excited about it; excited about finally getting back out there and to have the bullets going and getting back to playing football. It's fun out here practicing, but it's not always quite the same when you have the jersey on. So, it will be nice to get out there and run around and react and get hit a little bit. I'm looking forward to it."
Smith also reacted to Wednesday's decision by the 49ers coaching staff that JT O'Sullivan will start off Friday's game with the first-string. Smith said that the head coach Mike Nolan met with the quarterbacks Wednesday to explain that the set rotation for the first game is not permanent, and that the race is still open.
"You know, I really try not to think about that stuff," said Smith. "All I'm really trying to focus on is just my reps when I get in there, what I do with them. That's the biggest deal right now, taking advantage of that. Getting out there, executing the offense, moving the ball. I'm really trying to get better from this. This is the preseason. You take advantage of it, and it's about going out there and trying to play well."
O'Sullivan, a journeyman quarterback who has spent time with New Orleans, Chicago, New England, Minnesota, and Green Bay shares a similar outlook to Smith.
"I'm going to try to go out there and execute the offense as well as I can, play each play and go from there," said O'Sullivan whose last start was in the third preseason game last year with the Lions. "I'm going out there to play as well as I can play. That's what I can control."
Six players have been ruled out of the game: G David Baas (on PUP with pectoral), S Lewis Baker (thigh), WR Bryant Johnson (hamstring), WR Ashley Lelie (calf), RB Michael Robinson (knee), and S Mark Roman (hamstring).
Roman went through individual drills over the last two days but will be kept out of the game for precautionary reasons
If Bruce doesn't go, it appears that rookie Josh Morgan would start alongside veteran Arnaz Battle. The rookie's strong showing early in camp combined with injuries to Bryant Johnson and Ashley Lelie has led to reps with the first-team the last few days.
"I haven't really thought about it too much," said Morgan of the possibility of starting his first ever NFL game. "I'm just going to let it all hit me and take it in stride. I know my adrenaline will be pumping. That's how it is for every game. I just lost a friend back home, so I'm definitely going to go out there and play this game for him because I know he's watching me from up above."
During today's final team period, the sixth-round pick notched back to back receptions from O'Sullivan on the first two snaps of the first series, including a 20-25-yard catch over the middle.
"I think you guys can tell Josh has had a pretty good camp," said O'Sullivan. "He's doing things exactly like the coaches are asking him to do and getting better and better each day. So, tomorrow's going to be a great opportunity to go out and show what he can do with live bullets."
As a fourth-string quarterback, Kyle Wright more than likely will not see the field on Friday outside of warm-ups, but the rookie did enjoy his first reps of camp in skelley and team in Thursday's practice.
With his first pass during team, Wright found tight end Vernon Davis for a 15-20-yard pass.