Seven years into his NFL career, San Francisco 49ers wide receiver Stevie Johnson is looking to play in his first postseason game.
Johnson and the 49ers (6-4) are one game back of the two Wild Card spots held by the Dallas Cowboys (7-3) and Green Bay Packers (7-3).
So with that in mind, we asked Johnson, a Bay Area native, about his playoff pursuit and many other topics in this week's 49ers Radio podcast.
If you follow Johnson on social media, you know the veteran receiver is all about #HBHF. That, of course, would be handle business and have fun. Johnson explained his social media strategies and how his "Fantasy Work League" nearly broke the internet at the start of the 2014 season.
Below we've transcrbed some of the key moments of the near 20-minute conversation.
49ers Radio: Did you have any idea your "Fantasy Work League" tweet would create such a response?
Johnson:It started out as a joke, always getting tweets and jokes about, "Do this, do that" for people's fantasy teams. I put out a simple tweet, "I have a fantasy work league." (I was) just having fun, once again. I started off socializing with the fans when I was young with Buffalo and I don't plan on stopping. I want to make them somewhat a part of my life as much as possible, because you don't know who's out there watching. I'm just making it fun. (If people) can do something at work that they're proud of then come get on the computer and tell me about what they did, they can feel good about it. They can get a retweet and get their spirits uplifted. I feel like it's working. It's hit a lot of people around the world. This fantasy work league, I didn't even expect it to be as big as it did."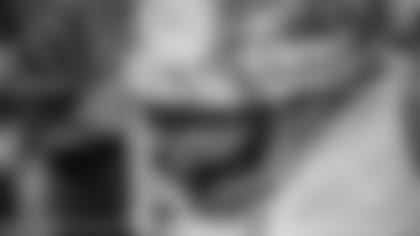 49ers Radio: Why does your Instagram account look so different than everyone else?
Johnson:I didn't want to be posting pictures just for likes. I felt myself getting involved in that and that's not the type of person I am. So I said, "I need to start doing something different." (I) would post individual pictures but make them as one so you can see the bigger picture... It's pretty sweet when you get the bigger picture."
49ers Radio: What would a playoff run mean to you?
Johnson:It just means so much more, even being on the home team. My blood is kind of going right now just talking about it.
49ers Radio: How would you describe the offense's progression at this point of the season?
Johnson: I'm not too heavy on guarantees or stating things that's insinuating we'll do such and such on Sunday... I think we're poised as far as an offensive group and as a team. Collectively, I think we've experienced damn near everything when it comes to winning games, having games won and then (the other team) coming back and beating us, and then games where we're hot, or when we're cold. I think we've experienced it all as an offense. I think we're poised right now. We've seen it all and we're ready to go for these next few."
49ers Radio: What has your working relationship with your fellow wide receivers been like?
Johnson: The competition comes out. We have fun with each other. We're all brothers. We've formed a tight bond with each other, but at the same time, we're all competing as number ones to be the number one (receiver). I think it's good for us because when we line up against another team, we want to prove that we're number one. It makes it better for the team in the red than the other squad.