San Francisco 49ers pioneer, Joe Perry, passed away peacefully in Arizona Monday morning from complications due to dementia at the age of 84. Nicknamed "The Jet" for his exceptional speed, Perry was inducted into the Pro Football Hall of Fame in 1969 following a professional career that spanned 16 seasons. He later had his #34 jersey retired by the 49ers in 1971.
"I was deeply saddened to hear of Joe Perry's passing earlier today," said 49ers Owner and Co-Chairman John York. "He was a dear friend to my family and me and to the entire 49ers organization. He was also an integral part of our rich history. A truly remarkable man both on and off the field, Joe had a lasting impact on the game of football and was an inspirational man to the generations of players that followed him. Our heartfelt sympathy goes out to his wife, Donna, and his entire family. He will be sadly missed by all of us. We are honored to be able to continue to pay tribute to him through the annual Perry/Yonamine Unity Award recognizing his and fellow 49ers alumnus, Wally Yonamine's barrier-breaking contributions to the 49ers."
Perry played 14 seasons for the 49ers (1948-1960, '63) and two for the Baltimore Colts (1961-62) as a fullback. He remains San Francisco's all-time leader in rushing yards (7,344) and rushing touchdowns (50). Perry led the team in rushing on eight occasions, including seven consecutive seasons (1949-1955).
A three-time Pro Bowler (1952-54), two-time first-team All-Pro (1953-54), one-time All-AAFC (1949) and the NFL's Most Valuable Player by UPI (1954), Perry was the first player to ever record consecutive 1,000 yard rushing seasons (1953-54). He finished his career with 9,723 rushing yards on 1,929 carries (5.0 avg.) with 71 touchdowns on the ground, while adding 2,021 receiving yards on 260 catches and 12 touchdowns through the air, in 181 games played. During his career, Perry broke the NFL record for most career rushing yards, a total that was later eclipsed by Jim Brown.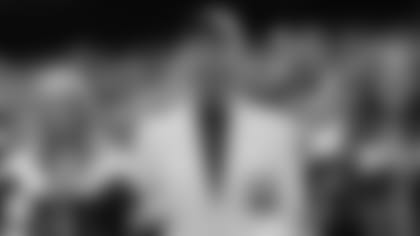 Perry was a member of "The Million Dollar Backfield," which featured four future Hall of Famers in Perry, Hugh McElhenny, John Henry Johnson and Y.A. Tittle. For three seasons (1954-56), the four playmakers challenged opposing defenses with their formidable offensive attack. The group remains the only full-house backfield to have all four of its members enshrined in the Pro Football Hall of Fame.
Prior to serving in the United States Navy, Perry played at Compton Junior College, where he scored 22 touchdowns in his first season. Perry would later be discovered by 49ers tackle John Woudenberg while playing running back for the Alameda Naval Air Station Hell Cats. Woudenberg promptly notified 49ers owner Tony Morabito and head coach Buck Shaw of the special find.
In addition to being a member of the Pro Football Hall of Fame in Canton, Perry was inducted into the Bay Area Sports Hall of Fame (1986), African American Ethnic Sports Hall of Fame (2001), Edward J. DeBartolo Sr. 49ers Hall of Fame (2009) and Tartar Athletics Hall of Fame (2011). With deep ties to the 49ers organization, Perry was a regular attendee at the Pro Football Hall of Fame enshrinement ceremonies in Canton, alongside 49ers ownership and former players.
In 2007, the 49ers established the Perry/Yonamine Unity Award to celebrate the team's 65-year history of exemplifying the power of teamwork to accomplish goals. The 49ers honor an exceptional non-profit agency, youth football coach and a current 49ers player who has demonstrated a commitment to promoting unity and giving back to the local community. The award is named after Perry and fellow former 49er Wally Yonamine – two individuals who demonstrated the power of unity to make a difference on the field and in the community.  The winner in each category receives a $10,000 grant award that will be donated to their represented organization.
A native of Stephens, Arkansas, Fletcher "Joe" Perry was born on January 22, 1927. He is survived by his wife, Donna; children, Jon Perry, Joanne Frazier, Denise Simmons, Karen Perry; stepdaughter, Gabrielle Vasseur; and numerous grandchildren and great grandchildren.