The 49ers turned their attention back to the offensive line in the fourth round with the selection of center Cody Wallace out of Texas A&M.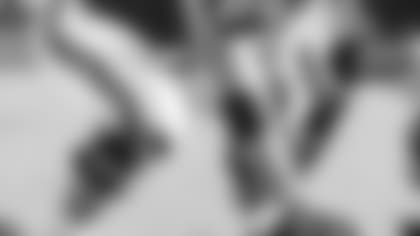 One of the strongest centers in the college game, Wallace boasts a 480-pound bench press, a 374-pound hang clean and a school record 740-pound squat. He combines a good blend of power and short-area explosiveness to be a violent blocker along the line of scrimmage. His combative nature in the trenches has old-time scouts comparing his style of play to former Buffalo Bills great Jim Ringo and Kansas City's Tim Grunhard.
Wallace also is filled with inner strength, having overcome significant hardships in his young life including the loss of both of his parents. His father died in prison when he was 8 years old, while his mother died of an unexplained ailment when he was 16. His older brother is currently serving time on felony drug charges.
"Going through so much at a young age, it seems like I can handle more difficult situations a lot of the times maybe easier than most people," said Wallace who considers his toughness and wherewithal to be his strongest assets as a player. "I typically don't try to stress over the little things and kind of just look at everything in a little bigger picture."
Wallace was raised by his grandparents, who he said have been instrumental in shaping his life in a positive way.
"My grandparents have been huge, definitely," said Wallace. "They took me to church and everything. They gave me a good foundation and a lot of structure in life."
Head coach Mike Nolan said the Aggie linemen caught his attention at the Senior Bowl, both for the way he rose up to the challenge against some of the premier defensive line and his seriousness.
"I tried to kid around with him but I found out quickly he was pretty serious," said Nolan. "I like that about him. He's had some adversity in his life, but he's a good, tough and intelligent football player."
Under the direction of offensive line coach George Warhop Wallace worked some at guard during the week of Senior Bowl practices, but the 49ers plan to use him primarily at center. Although he delivered 131 knockdowns and graded 83.85 percent for blocking consistency at that position in 2007, Wallace said he's still got room for growth.
"I just try to play as hard as I can the whole time, and that's probably one of the main things I bring, but I still have a lot to learn and a lot to try to improve on," said Wallace. "Coach Warhop's a good coach. I know from the week I spent with him at the Senior Bowl he's going to push us and do a good job."
Wallace was a finalist for the Rimington Award in 2007, given to the nation's top center. His stellar offensive line play helped the Aggies rack up 4,883 yards of total offense (402.8 avg) and score 346 points (28.8 ppg). The All-Big 12 Conference first-team choice was also named the league co-Offensive Lineman of the Year, in addition to picking up Academic All-American accolades.
As a junior, Wallace earned first-team All-Big 12 Conference honors after starting all 13 games for the Aggies. The team captain helped the squad generate 397.4 yards of total offense per game, including a league-best 206.8 rushing yards per game. He finished with 121 knockdowns and 11 touchdown-resulting blocks, but was also penalized seven times.