1ST QUARTER, 49ERS 14 – PATRIOTS 7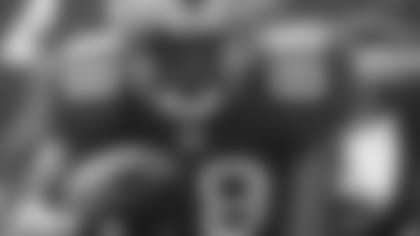 The 49ers started in a two-wide receiver set with Isaac Bruce and Bryant Johnson wide and then handed off to Frank Gore for a 1-yard gain only. Tight end Delanie Walker dropped a first down catch on a crossing route and on third and 9, JT O'Sullivan had to escape a blitz and throw it away.
Andy Lee's punt was returned to the 37-yardline for opening position for New England.
The 49ers defense started out in a 4-3 alignment with Laurence Maroney picking up four yards on the ground, followed by a 6-yard catch right at the marker by Wes Welker for a first down. Takeo Spikes then picked off Matt Cassel's next pass and returned it to the 45-yardline of New England, marking his second interception in two weeks.
New England returned the favor on the following play with safety Brandon Meriweather picking off a deep pass to Walker at the 4-yardline. Walker first got his hands on the ball, which then fell right into Meriweather's arms as he fell to the ground on his back.
The defense stopped New England after a three and out, with LB Tully Banta-Cain seeing his first defensive snap of the season.
Nate Clements caught the punt, faked a handoff and got some blocks to get out to the right corner and work his way up the sidelines to the Patriots 30-yardline for a 13-yard return.
Gore carried the pile with him for a 6-yard gain, followed by another two-yard gain. JTO scrambled on the third and two play and looked to have been short by a hair, but a defensive holding call gave them a first down at the 16. JTO managed to just barely avoid a blitz and get the ball away to Gore for a 16-yard touchdown. Gore had Ellis Hobbs all over his back but held on to the ball to cap off the 4-play, 30-yard scoring drive to give his team a 7-0 lead with just less than 9 minutes to go in the quarter.
Hobbs got the ball out to the 35-yardline on the return.
Kevin Faulk caught a first down pass, but Donald Strickland was there to immediately stop him after only a 2-yard gain. A problem with the snap led to a 3rd and 8, and then Cassel avoided pressure and launched it deep for Randy Moss for a 66-yard touchdown. The 49ers ran a safety blitz and then used Clements underneath and Walt Harris over the top to defend Moss. Harris slipped slightly and Clements was a step behind Moss who ran it in for the score, tying the game with 7:35 to go in the quarter.
Starting off at the 36 after the kickoff, the 49ers needed only four plays to get into the end zone. Gore started off the drive with a 4-yard carry, followed by a deep ball to Isaac Bruce, who found himself free and clear in New England territory. A 16-yard run by Gore then set up Bruce for a 6-yard touchdown reception from JTO for a 14-7 lead.
Delanie Walker shed his block to stop Hobbs, the NFL's leading kickoff returner at the 24-yardline.
|
New England crossed into 49ers territory with a 14-yard carry by Sammy Morris, but eventually on 3rd and 4, Parys Haralson got to Cassel in the backfield, and was finished off by Banta-Cain for a sack, forcing a New England punt. Safety Mark Roman made a good stop on a 2nd and 9 throw to Moss, staying disciplined as Moss looked for running room. Ron Fields helped finish off the stop
The punt went into the endzone, giving the 49ers offense the ball at the 20.
A false start on Adam Snyder set up 1st and 15. JTO threw one deep for Bryant Johnson, who looked to his outside shoulder for the ball, which fell inside of him. A short throw to Gore picked up six yards and ended the quarter.
**2ND QUARTER, 49ERS 14 – PATRIOTS 17
**The 49ers faced a 3rd and 9 to start the second quarter. O'Sullivan's pass to Bruce was a bit short and the veteran receiver let it slip right through his hands.
Lee's punt left his foot wrong, but he got a bit of a roll down to the Patriots 34-yardline.
LaMont Jordan moved the chains for the Pats with a 9-yard carry and then a 2-yard gain, but Clements then picked off a deep ball to Moss at the 6-yardline with 13:11 to go in the quarter.
A 2-yard Gore carry was followed by a short catch by Gore, setting up a 3rd and 5 at the 11. O'Sullivan was chased out of the pocket and tried to buy time to allow Bruce to get free, but he had to throw it out of bounds.
Punting from his own end zone, Lee did much better on this try, hanging up a 46-yard punt that Faulk fair caught at his own 43.
An 8-yard catch by Welker started off the Patriots next series, with Jordan moving the chains on a 3rd and 1 carry. Another Jordan carry for a yard ended in injury for Jordan, who hobbled off the field. Following a drop by Welker, the Patriots faced a 3rd and 9. Jabar Gaffney made the first down catch at the 49ers 34-yardline with an 11-yard catch. Three straight carries advanced New England all the way to the 16-yardline. A quick slant to Morris was incomplete, followed by a 4-yard run to set up another 3rd and 6. This time the 49ers converted the down with a Ray McDonald sack. Kicker Stephen Gostkowski's 35-yard field goal brought New England to within four with 5:22 to go in the first half.
Allen Rossum only got the ball out to the 15-yardline on the return.
Gore earned five yards on the ground with his first down carry, running behind Michael Robinson. Another carry by Gore earned four more yards, leading to a key 3rd and 1 play. David Baas checked into the game as a tight end on the play, but Gore was stopped for a loss.
Lee had to re-kick but his second try sailed 82 yards into the endzone for a touchback with 3:04 left in the half.
New England had all three timeouts to start the drive from their own 20. A quick throw to Moss counted for an 18-yard gain. A 7-yard pass to Ben Watson brought the game to the two-minute warning with the Patriots set up at their own 48. New England continued to march their way down the field, all the way to the 10-yardline before they faced a 3rd and 6. The 49ers sacked Cassel, but Justin Smith was flagged for a personal foul. There was nothing on the re-play to indicate the reason for the foul, but New England got a fresh set of downs at the 6-yardline. A throw to Watson set them up at the 2 with Faulk then punching in the 2-yard run for the touchdown and a 17-14 New England halftime lead.
3RD QUARTER, 49ERS 14 – PATRIOTS 24
Isaac Sopoaga started off the second half with a 7-yard sack. On 2nd and 17, a short screen pass to Faulk earned 10 yards, to set up a 3rd and 6. Welker made the catch and moved the chains. A defensive holding call against Walt Harris gave New England another first down at their own 44, followed by an off-sides penalty against the 49ers. The defense eventually got it together with Joe Staley sacking Cassel to force a punt.
With 8:38 the offense finally got on the field but after an 8-yard scramble by O'Sullivan, the quarterback was intercepted on a deflected try to Arnaz Battle, giving New England the ball at the 24.
New England drove down to the 1-yardline and then were stopped for a loss on 3rd and 1, setting up a 4th and 2. New England opted to go for it. A direct snap to Faulk yielded another 2-yard touchdown to extend New England's lead to 24-14 with 5:25 to go in the quarter.
Starting from his own 20, O'Sullivan went to Gore on a short throw that lost a yard. On 2nd and 11, O'Sullivan scrambled and picked up 8 yards to set up a 3rd and 3. O'Sullivan delivered one to Josh Morgan, but for a loss and the 49ers once again came on to punt.
New England started their next drive at their own 41, and ended the third quarter set up at the 49ers 24-yardline looking at a 3rd and 4.
**4TH QUARTER, 49ERS 21 - PATRIOTS 30
**The defense forced an incomplete, but Gostkowski connected from 40 yards out to finish off the 8-play, 37-yard drive and give New England a comfortable 27-14 fourth quarter lead.
A scramble by O'Sullivan, followed by a Gore ground carry earned the 49ers their first, first down of the second half. Davis dropped a ball that was thrown straight to his hands, although it probably would have gone for a loss anyhow. Bryant Johnson then caught his first pass of the day, picking up 14 yards. Another throw to tight end Delanie Walker earned 8 yards, followed by a 5-yard run by Gore to again move the chains. A QB scramble followed by a drop by Battle led to a 3rd and 8. Battle couldn't haul in a deep ball, but he was interfered with, earning a first and goal from the 8. On first down, JTO had time to throw, but no one to throw to, and he eventually had to throw it away. A 3-yard run by Gore set up a 3rd and goal from the 5 with JTO finding Bruce in the back of the end zone, right under the goal posts for a score. The 11-play, 80-yard drive brought the game within six points with just over 10 minutes to go in the game.
Following the kickoff, New England's offense started off at their own 28-yardline and swiftly marched into 49ers territory with a couple of quick completions. They got to their 34 before facing a 3rd and 10 play that earned the first down but was negated since Moss was charged with interference. On 3rd and 20 from the 44, New England picked up enough yards to go for a 49-yard field goal and increase their lead to 9 points with just 4:47 to go.
Two completions to Bryant Johnson picked up 13 yards, but after an incompletion and an 8-yard sack by Adalius Thomas, the 49ers faced a 3rd and 8 from their 40. O'Sullivan's try to Bruce was picked off by Deltha O'Neal and returned to the New England 38-yardline.
This time the 49ers stopped New England after a three and out with Patrick Willis dropped Sammy Morris for no gain on a 3rd and 1 run play.
Back on offense with 2:15 to go and started from his own 28, O'Sullivan hit Josh Morgan for a 17-yard completion. Another 9-yard pass to Arnaz Battle was followed by an incompletion, leading to a 3rd and 1. Battle was then flagged for interference. After another incomplete throw to Battle, O'Sullivan was forced out of the pocket and eventually threw the ball away on 4th and 11.
New England took over on downs and took a pair of knees to end the game.