The 49ers offense rebounded from one of their worst practices of camp on Monday morning with a much more productive practice on Tuesday morning.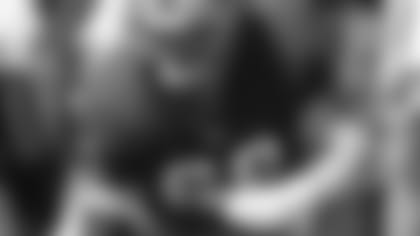 "You can't make excuses like yesterday – 'the defense got the best of it,' said quarterback J.T. O'Sullivan who took all of the reps with the first-team offense. "That's just not good enough. You have to immediately learn why and what happened. We can't let it happen again. We have got to come out and have a good day like we did today and build on it from there. That's the part that everybody wants to see - the resilience. How are you going to handle things when things don't go perfectly?"
Moving on from yesterday's imperfection and improving seemed to be the goals of the day for the offense.
In fact, guard Tony Wragge put it out there for the offense on the first play of team.
"We're only getting better today," proclaimed Wragge as the unit huddled up and then broke with the words, "hard work."
The starting offense lived up to Wragge's prediction, closing out practice and the two-minute drill with an O'Sullivan to Josh Morgan touchdown on a fourth down play with 18 seconds left on the clock. The defense jumped offsides to give the offense a free play, and O'Sullivan lobbed one up for Morgan to go get.
"They were slowing down after jumping offsides, so I think we looked at it as our time to score," said Morgan. "He threw it up and I just went up and got it. That's a great way to end practice. The offense came out today and executed a lot better, and we just looked like a much better and more precise unit today than we did yesterday."
Morgan meanwhile continues to be a consistent highlight of the 2008 Training Camp. The sixth-round pick led the team in receptions in the opening exhibition game against the Raiders, and with a growing number of injuries at the receiver position, he continues to work his way up the ladder and could even wind up being a starter on opening day.
"Whether it's Arnaz Battle or Ashley Lelie, or Bryant Johnson, with Jason Hill as a fourth – they are nicked up," said head coach Mike Nolan. "But, as we've already seen, Josh Morgan would not have gotten noticed if they hadn't. And he's done a very good job."
The offense was also without two of its starting linemen on the drive with tackle Jonas Jennings resting a tweaked ankle that occurred in the practice and guard Adam Snyder cramping up. The line did jump offsides to lose ten seconds off the play clock, but they held up for the most part during crunch time.
"I think we did well today," said starting left tackle Joe Staley. "We didn't have a great practice yesterday so we wanted to come out and put that behind us. We had a good tempo, not too many mental errors and in the two-minute drill, it's all about executing and scoring points. We did that."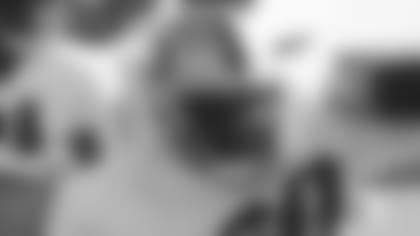 Fullback Zak Keasey got leveled trying to block defensive lineman Walter Curry on a run play in the first team period of practice, and didn't appear too happy about it.
Curry helped Keasey up off the ground, and offered the following explanation, "Man, I'm just going to the ball."
Defensive backs coach Vance Joseph kept score during one-on-ones between his group and the receivers.
Cornerback Nate Clements won the first one by breaking up a pass to Morgan, but wide receiver Arnaz Battle then evened the score when he outmaneuvered Walt Harris on the next rep.
"That's just a great route Arnaz," admitted Joseph as he marked one for the O in his stat sheet.
The offense held a 5-4 lead when Joseph challenged his guys, asking, "Who wants to tie it up?"
Cornerback Markus Curry took the challenge but couldn't stop a completion to Delanie Walker.
The drill finished with a catch by Morgan, and an overall 7-4 score in favor of the offense.
Wide receiver Bryant Johnson hit the hill at a brisk walk for some conditioning while he recovers from his hamstring injury.
With so many of the team's receivers banged up, Walker continues to split his time with the tight ends and the receivers.  Walker notched a few grabs during one-on-ones and 7-on-7 work.
During field goal work, cornerback Marcus Hudson pointed out his old friend, "the Wascally Rabbit." The rabbit has been known to dash its way across the practice fields, but it stayed over on the far field munching grass only today.
Highlights

Linebacker Dontarrious Thomas got his hands on an Alex Smith pass deep over the middle in 7-on-7. The deflected ball popped high in the air and was intercepted by safety Mark Roman.
A few plays later cornerback Reggie Smith stole another Smith pass, this one along the sidelines. The rookie then showed his top speed on his return, picking up extra yards because of a block from safety Dashon Goldson.
Wide receiver Isaac Bruce outstretched his hand to haul in a one-armed catch along the sidelines, also during skelley. But the veteran receiver wasn't done. He seemed to be O'Sullivan's go-to-player of the day, catching three passes from the quarterback during team and also executing a double reverse for a large chunk of yards.
Running back Frank Gore kick started the two-minute drive by finding an open zone to sit in, making the catch from O'Sullivan and then bursting up the sidelines for a long gain. Nolan ruled that he had stepped out of bounds along the sidelines, but most of the offensive unit was signaling for a touchdown.
J.T. O'Sullivan took all of the reps with the first-team, Alex Smith worked with the two's, and Shaun Hill saw action in individual periods only.
O'Sullivan had the only crack at the two-minute drill, ending it with the touchdown throw to Morgan.
The Daily Drill contributed by Taylor Price
The 49ers defensive field goal unit was called for a penalty last week against Oakland, when a 49ers player collided with Oakland's snapper. In order to prevent that penalty from occurring again, special teams coordinator Al Everest had his players focus on making the proper adjustments during a field goal session in the morning practice.
"We made sure that we cleaned that up and told the free safety to make sure he moves so we don't have that happen again," Everest said. "We worked on our block schemes, our pressure looks, our go calls and then our safe look. We are just trying to tune all that up and get everybody on the same page."
With the emphasis on the defensive side of the ball, backup kicker Ricky Schmitt took all of the kicking reps in the drill.
"It felt great," said Schmitt of his opportunity to kick in practice. "Andy Lee is a great holder and Brian Jennings is a great snapper – there's nothing to worry about when I go out there, other than kicking the ball."
Schmitt connected on almost all of his kicks, except for one which was blocked by rookie defensive end Louis Holmes.
Holmes said he used the combination of good technique and his 35" vertical jump to block the kick.
"That was my first time ever blocking a kick – I was excited," Holmes said.
Coach Everest was pleased with Holmes' effort because special team plays such as those can quickly change a game around.
"It was a low kick, but if you look at the field goal blocks from last year half of them were based on them getting it off a little low and our guys getting their hands up," Everest said. "That's taking points off. Any time you can put pressure on, force a miss, force a hurry up, get a block and take points off, or get a block, pick it up and score - that's a big turnaround. That's real important to us with the 49ers."
The 49ers will get more special teams work this afternoon in a one-hour special teams only practice.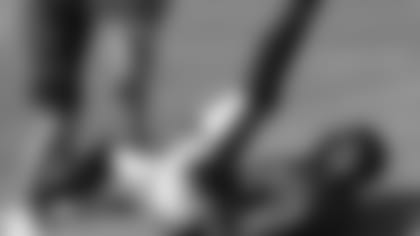 Wide receiver Arnaz Battle pulled up during one on one work with the defensive backs. Battle has been working once a day to rest a tight hamstring, but Nolan said this was the other "good" hamstring. He expects Battle to probably miss at least a day or two of practice.
Guard Adam Snyder missed a few plays during the final two-minute drive after cramping up. Brian de la Puente replaced him in the lineup. Tackle Jonas Jennings also missed the drive after tweaking his ankle. He was replaced by Barry Sims.
Wide receivers Josh Morgan and Dominique Zeigler returned to full action after missing some time on Monday afternoon with an illness.
Guard David Baas (pec), safety Lewis Baker (thigh), receivers Jason Hill (groin), Bryant Johnson (hamstring) and Ashley Lelie (calf), and running back Michael Robinson (knee) remain out.
Got a question for head coach Mike Nolan? Please submit your questions via email to***xandowithnolan@niners.nfl.com****  and then check back next Friday to see if your question was selected!*