Despite posting their best record since 2002, the 49ers will be on the outside looking in when the playoffs begin this weekend.
The club has not finished with a winning record in seven consecutive seasons, a fact not lost on their head coach.
"At 8-8, [we're in] neutral," Mike Singletary said in his season-ending press briefing on Monday. "That means you're not going forward, you're not going backwards. We need to get into the offseason, and start the wheel rolling."
The wheels inched forward earlier in the day as players arrived at 49ers headquarters for a final team meeting in the morning, followed by exit interviews with trainers and position coaches. All that was left to do was pack up lockers and ship things back to their respective cities.
Several players described the team meeting as constructive. It consisted of an overview of the season led by Singletary, who also took time to answer questions from his players. The meeting had light-hearted moments and serious ones, but was beneficial in keeping communication lines open in the locker room.
Singletary told to his players to stay positive about the 8-8 season.
"We took a very small step, and I wanted our guys to not leave the room with their heads down," Singletary said of his message. "We fought through a lot. We may not have accomplished what we wanted to accomplish, but we didn't go backwards. This offseason we will find the necessary pieces that we need to get the wheel to roll forward and gain momentum going into next season."
Although the gathering served a valuable purpose, many of the players don't want to see Monday's events become a routine. They figure the steps that were made in 2009 will help the 49ers return to postseason play in 2010.
"I think we went through a lot of adversity and played in some tough games," quarterback Alex Smith said. "We lost quite a few early on of those close ones, but in the end, I think we're better for it. I think by the end we were tougher for it."
In the biggest development of his press conference, Singletary said Smith and offensive coordinator Jimmy Raye would be in back in the same roles for next season.
"I would say Alex Smith is the quarterback going forward, but I want you to understand, we're always trying to get better at that position, we're constantly evaluating," Singletary said. "We're always looking for the best possible situation, period."
"I don't really have a question about the coordinator," Singletary said later in the press conference when asked if Raye had his vote of confidence. "I don't think it's a matter of another coordinator, it's a matter of putting the pieces together."
Continuity on both sides of the ball just might be the biggest bright spot heading into the offseason. For the first time in seven years, the 49ers will return the same offensive coordinator.
It may not have been a shocker to the players who expected it, but nonetheless, a welcomed discovery.
"It will definitely be new for me, but I think a lot of it will be self-reflection and self-analysis, looking back at this last year and analyzing the things we did and where we can go from there to get to the next step," Smith said. "This offseason will be big because we won't be installing from square one. It is really, how do we push ourselves to take that step and not just go through the motions of an offseason? We really need to have a sense of urgency and take advantage of the time."
Offensively, the 49ers shifted philosophies mid-season with Smith under center. Starting the year with Shaun Hill as the quarterback, the 49ers used more two-back offensive sets and gave the impression of a run-first offense. But with Smith inserted in the lineup halftime of Week 7 at Houston, the offense began to shift to more of a shotgun attack, utilizing the 49ers perimeter playmakers in the passing game.
In the process, tight end Vernon Davis caught 13 touchdown passes this season, and wide receiver Michael Crabtree led all NFL rookies averaging 56.8 yards per game. Because of the passing game's development, the 49ers finished the season with the league's 22nd passing and 25th rushing attacks respectively.
"We have great players on the offensive side of the ball and I felt like this is the most talent we've had since I've been here, with the receivers, Vernon and me," Pro Bowl alternate running back Frank Gore said. "But we can't kill ourselves like we did at times this season. If we don't kill ourselves, we'll be going to the next level where we want to go."
The 49ers dropped six of eight games by less than seven points, but managed to remain competitive in most contests this season, even when committing costly turnovers.
It didn't appear as if the 49ers were going to end their season the day after the season finale, when the team opened up 3-1. But four consecutive losses to Atlanta, Houston, Indianapolis and Tennessee put the 49ers in a tough position to rally from.
"There's disappointment. I wanted to go to the playoffs and I worked so hard to get there. I felt like we had a chance to go, but we didn't make it," nose tackle Aubrayo Franklin said. "When you look at the statistics, it's bittersweet. We were high in a bunch of statistics defensively, but we're not in the playoffs."
The 49ers made extreme strides defensively as well in the second half of the season, and even more in the final month, forcing 15 turnovers from Week 14-16. The unit also finished tied for the league lead with 23 forced fumbles and became the only defense in the NFL to stop opponents from scoring a touchdown in five different games. After finishing 13th overall in 2008, the group finished 15th overall in 2009 with the league's 6th overall rush defense.
Franklin was a big part of that success as he finished with 36 tackles and a career-high 2.0 sacks. The stout nose tackle, who figures to be a restricted free agent if the NFL doesn't settle on a new collective bargaining agreement this offseason, was also credited by teammate Joe Staley as being a main factor in the linebacker making his third consecutive Pro Bowl.
"It's always good to get recognition, but I'd trade it in to make the playoffs," Franklin said. "I haven't been in the playoffs for a long time and I felt like this year was going to be the year. It's kind of crushing not to go. But it's always a motivation to work harder in the offseason."
Franklin came into 2009 on the heels of his hardest offseason training in his seven-year career and plans to only go harder this offseason.
"You have to work harder. There are things in my game I can improve on and I'm going to go into this offseason with that mindset and use it as gas and fuel to burn on."
Like Franklin, the 49ers will have important decisions to make in regards to other potential RFA's like starting left guard David Baas, outside linebacker Ahmad Brooks and cornerback Marcus Hudson.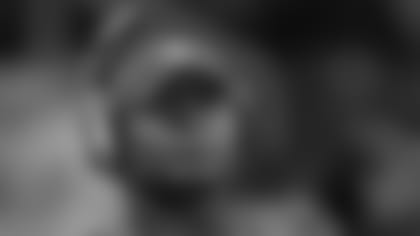 "All of our guys are priorities," Singletary said. "We'll have to go through the evaluation process and put all the pieces together, but all of our guys are priorities."
The 49ers won't need change at the tight end position, as Davis had arguably one of the best single seasons by a tight end in NFL history. Davis' 13 touchdowns tied an NFL single-season record, and his 78 catches and 965 yards surpassed single-season franchise records by the position.
The athletic play-maker is certainly excited about his progression, but also knows that there's more work to be done across the board.
"We have a lot to build on. We just have to put it all together. I expect the guys upstairs to do what they have to do to get us where we need to go," Davis said. "We have a lot of things we can look forward to, the two first-round draft picks and then free agency, maybe bringing in more guys who can help us make plays and get to where we need to go."
The 49ers will choose at the 13th slot in the first round and will also have the 16th or 17th pick (Carolina's from 2009 draft-day trade) depending on the outcome of a coin toss which will happen prior to the Draft.
The 49ers have yet to determine areas of need according to Singletary. For the next week or so, the head coach will meet with his coaching staff to evaluate his current roster before looking outside for answers.
After saying the 49ers would be a special team in 2009, Singletary said his team "will be a very good football team" in 2010.
Now that he's 13-12 as an NFL head coach, the Hall of Fame linebacker has learned plenty valuable lessons from his time on the sideline. But the biggest teaching of all, especially in the most recent 8-8 campaign was about steadiness and how it's harder to attain than wins.
"I've learned how hard it is to be consistent, not win, but be consistent. That's what I've learned [this year]," Singletary said. "I don't think it's hard to win, but I think it's very difficult to be consistent."