Defensive end Justin Smith picked off a Dan Orlovsky screen pass to Rudi Johnson to end a Lions final drive, and secure a 31-13 victory.
1st QUARTER HIGHLIGHTS, 49ERS 7 – LIONS 0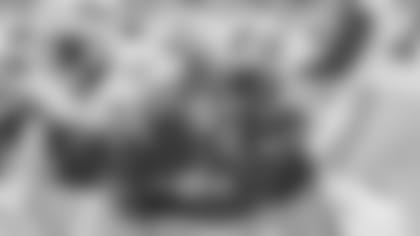 The 49ers started in a 4-3 lineup. Jeff Ulbrich started at TED.
On the first defensive series, it looked like Tarell Brown has taken over Shawntae Spencer's role as the starting corner in the nickel package. After giving up a first down, the 49ers defense forced Detroit to punt.
The 49ers offense will start out at their own 37. The offense went with only one receiver out wide in Isaac Bruce, using Vernon Davis and Billy Bajema on the first down play for a Frank Gore run play that picked up only two yards. Gore earned another three yards on the ground to set up a 3rd and 5. JT O'Sullivan scrambled and easily picked up the first down into Detroit territory at the 48 with a 10-yard run.
Vernon Davis was open on the next 1st and 10 throw but the O'Sullivan's shot to him over the middle was about five yards beyond Davis. A screen to Gore picked up 9 yards to set up a 3rd and 1. Gore tripped in the backfield and lost a yard, forcing a 49ers punt that was pinned at the 10.
A false start on Detroit had them backed up to their own 5. Kitna's first down pass was deflected to Michael Gaines for an incomplete. A Kevin Smith carry earned 9 yards to set up a 3rd and 7. Justin Smith hit Kitna and forced a fumble that Detroit recovered at the 2-yardline.
Rossum didn't get much on the return, but still the 49ers will get the ball at the Lions 49-yardline.
Delanie Walker caught a 2nd and 5 pass from O'Sullivan for a first down at the 39. On the following play, Joe Staley blew up his defender out to the left, allowing Gore to cut it back to his right for a 33-yard gain down to the 9-yardline. DeShaun Foster was stopped for no gain, but Davis dropped the 2nd and 6 pass at the 2. The 49ers got in the end zone on the following play with a 6-yard touchdown toss to Isaac Bruce.
The Lions offense is starting off again with poor field position at their own 16. Michael Lewis was the first to get into the backfield to stuff Smith for a 5-yard loss, accompanied closely by Manny Lawson. On 3rd and 14, Kitna found himself in trouble and launched one to Calvin Johnson deep along the 49ers sidelines. Mark Roman and Walt Harris were there to force an incompletion.
Isaac Bruce took the handoff and then passed it off to Arnaz Battle on an end around reverse that earned 18 yards. A 12-yard throw to fullback Zak Keasey ended the first quarter of play with the 49ers offense set up at the Lions 23.
*Safety Keith Lewis suffered a knee injury during the last punt by Detroit. His return is questionable.
2nd QUARTER HIGHLIGHTS, 49ERS 21 – LIONS 3
Takeo Spikes forced a fumble at the end of a 17-yard run by Rudi Johnson, but the ball bounced out of bounds for a first down at the 49ers 41-yardline. Johnson enjoyed another 11-yard run, getting around the left edge of the 49ers defense, but then Aubrayo Franklin and Isaac Sopoaga came up with back to back stops for no gain to set up a 3rd and 9. Roman
immediately dragged down Mark Furrey to force a Detroit field goal. Jason Hanson's 44-yard field goal capped off the Lions 11-play, 44-yard scoring drive and accounted for their first points of the game.
The 49ers went deep for Davis who was open for a second, although the Lions closed quickly on the ball. A defensive holding call gave the 49ers a first down and five yards. O'Sullivan then connected with Bryant Johnson for a 25-yard completion at the Lions 42. O'Sullivan completed his next pass to over the middle on a deep in to rookie Josh Morgan for 18 yards, and then connected with Walker for a 24-yard touchdown. The 3-play drive covered 72 yards and ended with 5:42 to go in the half.
Detroit enjoyed a long kickoff return, escaping a block to the back penalty to start their offense at their own 47.
Spikes drilled R. Johnson to break up a short pass in the flat on a second down play. The defense had great pressure on the 3rd and 4 play with Roderick Green eventually getting Kitna down for a sack.
Rossum called for a fair catch at their own 17.
On 2nd and 7, Davis had his hands on a deep ball over the middle but it was just beyond his grasp for what would have been a big time completion. Bruce earned his first ever BRUUUUCE chant from the 49ers faithful with a 3rd and 7 catch to pick up a first down. Battle's 9-yard reception at the two minute warning again moved the chains, putting the offense out at their own 44-yardline. O'Sullivan was dropped for his first sack of the game, a 1-yard loss after trying to scramble up the middle. A short throw to Battle picked up 4-yards, followed by a 3-yard throw to Gore, not enough for the first down.
The Lions took a timeout with 10 seconds left in the game as Andy Lee waited his turn for his second punt of the game. The Lions were pinned inside the five-yardline as time expired in the first half.
3rd QUARTER HIGHLIGHTS, 49ERS 21 – LIONS 6

For the second time of the day, the 49ers offense faced a 3rd and 1. This time, Gore squeezed his way thru a whole and nearly looked to have taken it the distance, but linebacker Alex Lewis managed to get him by the leg to stop a huge carry. As it was, Gore earned 9 yards on the ground. O'Sullivan then scrambled for another first down into Lions territory. A throw deep to Morgan was too high on 1st and 10, and was followed by a Gore run up the gut for 5 yards. Detroit ran an all out blitz, forcing O'Sullivan out of the pocket on an eventual throw away.
The Lions offense will start out at their own 15-yardline. R. Johnson picked up 7 yards on his first down carry. A pass interference call on Calvin Johnson, who pushed off on Walt Harris backed them up to their 12-yardline. Isaac Sopoaga got in the backfield for a big stop and a loss of 1, leading to a 3rd and 13, but the Lions converted with a 15-yard toss to C. Johnson. Another 15-yard throw to tight end Michael Gaines again moved the chains, but the Lions drive came to an end in a hurry with T. Brown showing excellent close speed to pick off a pass to Mike Furrey along the Lions sidelines.
Parys Haralson was flagged for a late hit at the end of the play to back the offense to their own 36.
Gore started off the drive with a 20-yard run, followed by back to back carries of 6 yards each. After having to throw the ball away, Foster took a handoff down to the 8-yardline but a holding penalty on Walker wiped out the 25-yard play. A throw to Gore picked up 9 yards, leading to a 3rd and 11. The 49ers put Gore back at quarterback, who took the snap and gained only a few yards. Joe Nedney came on for a 48-yard attempt, which was reduced to a 43 yard try when the Lions crossed the line of scrimmage. His 43-yarder was no good, allowing the Lions to take over on downs at their 33.
*Gore is now over the 100-yard mark for the first time this season with 17 carries for 103 yards.
The defense came up with a big three and out series, ended on a Roderick Green sack from behind.
The 49ers offense will start with the ball at their own 15.
Gore picked up 5 and then 3 yards to set up a 3rd and 2. O'Sullivan's throw to Bruce was incomplete along the Lions sidelines.
Starting off at their own 38, R. Johnson enjoyed a 27-yard rumble into 49ers territory before he was chased out of bounds. Kitna launched one deep but overthrew an open R. Williams. Justin Smith came from the backside to stop R. Johnson after just a 2-yard gain, setting up an important 3rd and 8. The Lions had the first down but Shaun McDonald dropped the pass. Hanson's 51-yard try capped off the 5-play, 29-yard scoring drive.
O'Sullivan scrambled on 1st and 10, picking up only a few yards but a face mask penalty instead turned the play into a 17-yard play. O'Sullivan hit Gore on a slant route for an 11-yard gain. Gore was then stopped for a loss of 1 as the quarter came to an end.
4th QUARTER HIGHLIGHTS, 49ERS 31 - LIONS 13
A pass interference earned a first down at the Lions 44-yardline. A 9-yard throw to Battle was followed by a 3-yard carry by Gore for a first down. A screen pass to Walker for 15-yards moved the chains again. After running into the back of Billy Bajema, Gore bounced out to his left for a 9-yard gain down to the 9-yardline. Gore took the next handoff and worked his way to the 4 for a first and goal. Foster headed out to his right and got it down to the 2. Gore came back in and got it to within inches of the goal line. On 3rd and 1, Gore was stopped in the backfield again at the 1-yardline. Nolan sent on Joe Nedney and company for a field goal, but then called a timeout to think about the decision. He then elected to go for it. The 49ers put Allen Rossum in on offense and handed off to him on an end around for the touchdown. The 12-play drive covered 77 yards and ended with just over nine minutes left in the game.
Using a no huddle offense, Detroit got out to the 49ers 49 before they slowed down and
huddled up. Joe Staley blew up McDonald after a 5-yard catch, leading to a 3rd and 5 play. Kitna was forced on the run by Roderick Green and his hurried throw to C. Johnson was dropped. The Lions elected to go for it on 4th and 5. Kitna escaped a heavy rush with a scramble up the middle for a first down after a 10-yard run. Detroit then scored on a 34-yard screen pass to R. Johnson. Michael Lewis looked like he got a stinger on the play. The 9-play drive covered 78 yards.
Detroit tried an onside kick but the ball went straight to Battle, who caught it on the run for a 28-yard gain down to the Lions 12-yardline. A few plays later, Nedney chipped in a 25-yard field goal to put the 49ers up 31-13.
Detroit once again crossed into 49ers territory and was set nicely up at the 49ers 31-yardline, but Parys Haralson dropped Kitna for a 6-yard sack and forced him out of the game. Justin Smith then made a one-handed interception  of a Dan Orlovsky pass on the next play to give the offense the ball with 1:50 left.
The 49ers were able to take a knee and run out the clock.