While the 49ers players are on summer vacation for the next few weeks before training camp, Real California Milk hosted Kids Club Gold members at the SAP Performance Facility for a Fuel Up to Play 60 Fantasy Camp. 
Kids ages 10-14 joined Real California Milk and 49ers Youth Football staff at the 49ers practice facility and learned about nutrient-dense choices, eating whole foods across a variety of food groups, and getting outside every day for 60 minutes of activity.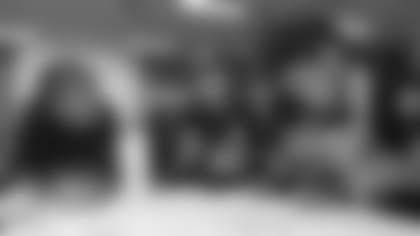 The presentation took place in the 49ers team cafeteria, which has its own signage for the players during the season, including information about meal portions, ideal macronutrient profiles, and tips for gaining lean muscle mass.
Attendees learned that not only are there 1450 dairy farm families in the state of California that provide milk, cheese, and other dairy products to students in schools, but through the partnership with the NFL and Play 60 over the past five years, Fuel Up to Play 60 has now reached 73,000 schools serving 14 million kids to promote healthy, active lifestyles to children. The afternoon kicked off with eight children participating in charades where the audience had to guess what activity they were performing. Alyssa McClelland, who runs the Fuel Up to Play 60 program for California, led a discussion about how students can affect positive change in their own schools from creating after school walking clubs to transforming the daily lunch hour into a time for intramural sports.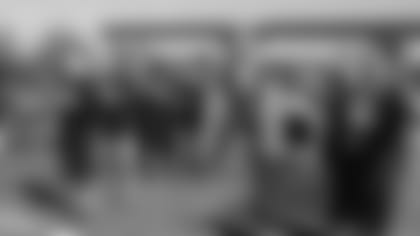 Next, the Kids Club members headed outside to the 49ers practice fields, where they took part in Youth Football challenges, including a rotation of tackling, wide receiver, quarterback, and field goal drills. The Kids Club members received their own 60 minutes of play in the summer afternoon, breaking a sweat on the same turf field the professional football players use daily during the season.
In addition to the health seminar and football experience, each child was provided a Fuel Up to Play 60 gift bag and t-shirt after the event, and encouraged to look into ways to increase not only their own levels of activity and healthy habits, but to inspire their families, friends, and schools in the upcoming year.
Want to get your young 49ers fans involved? The 49ers Kids Club is the official club for Faithful ages 4-14 and includes special events, contests, and exclusive e-newsletters. To sign up, please visit: 49ers.com/KidsClub.
Need ideas on getting your school more active and healthy? Fuel Up to Play 60 is part of the Real California Milk and the NFL Play 60 movement. For more information, please visit FuelUpToPlay60.com or RealCaliforniaMilk.com for information and resources.