Members of the 49ers Kids Club presented by Party City and their families journeyed to California's Great America for the second 49ers Kids Club Day at Great America and were treated to a variety of red and gold fanfare across the entire theme park.
Members and their families, adorned from the top down in 49ers gear, had the chance to walk around the park and get 49ers-themed face paint, exclusive red and gold airbrushed gear, and a specially branded caricature from the various art booths to commemorate the day.
Members of the 49ers Gold Rush team signed autographs and cheer cards and hung out with fans as they entered the gates. The spirited 49ers Youth Football squad ran a Gatorade Junior Training Camp session on the grassy field near the food courts, and fans could run and toss a football in the summer sun.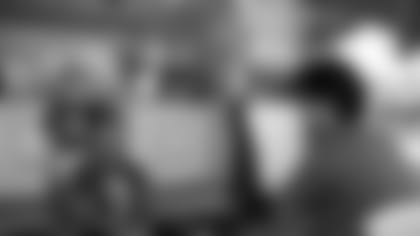 In the early afternoon the club favorite, mascot Sourdough Sam, surprised park goers with a special display of karaoke. Sourdough kicked off the show with a lip synced rendition of Elvis' tune, "You Ain't Nothin' But A Hound Dog" complete with groovy shakes and moves, and then assisted fans and singers with their acts both on, and off, the stage.
All attendees were entered in a raffle to win gear like 49ers merchandise and a signed Vernon Davis football. Additionally, one lucky Gold member from the event will be selected this week to be a Kickoff Kid for a preseason home game. The experience includes two game tickets and the opportunity to run across the field after a kickoff to retrieve the kicker's tee.
For more information and to sign your young 49ers Faithful up for future Kids Club events and contests, please visit: 49ers.com/KidsClub. For the youngest Faithful ages 0-3, visit 49ers.com/CribClub.