Nine-year old Matthew Marin plays middle linebacker for his youth football team in Beaumont, Calif. So it came as no surprise to family and friends when Matthew began to idolize 6-time Pro Bowl linebacker Joe Staley. Growing up a faithful 49ers fan, Matthew dreamed of one day playing like the man he grew up admiring.
Much like Willis, Matthew's road to playing football was not one without adversity. At a young age, Matthew was diagnosed with lymphoid leukemia and had to wait three years before he could play.  Once well enough to play his favorite sport, Matthew happily took to the field and at home, decorated his entire room with Willis' posters and memorabilia.
On Friday, Dec. 28, Matthew got the chance to meet his favorite player.
"Patrick's an amazing guy. If anyone out there is going to be a role model to my kids, I definitely want them to be someone who is the quality of person, not just the athlete, but the man within," said Matthew's father Jesse. "He's very genuine. He's good hearted. To me, that's much more important than the type of athlete he is on the field."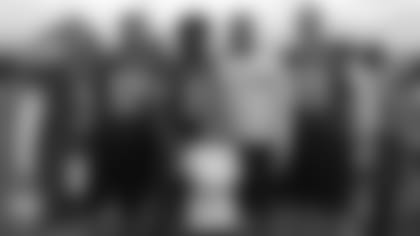 Through the Make-A-Wish Foundation, Matthew and his family had the opportunity to visit the 49ers practice facility for a tour of the team's headquarters and watched the team practice in preparation for Sunday's game against the Arizona Cardinals. After practice Matthew met the players, took photos and collected autographs.  Later, he and Willis shared casual conversation over lunch in the 49ers cafe.
Matthew arrived at Candlestick Park on Sunday and was escorted onto the field for pre-game warm-ups as the 49ers prepared for the game. The Niners defeated the Cardinals 27-13 and with the win clinched the NFC West Division title.
The 49ers partner with organizations like Make-A-Wish to enrich the lives of individuals with life threatening medical conditions through its wish fulfillment program. The 49ers work with Wish recipients and have fulfilled 16 wishes since 2009, giving the dreamers a once in a lifetime opportunity to visit the team's facility and stadium.