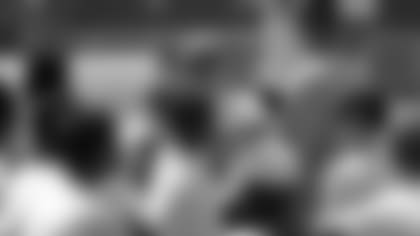 Click HERE for video from the 2008 camps.
Once the San Francisco 49ers left the practice field after a Wednesday mid-morning training camp practice, there was still plenty of action happening on the field.
The club hosted more than 125 eager young players for the last of eleven Gatorade Junior Training Camps that the team's Community Relations department has offered during the 2008 Training Camp.
The free football clinic was one of the highlights of the many Youth Football initiatives the 49ers organization undertakes year round.
To start the day, the camp participants were invited to take an exclusive look at their favorite players as the San Francisco 49ers held a full-padded practice. Despite the glaring sun, the players showed the kids their mettle by giving their full efforts in offensive, defensive and special team drills. There were cheers from the young crowd as rookie wide receiver Josh Morgan made electrifying catches and linebackers Joe Staley and Jeff Ulbrich teamed up to make big stops.
The players were also an on-the-field reminder of the importance of heat-illness prevention as they demonstrated proper hydration with their short water breaks when necessary.
After practice the prospective football players took the field as a team, sporting official Gatorade Junior Training Camp t-shirts. The 49ers' Youth Football staff gave the group instructions and safety tips, and then all of the young athletes were given the chance to participate in many of the same activities that they had just watched their favorite 49ers perform.
The fundamentals of passing, ball carrying and tackling were stressed as the players learned proper quarterback, wide receiver and running back techniques.
On top of the football skills instruction, the Youth Football assistants stressed the importance of proper hydration by requiring a number of breaks for water and electrolyte-replenishing Gatorade.
In their post-practice huddle, Ryan Myers, the 49ers Youth Football Representative, led a discussion about successful habits off the field. He encouraged the players to maintain a healthy lifestyle by adding fun physical activities to their after-school pursuits, and to tackle their homework before picking up the football or getting together with friends.
In every community event, the 49ers emphasize their award-winning Respect Campaign. So while the theme of the day was giving the Gatorade Junior Training Camp participants the opportunity to learn football skills on the field, the team also communicated to the players the importance of respect.
"Being a great football player on the field is fantastic. But none of that matters if you don't respect yourself. And to do that," Myers stressed, "you have got to show respect for your family, your school and your community."
In all the 49ers hosted 16 different groups for the free camps this Training Camp, touching the lives of more than 1,545 kids in the Bay Area.