Sometimes even coaches need to be coached up. With so much knowledge to be transferred in the profession, the 49ers recently hosted the fifth annual USA Football/49ers Coaching School at team headquarters in Santa Clara.
More than 100 youth football coaches from across California attended the clinic to learn from some of the area's top coaches including 49ers assistant head coach and special teams coordinator Brad Seely.
The clinic began with an overview of 49ers Youth Football fundamentals followed by an informative session with Seely, who served as the clinic's keynote speaker.
"I talked about some basic things," Seely explained, "like tackling, squeezing, breakdown, the ability to make plays in space. And on the opposite side, we talked about ball security, running with the football, challenging the defender and trying to make everybody just a little bit better in the basics of football."
During his time, Seely also spoke about the impact youth coaches have on their player's lives beyond the game. He emphasized how they are in a unique position to teach young people important life lessons through the game of football. Seely had examples of how youth football coaches can impact the lives of football players.
"Every year we bring in the top 30 players in the draft," he detailed, standing in front of a room of coaches, "and most of them go to New York City (for draft day) where they sit with people who are influential in their life. Most of them obviously have family members, but it is really interesting to me that they don't bring their college coaches, a lot of them don't bring their high school coaches.
"They bring their youth coaches just because those people have not only helped them in football, but they've helped them in life to get to where they are."
Seely later broke down special teams practice film and analyzed both the cover and return teams responsibilities along with the techniques used to be successful at both.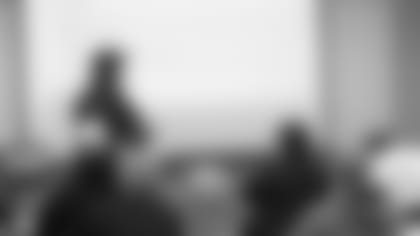 Afterwards, coaches were broken into groups based upon the ages of athletes they worked with.  This allowed them to learn about the techniques and issues that directly related to the players they instruct.
"Everyone's doing the right level and you're learning things for your own level and not trying to become a junior college coach when you're coaching 10-year-old kids," said Cloverdale Chargers coach, Troy Turner. "That's the best thing."
Following classroom sessions focusing on "Player Characteristics, Communication, and Motivation," and "Practice Planning and Tactical Development," the coaches hit the field with their assigned clinician for hands-on drill demonstrations.  There was something for everyone with topics including tackling, quarterbacks, defensive line, offensive line, tight ends, linebackers, running backs, defensive backs and wide receivers.
"Being an offensive lineman (coach) for the five-to-eight year old group, I wanted to just get some basics for them," explained Hollister Pop Warner coach Jesus Romero. "I know terminology is huge for our group. Understanding five-year olds, six-year olds, and their first time on the field and understanding just their position and working within the group that way."
USA Football's Northwest Regional Manager, Bassel Faltas was also certainly pleased about the clinic's immediate impact.
"This is the fifth USA Football Clinic presented by the San Francisco 49ers that we have conducted and the third at the Training Facility. We thank the entire 49er organization for their commitment to community by ensuring a better, safer game for players, parents, coaches and youth football commissioners. We value our relationship and are looking forward to another great clinic in 2012."
For more information on USA Football and other Coaching Schools around the country, visit USAfootball.com.