The 49ers invited Bay Area high school football teams to their 2nd annual 7-on-7 Tournament presented by the U.S. Army at the 49ers Headquarters in Santa Clara on Saturday, June 21 for a chance to win an all-expense paid trip to New Orleans, LA for the National Tournament on July 10-13. Gilroy High School took home the winning honors in the final game Saturday afternoon.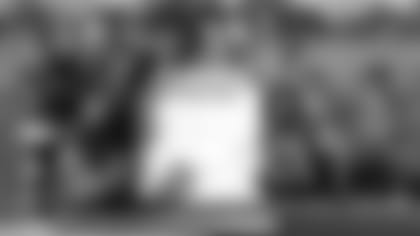 The tournament was open to eight Bay Area high school football teams which included a round-robin format with each team playing a minimum of four games and single elimination playoffs. Each game consisted of two 15-minute halves and one 5-minute halftime, with 5-minutes between games.
"We had teams from all over the Bay Area working hard to win the tournament," said Ryan Myers, Youth Football Representative for the 49ers. "This tournament is a great way for teams to prepare for their upcoming football season and also continue to develop their skills off the football field with our morning character building session."
All teams had a full day at the 49ers beginning with a morning session on character development as a part of the 2008 NFL High School Player Development (HSPD) Program. Each player was given a t-shirt and a student planner at the HSPD meeting, which was designed for both players and coaches to discuss and improve life skills.
"The tournament is really good for our kids, but the presentation the 49ers had in the morning where they stressed academics was also great," said Julio Villalobos, coach at Gilroy High School.
Gilroy, Riordan, Santa Cruz, Scotts Valley, Andrew Hill, Amos Alonzo Stagg, Washington, and Piedmont Hills all took advantage of the full day of football. As the winning team, Gilroy will compete in New Orleans against 15 other teams from across the country. While in New Orleans, Gilroy will participate in a three day tournament and also take part in daily character development seminars expanding on what the student-athletes have already learned in their High School Player Development camp.
Gilroy quarterback Jamie Jensen discussed how the tournament was a great way to work on filling in spots that were left open with last year's senior class graduating, and getting the new players acclimated to the system.  He also discussed the opportunity to compete nationally in New Orleans.
"It's exciting. There's going to be high competition and a lot of good teams. We'll see how we can represent our area," Jensen said.
Other members of the winning Gilroy high school football team include Tony Travis, Adrian Melendez, Nico Sandoval, Ferris Gonzalez, Richard Sotelo, Sean Hale, Steven Martinez, Lelan Gettys, Dante Fullard, Peter Guenther, and Bryan Sanchez.
"We are glad to have an opportunity to come out and compete and get better and work on what we do during the season," said Rich Hammond, head coach of Gilroy high school. "They played hard today and have something to build on for the season."
Youth football programs teach children the importance of teamwork, goal-setting and how to live a healthy lifestyle in a fun and educational environment. The 49ers make every effort to provide programs and activities for youth and coaches throughout the San Francisco Bay Area. To register for future tournaments or activities, check out the youth football section under Community at 49ers.com.