The 49ers took advantage of their league approved Local Pro Day on Friday, which allows for players who either grew up or attended college within a certain radius of each club's city to come in for a workout at the team facility.
Oregon wide receiver Cameron Colvin and quarterback Dennis Dixon, Cal wide receivers Lavelle Hawkins, Stanford wide receiver Evan Moore and Miami quarterback Kyle Wright were some of the bigger names of the 40 or so players who the 49ers played host to this year.
"Being a lifelong fan of the 49ers growing up watching Joe Montana and Steve Young, it doesn't get any better than to walk through the locker room and see their pictures on the wall," said Wright, who played his high school career at Monte Vista High in Danville. "Today was great. I got to come out and throw it around with some Bay Area guys in front of the coaches so it was a great time."
The 49ers scouting staff directed the group through an array of tests typical of the Combine or a university Pro Day – height and weight measurements, 40-yard dash, three-cone drill, and the short shuttle drill.
"These are the guys who we've studied for the past year plus and we know them best so we take them through the drills and see what they can do," said area scout Justin Chabot. "It's great to get these kids out here one last time and it was an efficient day. They gave good effort, we had good weather, and we got good results."
Some of the players who had already tested well at the Combine and their own Pro Days skipped the tests and elected to take part in the workout portion only.
"To get one more chance to be a competitive situation was great because you don't really get to go against guys at the Combine," said Moore. "It was a good opportunity and I felt I got the most out of it, as a lot of these guys did. I'm pretty happy about it."
For Dixon, a Heisman Trophy hopeful last year, it was yet another opportunity to show that his anterior cruciate ligament tear is behind him, and that's he worthy of being selected in next weekend's NFL Draft.
"It's a chance to show everybody that my knee is not a problem and that I am ahead of schedule," said Dixon. "I'm looking for a job, an opportunity to get to the next level. It's mind boggling to think about what's going to happen next week but it's something you can't control. All I can do is control what I did today and hopefully it was good enough."
The local Pro Day also opens up the door for players who are either potential late-round picks or undrafted free agents. With the entire 49ers coaching and personnel staff either taking part in directing the drills or observing, these NFL hopefuls had an opportunity to show their talents.
"There are a lot of guys who are borderline free agent candidates and it's one last time for them to come out and better their testing numbers, improve on their 40 time and try to turn somebody's head at the last minute," said area scout Ethan Waugh. "I think they did a great job."
In addition to the 49ers coaches and scouts, a few other familiar faces observed the afternoon workout. For the second year in a row, 49ers running back Frank Gore came to watch the local workout, and was joined by teammates Marcus Hudson and Delanie Walker, as well as Cal standout wide receiver DeSean Jackson.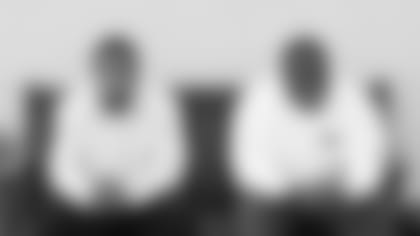 Similar to 49ers wide receiver Jason Hill a year ago, Jackson didn't take part in any of the tests or field work, but he did enjoy watching the workouts with the 49ers players.
"They were all very cool and it's a great experience for me as a young guy coming from college to just talk to them," said Jackson. "I'm trying to get to where they are right now, and so I enjoyed speaking with them."
Jackson spent most of the day however visiting with the 49ers coaching staff.
"It's gone pretty good," said Jackson who flew up from Los Angeles this morning. "I've visited with four teams now and this was my last one and I've gotten a good vibe from all the interviews I've done. Everything is put together now and I feel like I did the best I could do and I wouldn't change anything. Now, it's just waiting patiently for Saturday to come and hopefully it goes well."
The 49ers likewise hope that Friday's Pro Day will help their draft efforts.
"This is always held about eight days before the draft and when we get out here and have a chance to do the Local Pro Day, it's a signal that the draft is getting closer," said Chabot. "As an organization, we are right where we need to be. There are some things we want to clean up and review next week, but once this is over, we are done for the most part in collecting our information and anxious for the draft to get here and to add some great players to our organization."